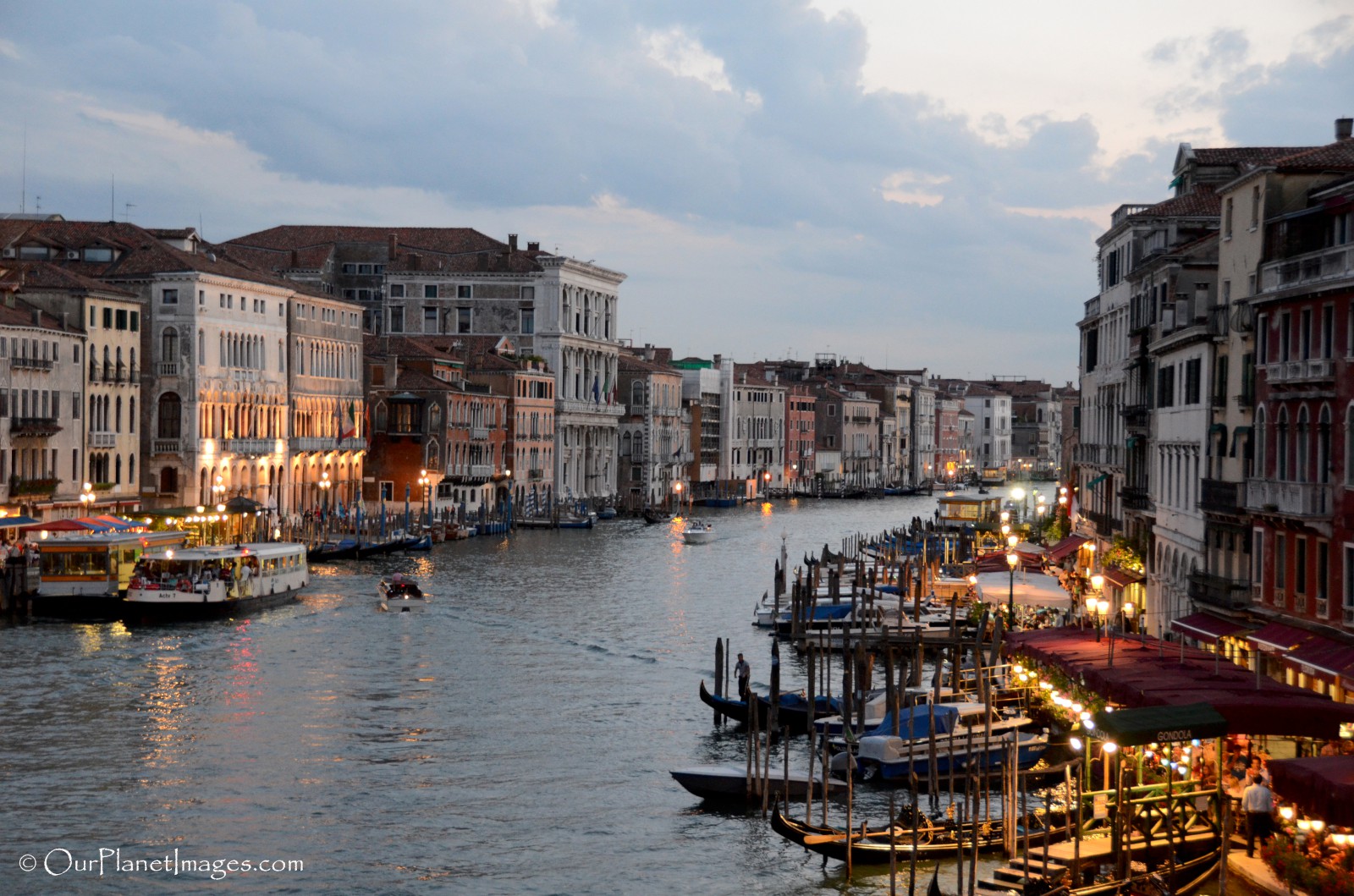 Italy is in southern Europe and is one of Europe's most popular countries for tourism. It is known for its fashion industry, sports cars, art, history, religion, alpine lakes, mountain ranges (the Alps), beautiful coast line and delicious food.
Italy is best described when it is divided into regions and cities because each region is different and Italy's major cities have collective attractions that make them distinctive. The four regions of Italy that seems to be fitting are:

The northern region is full of famous major attractions like the Italian Riviera, the Alps, beautiful landscapes like the Lake Como area and the canals of Venice. The major cities in the northern region that have distinctive attractions are:
• Bologna is one of the world's great university cities that is filled with history, culture, technology and is known for its wonderful food.
• Genoa is a major port city on the Mediterranean Sea that is an entry port for tourism and trade. It was an important medieval maritime republic and is known for its art and architecture
• Milan is one of the main fashion cities of the world but also Italy's most important center of trade and business
• Venice is one of the most beautiful cities in Italy and is known for its history, art and of course its world famous canals which makes Venice one of the most romantic cities.

The Central Region is best known for history, art and beautiful county side. The major cities in the central region that have distinctive attractions are:
• Florence is known for its Renaissance architecture and art that had a major impact throughout the world
• Pisa is world famous for the Leaning Tower of Pisa
• Rome is best known because it has some of the most famous remains of the Roman Empire but it is also the capital of Italy and has a vibrant big city feel. Rome is probably the most common entry point into Italy for most travelers. Rome has the largest number of things to see and places to visit.
There are many famous sites in Rome. Some of the most famous sites are the Roman Colosseum, The Roman Forum, the Trevi Fountain, the Pantheon and the many piazzas. These sites are famous because of history, architecture and craftsmanship. Although these are the most famous sites in Rome there are others that I would recommend seeing and I will feature these in future posts.

The Southern Region is best known for the Amalfi Coast, Capri, the ruins of Pompeii and stunning beaches. The major cities in the central region that have distinctive attractions are:
• Naples is one of the oldest cities of the Western world with a historic city center that is a UNESCO World Heritage Site. Additionally, Naples is the birth-place of pizza.

The island of Sicily is famous for archaeology, seascapes and some of the best Italian cuisine. Sardinia is a large island with beautiful scenery, megalithic monuments and nice beaches.
This page is designed to identify the highlights of everything Italy has to offer a traveler. My posts on individual places to see and things to do will provide more details on those activities and are found by going to the bottom this page and clicking on the button for each city in Italy.
Italy is loaded with historical sites, it home to many of the world's most famous artist and religion has played a vital role it Italian culture. When visiting Italy, the must see attractions are components of these three aspects.
Trying to make a list of "must see" places for Italy is almost impossible. There are literally endless things to see and everyone's top things to see will be different so the list below represent the places that I think should be must see places when visiting Italy. I have visited all of these and I have already made detailed posts about some of these.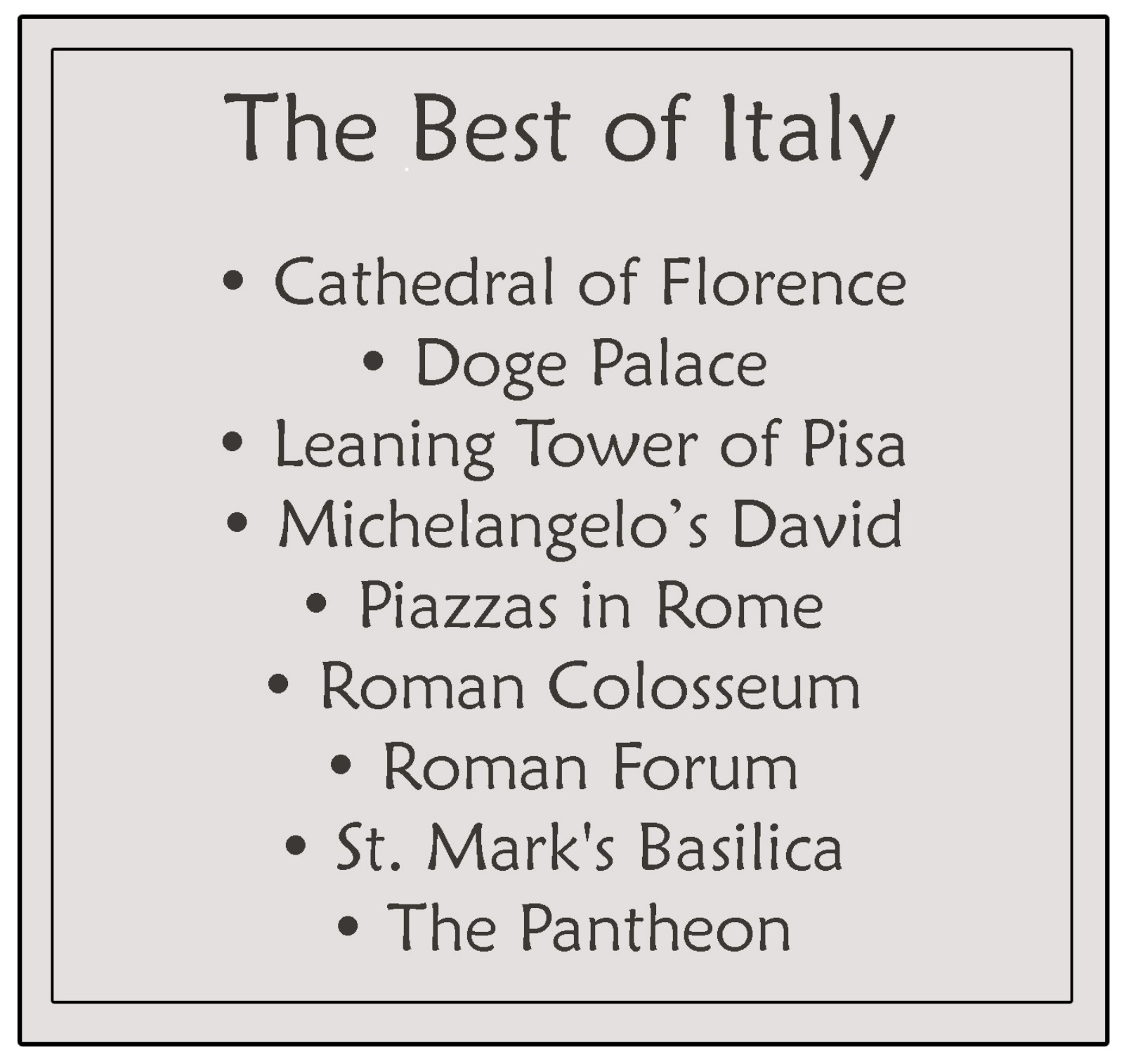 Trying to see everything that you want to see in a single trip is just not possible so I would recommend that you try to see some of your top choices in each of the three aspects that really represent Italy and allow yourself some time to enjoy the other components that Italy is famous for like its food and beautiful scenery.
Everyone planning a trip to Italy will undoubtable have a few must see historical sites on their list of places to see. Historical sites form the Roman Empire are remarkable. It is easy to become consumed with the historical significance but I was equally amazed by the impressive artistry of these sites. Sometimes I would just look at these sites and say "wow".
I know that visiting religious sites are not for everyone especially on a vacation but some of the churches in Italy are truly spectacular and I would strongly recommend seeing some of the most famous churches even if you are not the most religion person.
Visiting Italy's must see attractions will be a lifelong memory that you will treasure forever but there is more to Italy than seeing its famous attractions. Don't forget to schedule in some relax time to enjoy Italy's food, wine, coffee and natural beauty.
(Click on the photo below for more information on each topic.)



I will be making more posts on things to do in Italy, so check back later to see my future posts on Italy.