On The Surface . . . .
Vietnam has a lot of diversity for travelers with a wide range of interests. Some of the things that Vietnam has to offer visitors are stunning nature that ranges from lush mountains to golden sand beaches, lifestyle diversity that spans from rice terraces on the hills to modern city life with towering skyscrapers and vibrant markets.
Vietnam's history dates back around 4000 years so there are plenty of historical sites to visit and exciting festivals to experience that dating back hundreds of years.
There is more to Vietnam than the top tourist sites so don't overlook Vietnam's multiplicity of activities when planning your trip.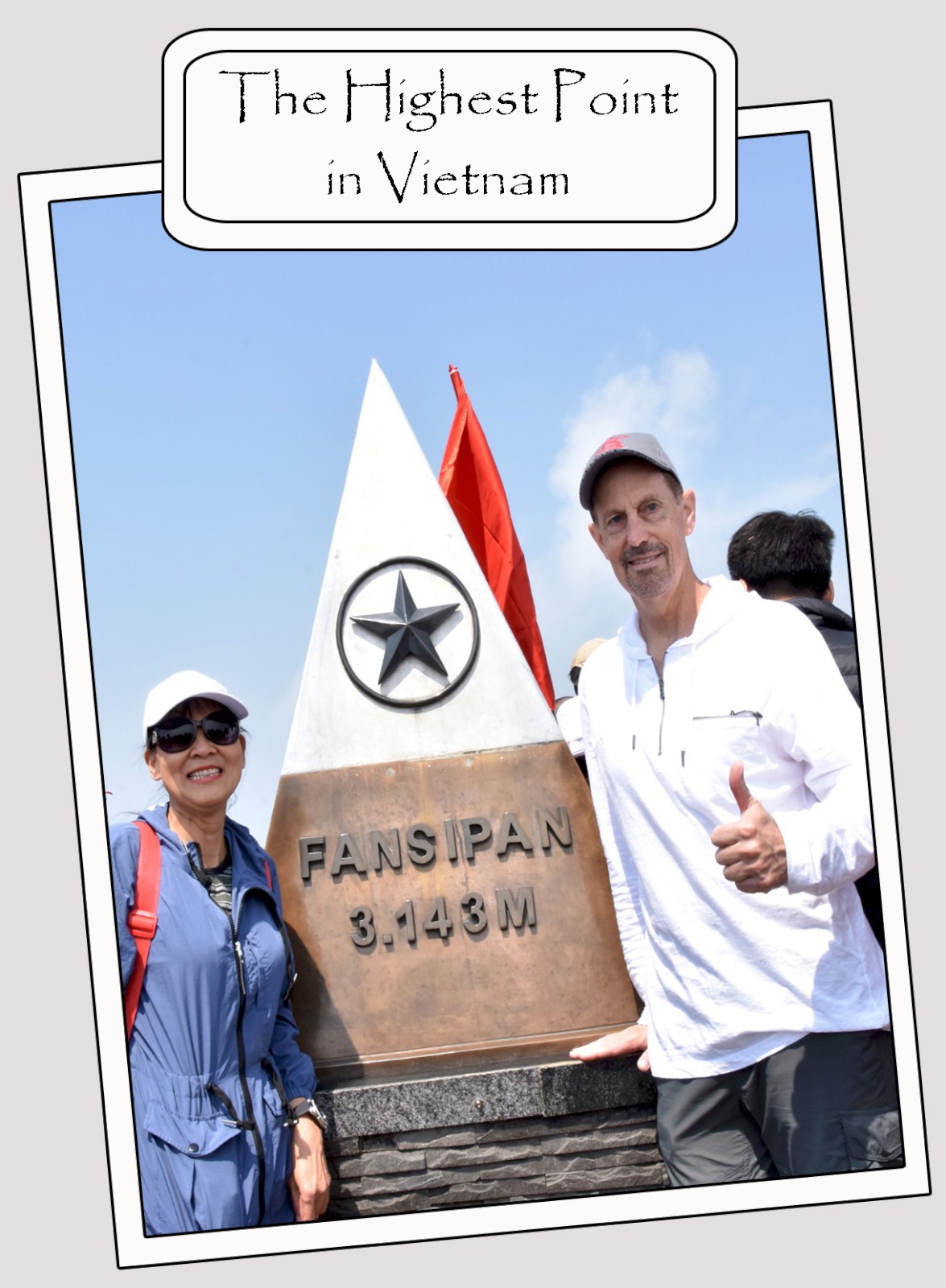 The Basics . . . .
Vietnam is one of the places that I have spent a lot of time in my travels. As a photographer is has everything that I look for when I travel. I can photograph scenic nature, wildlife, historical places, modern architecture, interesting people, colorful festivals and while the country is modern the culture of the past can still be seen in everyday life.
For a first time traveler to Vietnam I would recommend using the three largest cities of Ho Chi Minh City, Hanoi and Da Nang as base camps and making day trips to see the sites near those cities. Some points of interest may require two or three days but making arrangements to see anything that you might want to see can easily be made from those three cities.
This page is designed to identify the highlights of everything Vietnam has to offer a traveler. My posts on individual place to see and things to do will provide more details on those activities. All of my posts on places to see in Vietnam can be found by going to the bottom of this page and clicking on the button for each city in Vietnam.
Vietnam's must see attractions are a mixture of nature, historical sites, modern attractions and everyday lifestyle. Most of the must see attractions are located in or near Hanoi and Da Nang but visiting Ho Chi Minh City is a must to fully experience Vietnam.
The list below are the places that I think should be must see places when visiting Vietnam. I have visited all of these and I have already made detailed posts about most of these.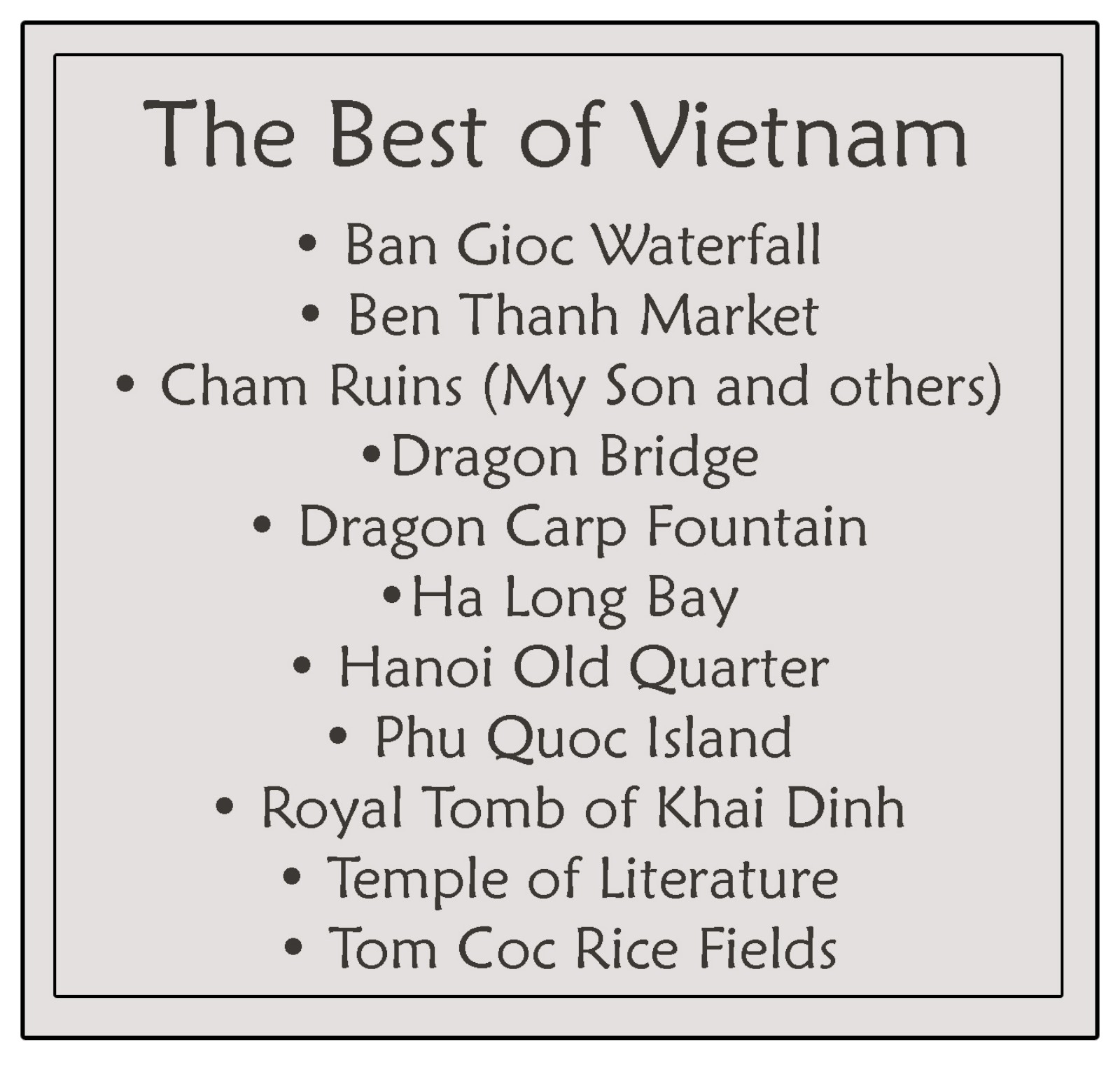 Check out all of my posts on places to visit in Vietnam by clicking on the link to each city at the bottom of this page.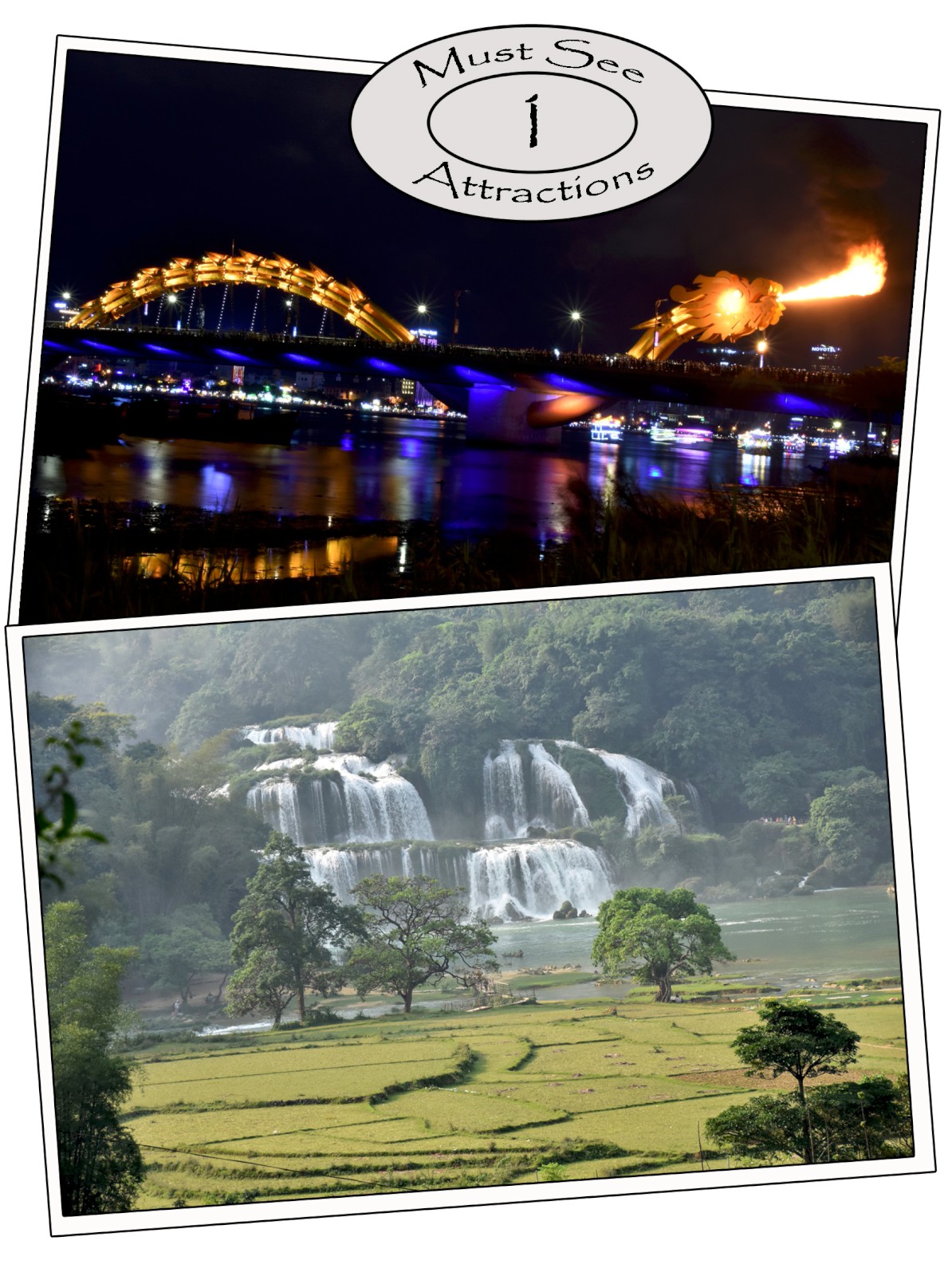 Many of Vietnam's must see attractions might not be globally known but they are just as impressive as the famous places that I have visited.

Experiencing Vietnam . . . .
Must see attractions are an important part of every trip but there is much more to experiencing Vietnam than seeing the top tourist's sights.
It is hard to see and do everything in a single trip but no one wants to return home from a trip only to find out that they missed out on a great experience just because they didn't know about it. The topics that are identified below are the essentials that I would consider crucial to truly experiencing Vietnam. Try to include elements of each of these topics when planning your trip to Vietnam.
Make the most out of your trip by truly experiencing Vietnam!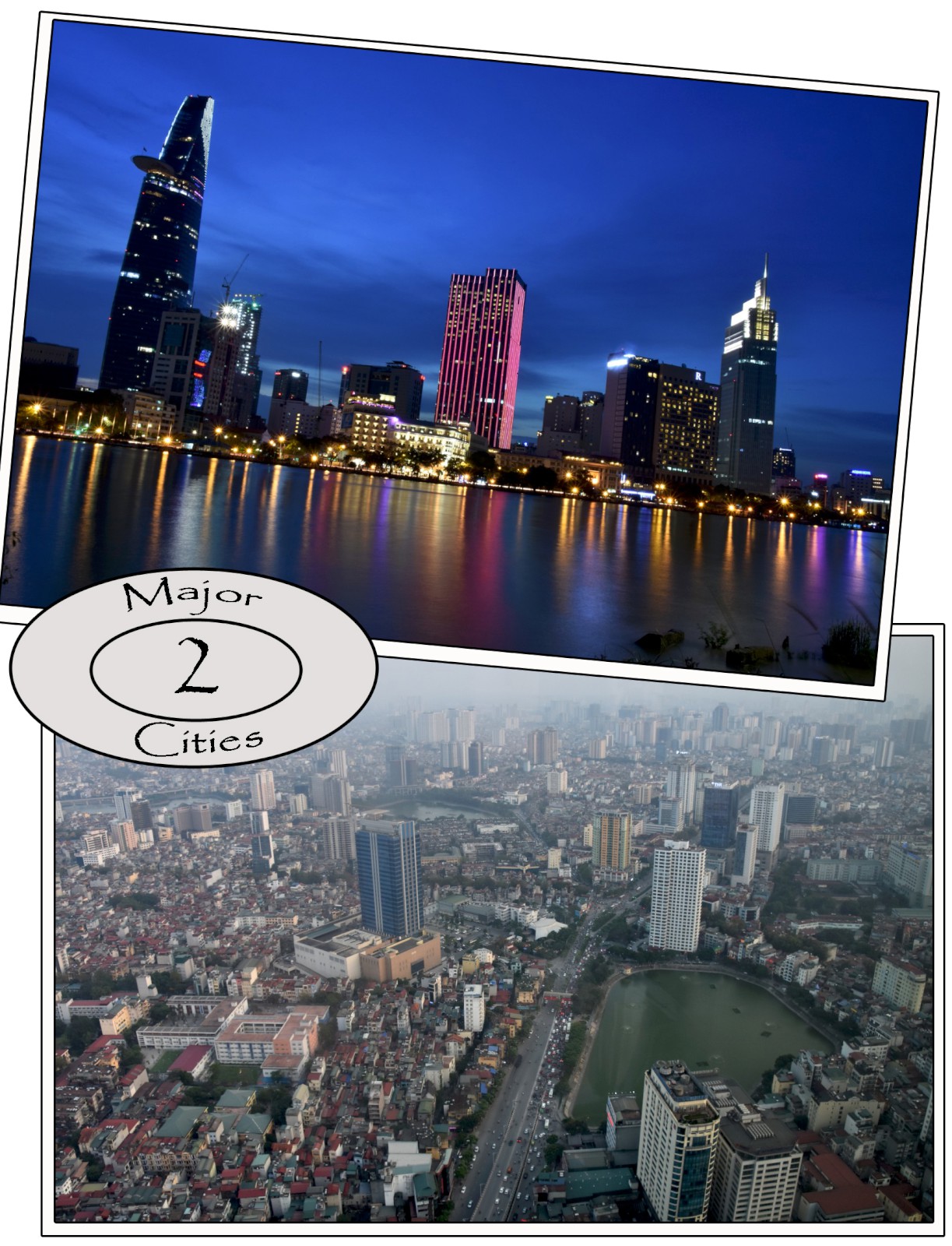 Hanoi and Ho Chi Minh City are by far the most known cities in Vietnam but there are several other cities in Vietnam that have a lot to offer. The following is my recommendations of the attractions that can be experienced in or near Vietnam's major cities:
Da Lat – Truc Lam Temple, Datanla Waterfall, Elephant Waterfall, Thung Lung Vang
Da Nang – Marble Mountain, Dragon Bridge, Dragon Carp, Love Bridge, Han River, Ba Na Hills, Linh Ung Pagoda (Lady Buddha), My Son, Cham Museum, APAC Vietnam 2017 Park, City Monument, Son Tra Nature Reserve and My Khe Beach. Da Nang is a good base camp for day trips to Hue and Hoi An.
Hanoi – Temple of Literature, Hoan Kiem Lake, the Old Quarter, Thang Long Imperial Citadel, Tran Quoc Pagoda, Ho Chi Minh Museum, water puppet theater, Hanoi Flag tower, Lotte Observation Deck, Thap Rua Tower. Hanoi is also a good base camp for trips to Sa Pa, Ban Gioc Waterfall, Ninh Binh and of course Ha Long Bay.
Ho Chi Minh City – Ben Thanh Market, Saigon Skydeck, Central Post Office, Ngoc Hoang Temple, Nguyen Hue Street (day and night), Notre Dame Cathedral, Starlight Bridge, Giac Lam Pagoda, street food market and Ba Thien Hau Temple. Day trips for Ho Chi Minh City can be taken to see the Cu Chi Tunnels and the Mekong Delta.
Nha Trang – Nha Trang Beach, Nha Trang Port, Po Nagar Cham Tower.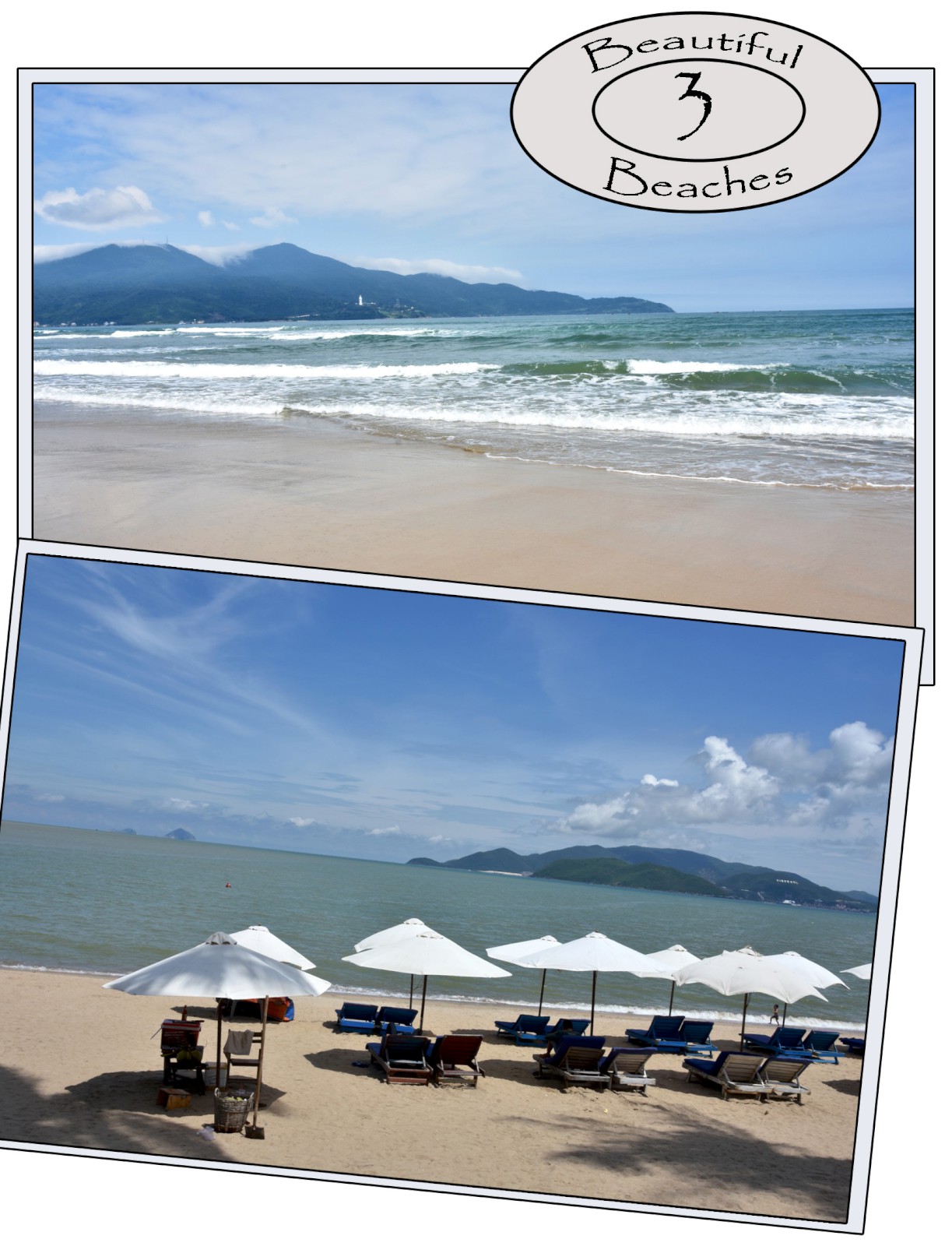 "With over 2000 miles of coastline, there is no shortage of beautiful beaches in Vietnam!"
Hanoi and Ho Chi Minh City are busy cities with interesting history and culture that might overshadow the natural beauty of the coastline that stretches the entire length of Vietnam. Many of Vietnam's cities are located on the coast and have beautiful urban beaches. Two of the most famous urban beaches in Vietnam are My Khe Beach in Da Nang and the City Beach in Nha Trang. Both of these beaches are shown in these two photos.
The urban beaches are wonderful because they are easily accessed and there are plenty of activities to enjoy like surfing, snorkeling, jet-skiing and parasailing. These beaches are also enjoyable even if all you want to do is get something to eat or drink on a beach front restaurant with outdoor seating.
If you have more time and want to have a more secluded tropical beach experience then those can be found by taking a short drive outside the city or arranging to visit the beaches on some of the nearby islands.
Many people traveling to Vietnam may not be fully aware of the historical sites that are that can be visited on their trip. My recommended historical sites in Vietnam are the Cham Architectural sites, Nguyen Dynasty sites and Hanoi's sites that date back over 1000 years.
The Kingdom of Champa flourished in South-Central Vietnam from the 4th to 13th centuries and there are several sites that are available for visitors see the Cham Architecture. The most notable sites are the Po Nagar Towers near Nha Trang and the UNESCO World Heritage Site of My Son near Da Nang. Additionally, the world's largest collection of Cham artifacts can be seen in the Museum of Cham Sculpture in Da Nang.
The last Vietnamese Dynasty was the Nguyen Dynasty which lasted from 1802 to 1945. The most notable sites of the Nguyen Dynasty are the imperial city and the royal tombs of Tu Duc, Minh Mang and Khai Dinh all located in Hue.
Hanoi has many sites to visit but two important historical sites are the Imperial Citadel of Thang Long originally constructed in 1010 AD and the Temple of Literature built in 1070 AD as a university dedicated to Confucius.
Visiting historical sites always gives me a better understanding of the country that I am visiting. Don't miss out on visiting Vietnam's historical sites.
Any tourist visiting Southeast Asia should absolutely visit some religious sites and there plenty of religious sites to visit in Vietnam. Visiting religious sites may not be the first thing that comes to mind when planning a trip to Vietnam but there are many religious sites that tourists should consider when visiting Vietnam.
I have visited countless religious sites in Asia and they are all fascinating to me. No two religious sites are alike but some places are noticeably different and these are the places that I would recommend visiting. The places that stand out the most to me are:
Hanoi
Ngoc Son Temple that is located inside Hoan Keim Lake and is only accessible by a pedestrian bridge and Tran Quoc Pagoda which is the oldest pagoda in Hanoi and was built in 545 AD on the banks of the Red River.
Da Nang
Linh Ung Pagoda (shown here) which is famous for the huge statue of the Lady Buddha and Marble Mountain with several places of worship dotted across the mountains but my favorites was the one located inside a cave.
Ho Chi Minh City
Ngoc Hoang Pagoda is a Taoist pagoda that is famous for about 100 statues made from cardboard. It was built in 1892 but it has the feeling of being much older. Ba Thien Hau Temple (shown here) stands out the most to me for the many incents burning and the bright pink prayer slips of paper.
It has taken me several trips to Vietnam to see all of these sites and many others but try to include a diversity of religious sites when planning your trip so that you will have a broader experience.
Visiting most religious sites will take less than an hour so it is easy to set aside a little time to visit one or two during your trip.
Night Time Rainbow of Colors
I always enjoy colorful night time lighting displays and Vietnam has them in every major city. Some of the lighting displays include bridges, buildings, pagodas, Farris wheels, fountains and even boats in the river.
Two of my favorite (shown here) are the falling water from the Anh Sao Bridge in Ho Chi Minh City and the Han Bridge in Da Nang. Some of the other lighting displays that I think are impressive are:
The Elisa floating restaurant (Junk Boat) and the Saigon Times Square Building both continually change colors and make the Saigon Skyline distinctive. Additionally, the changing colors reflecting off the Saigon River make the skyline even more attractive.
A must see night time display is the Han River in Da Nang. Four bridges, the Dragon Carp fountain, several high rise buildings, the Ferroli Farris wheel, multiple river boats all continually chance colors and on weekends the Dragon Bridge shoots fire from its mouth.
Vietnam is a colorful country and the colors become even brighter when the sun goes down. Make sure to experience the night time rainbow of colors when visiting Vietnam!

A Taste of Vietnam . . . .
Vietnamese has a large variety food and it can be difficult to know what to order if you aren't familiar with eating at Vietnamese restaurants. The foods that I have featured are some of my favorite Vietnamese foods which might help a first time traveler to Vietnam decide what to order.
Don't Leave Vietnam without eating these foods!
Banh Mi is a short submarine like sandwich with crisp crust and soft airy texture inside. The meat can be grilled pork, chicken or pate. Other ingredients include cilantro, cucumber, pickled carrots, mayo and spicy pepper.
Pho is Vietnamese soup consisting of broth, rice noodles, herbs, and meat (usually beef or chicken). Pronounced "fuh" not "foe".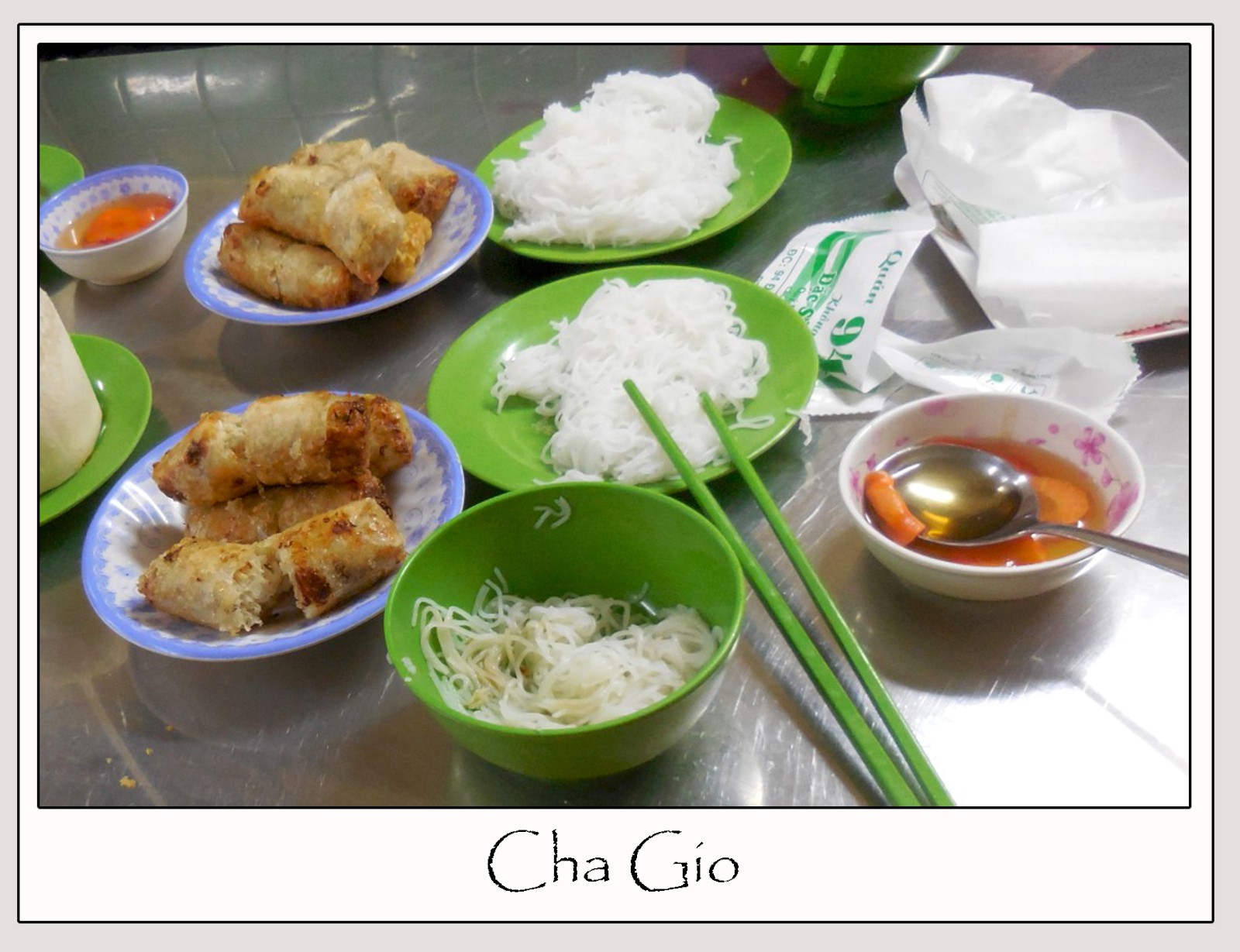 Cha Gio are spring rolls made by wrapping filling in rice paper and then fried. The filling is made of pork, shrimp, crab meat shredded carrots and glass noodles. Eaten with fish sauce.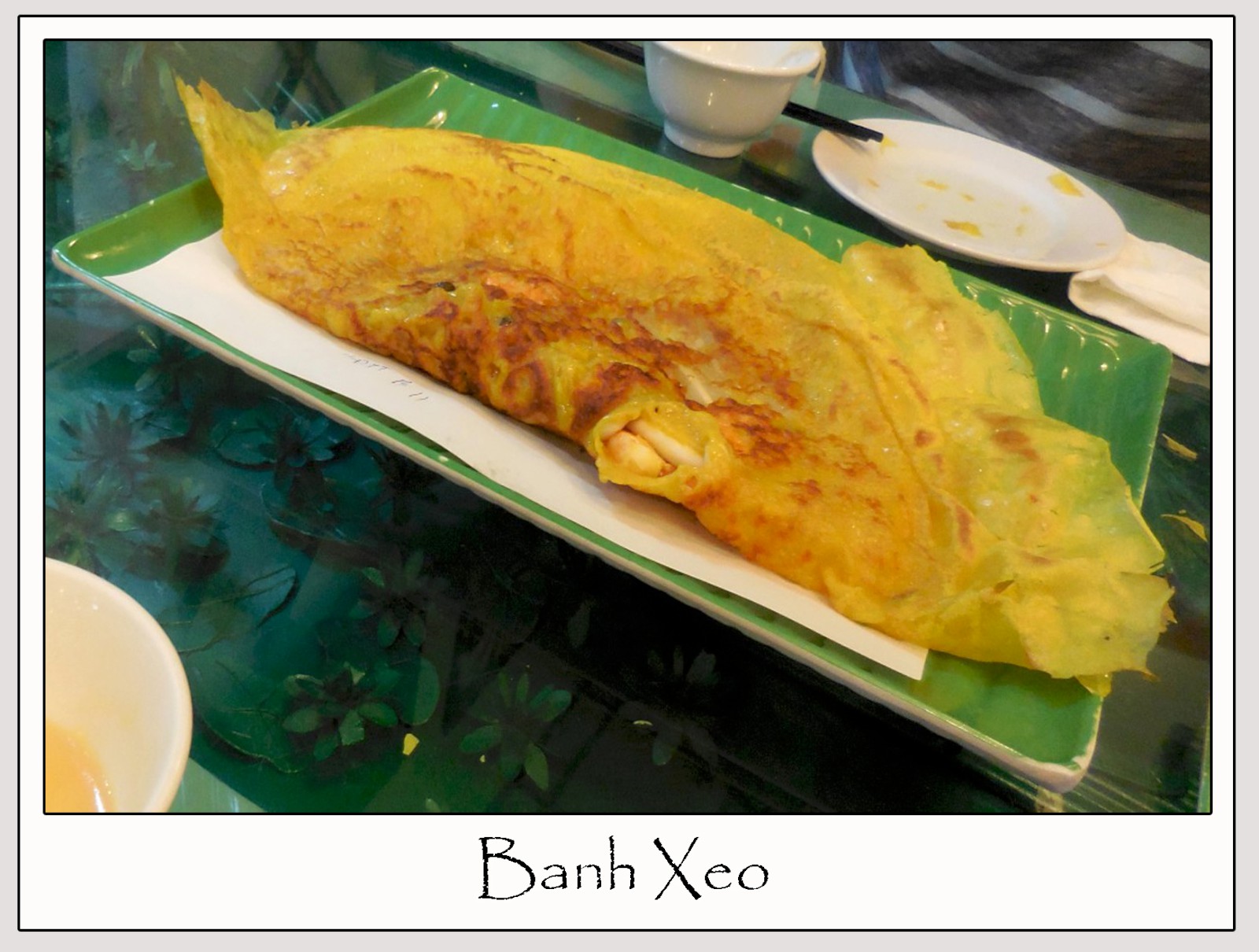 Banh Xeo is basically a crepe made from a blend of rice flour, turmeric and coconut cream. The inside filling includes Shrimp, pork and bean sprouts.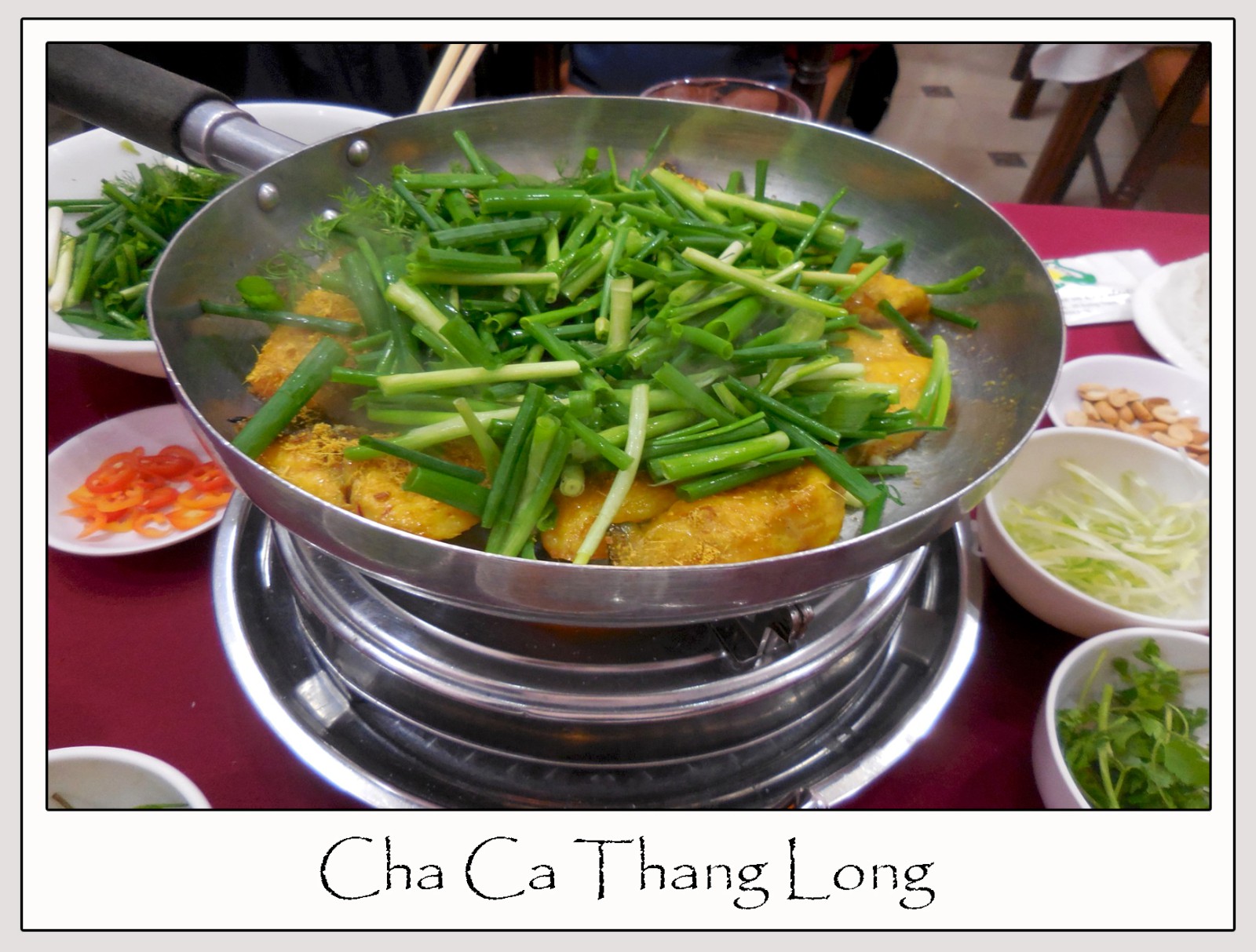 Cha Ca Thang Long is freshwater fish marinated and grilled in advance then fried in oil at your table. Eaten with vermicelli, fresh herbs and roasted peanuts. Eaten with fish sauce.
Banh Nam is flour dumpling stuffed with minced pork, shrimp, mushroom and seasoned with black pepper and spices. Eaten with fish sauce.
Another one of my favorite main dishes is Bun Thit Nuong.
Fruits
Vietnam has some of the best fresh fruit but these fruits may be unusual to many travelers. Eating fruits that are unfamiliar can be challenging. My recommended fruits for travelers to Vietnam are shown below.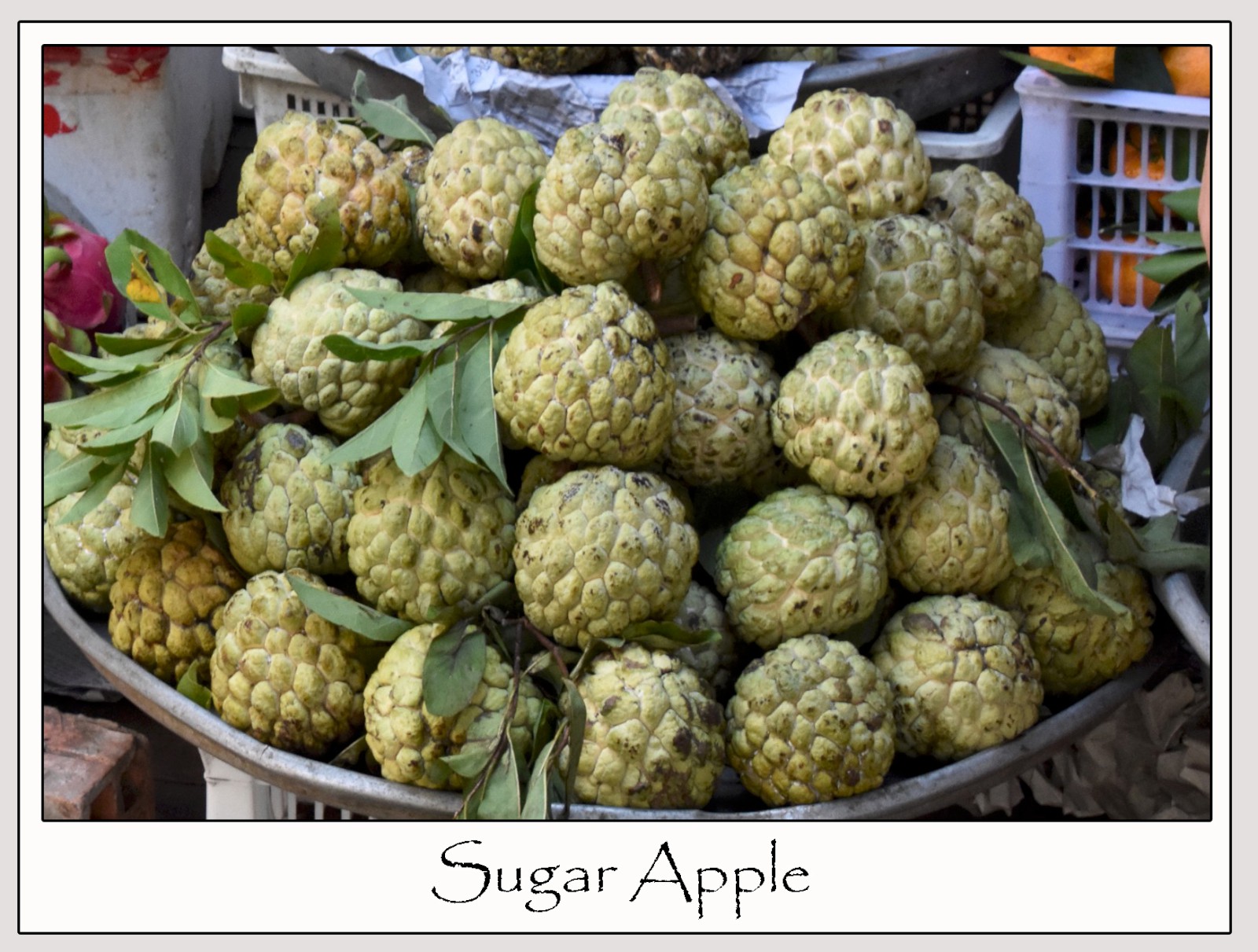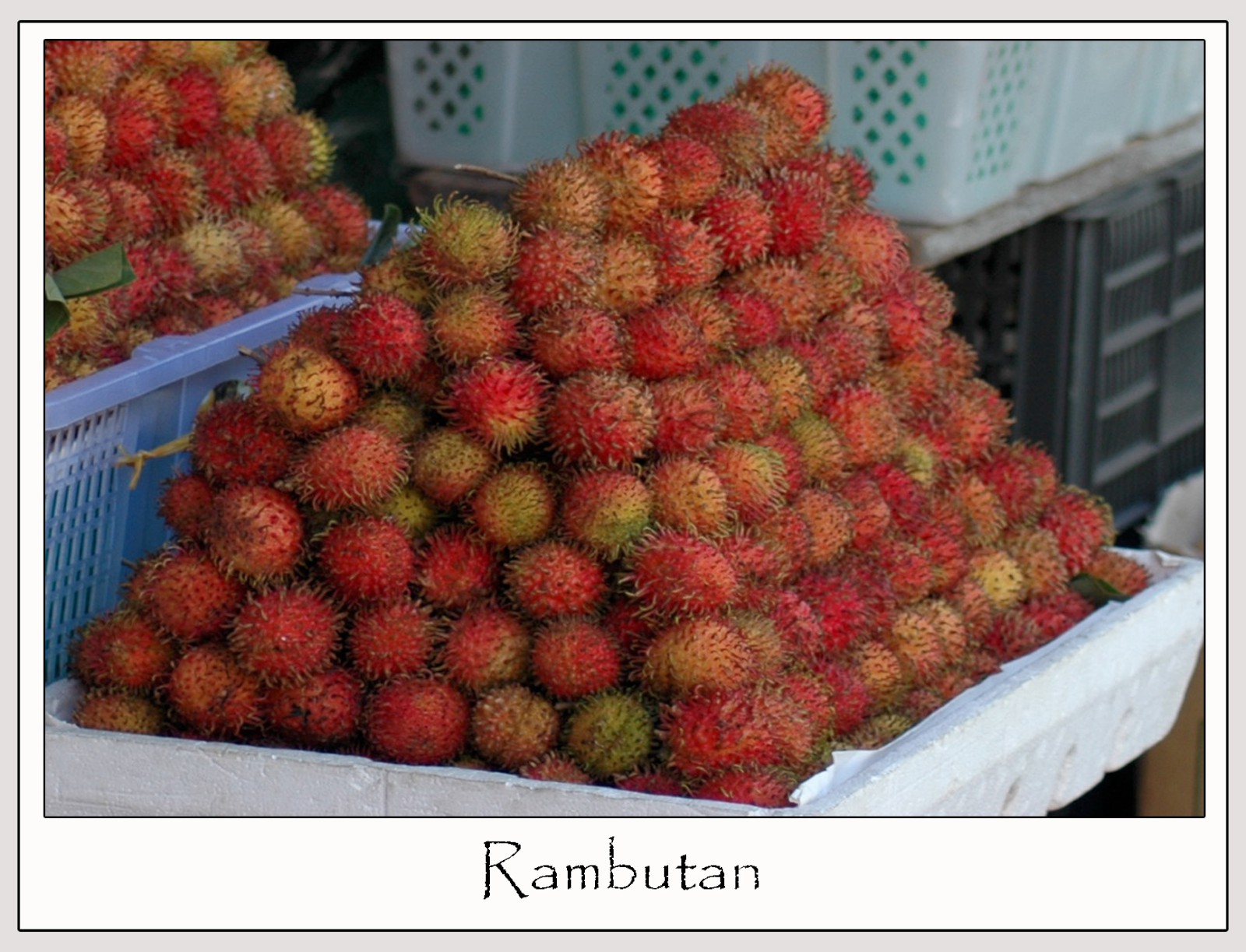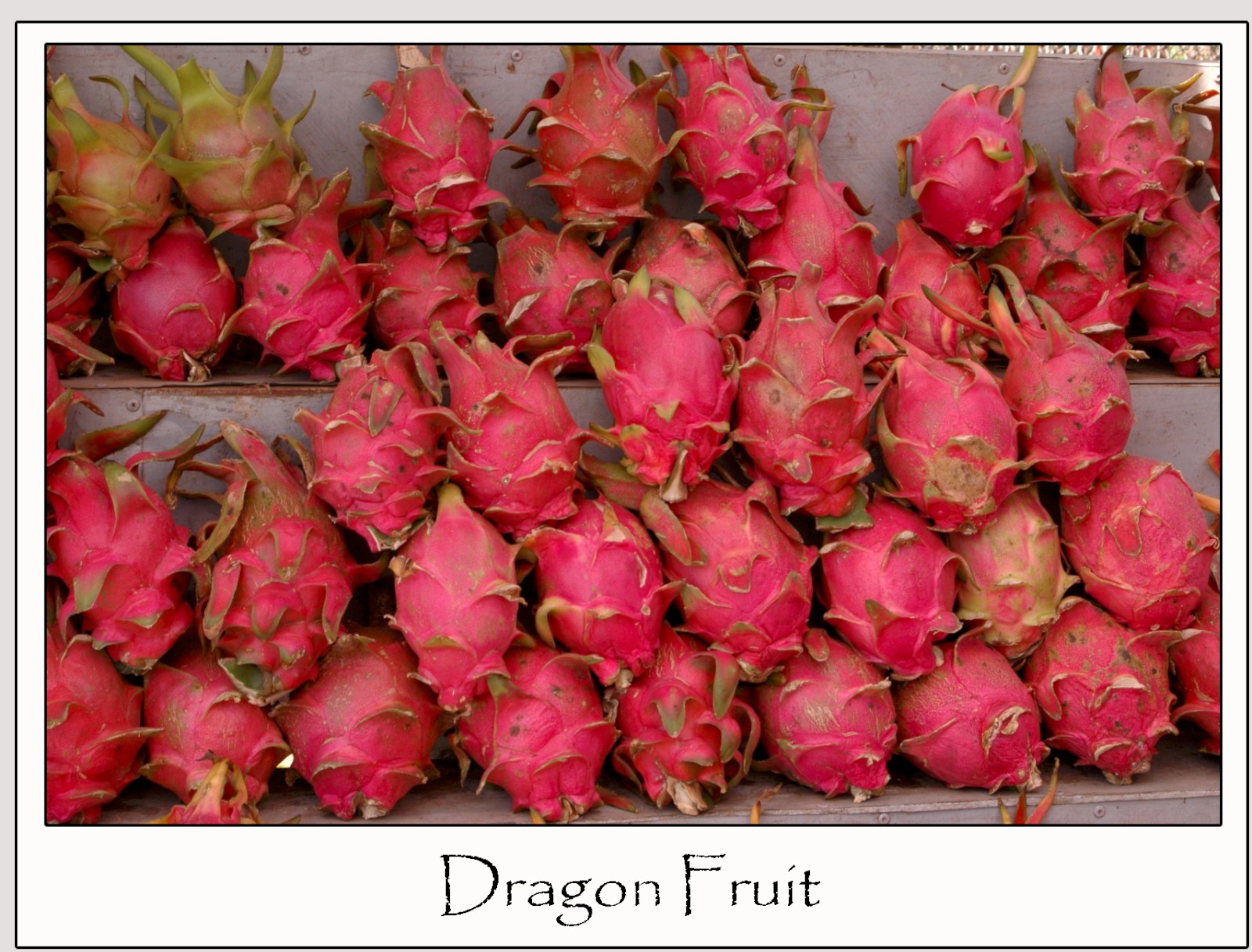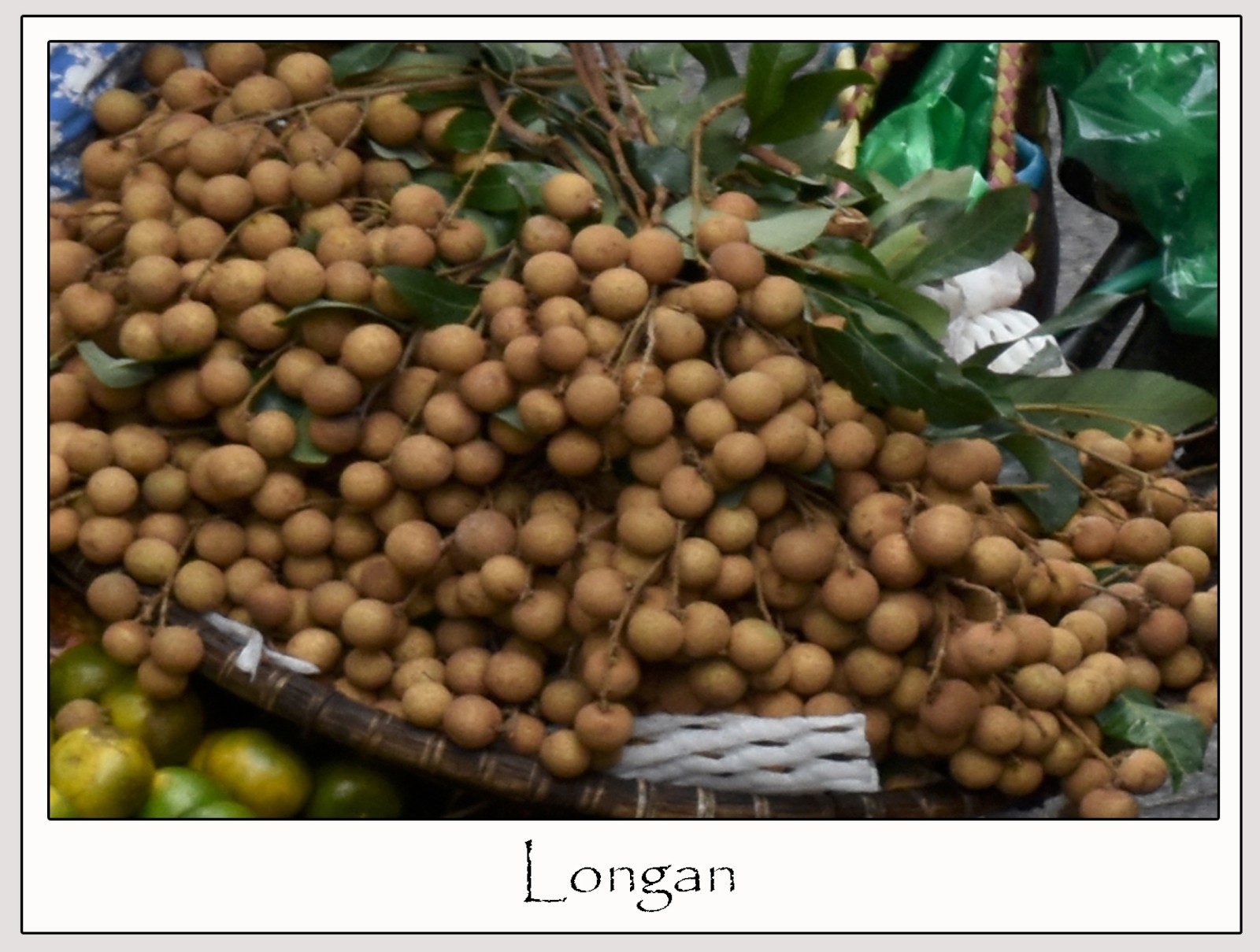 In addition to these I also like Mangosteen, Lychee and Jackfruit.
Beverages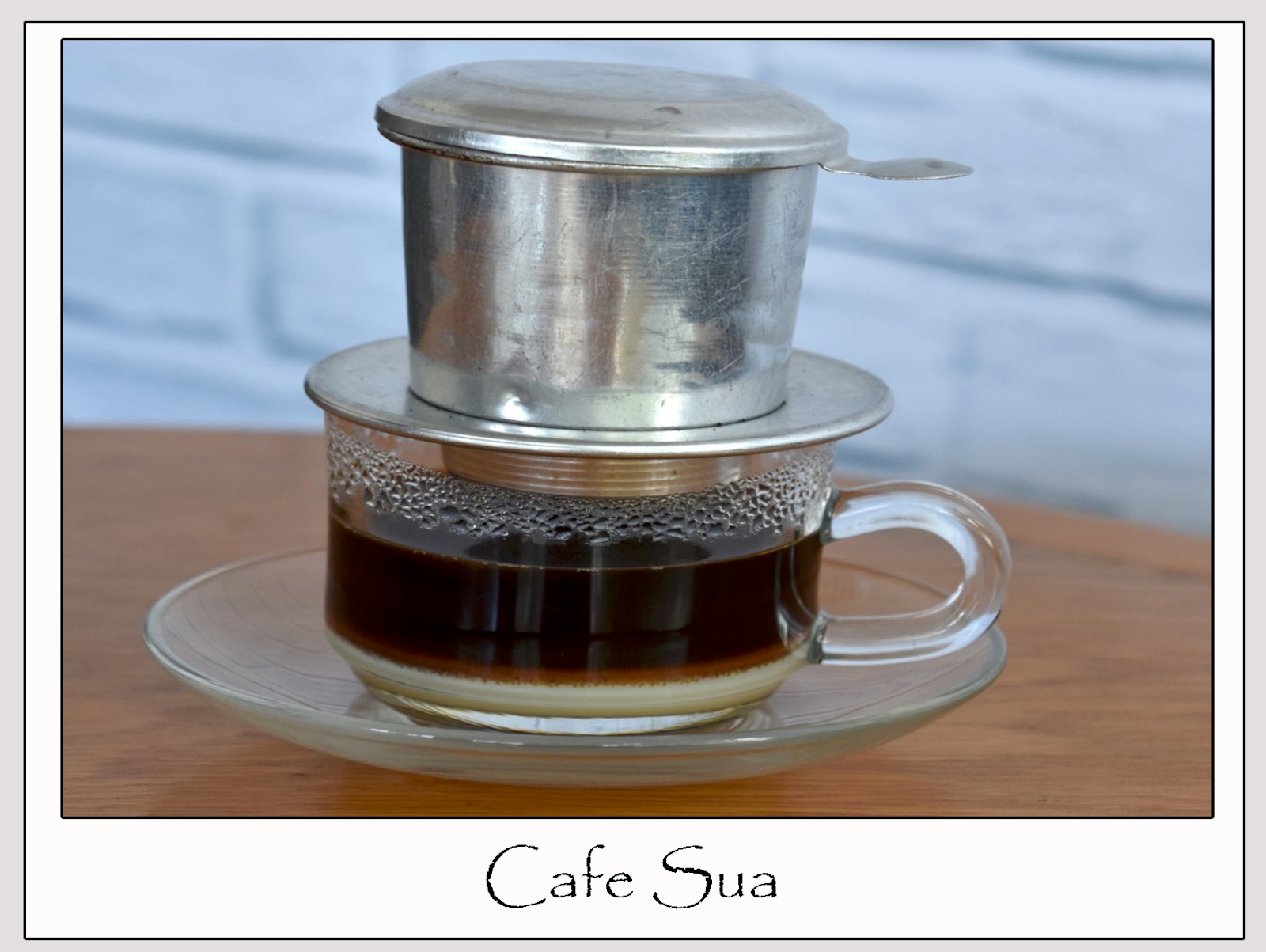 Café Sua is hot coffee slow dripped on top of condensed milk. The condensed milk is stirred into the coffee after it has stopped dripping.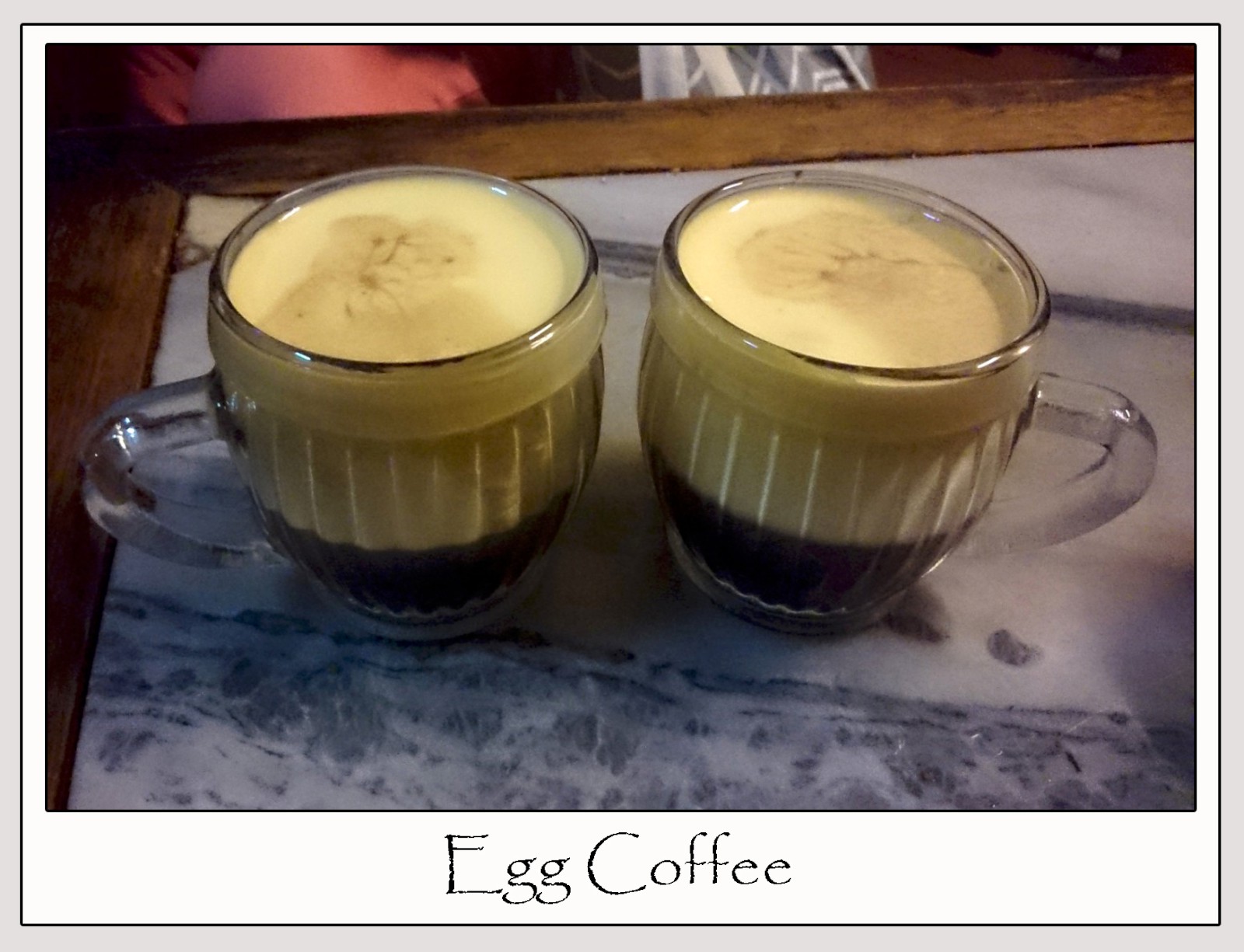 Egg coffee is café Sua with frothy mixture of egg yoke, condensed milk and coffee poured on top.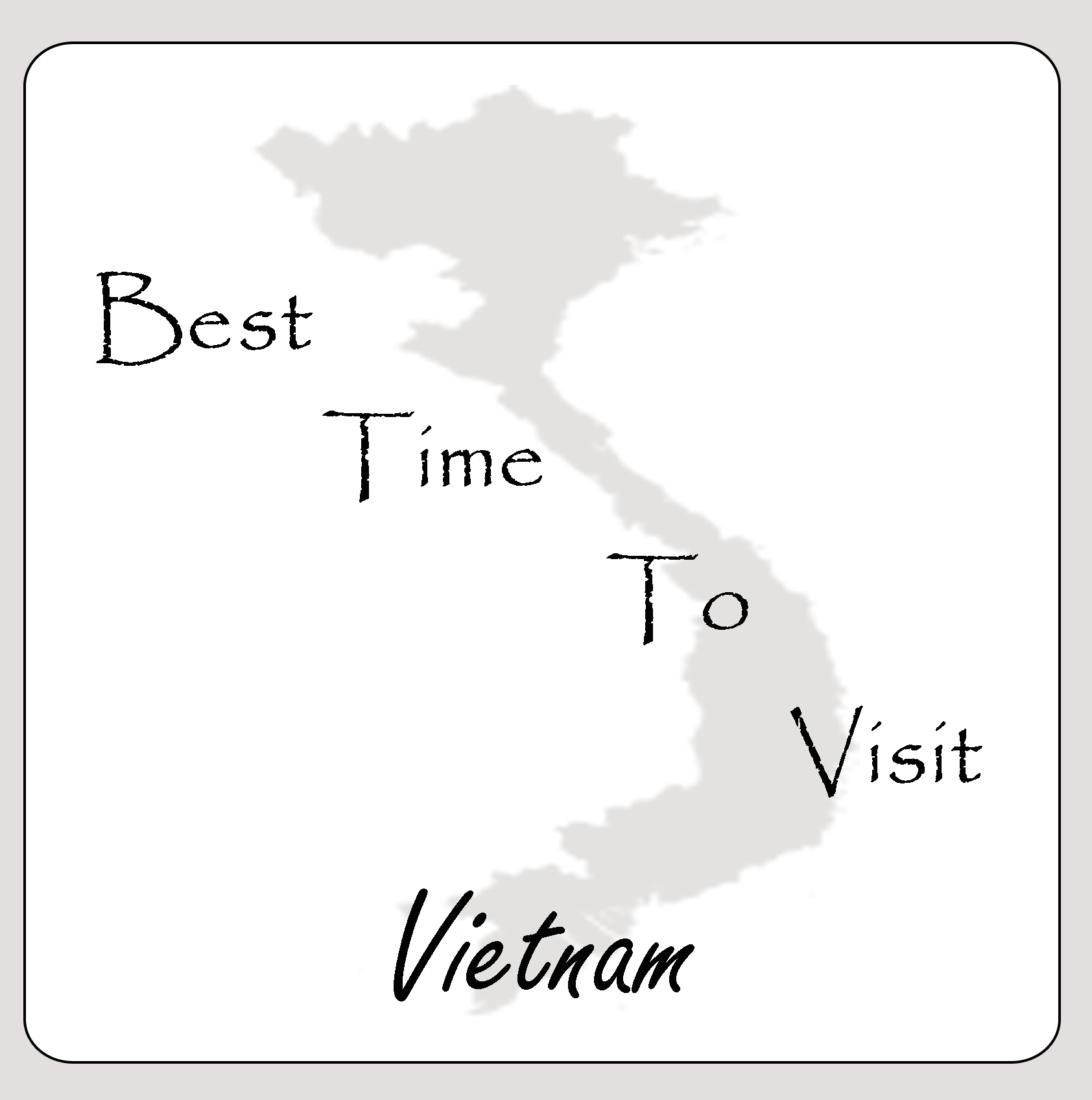 When I start to plan a trip I always consider three factors that help me to determine the best time to travel. These factors are weather, crowding and Holidays.
Being in an out of town location during bad weather conditions can destroy a trip.
Being in a vacation location during peak travel time when it is over crowded can ruin a trip as much as bad weather will.
Traveling to a location during a local holiday can make everything crowded and higher priced but being there during the holiday might be the entire purpose of the trip.
Vietnam Weather
Vietnam weather should be thought of as having three different weather zones:
North – North Vietnam has a distinct winter and summer season. The winter season is mostly cool and dry and lasts from November to April with January through March being the coldest. The summer lasts from May to October when it is hot and humid with July to September being the wettest months.
Central – The central part of the country is hot and dry from mid-January to late August. The rainy season is from September through November with possible typhoons in October and November.
South – The south is typically tropical with a distinct wet and dry season. The dry season lasts from November to early May and the wet season lasts from May to early November.
Peak season and off season
The peak season in Vietnam is from mid-December to the end of March which generally coincides with the dry season but the busiest time is just before the Lunar New Year which varies from year to year.
Holidays
The most significant holiday that impacts tourists is the Lunar New Year known as Tet. Everything is extremely busy before the New Year and then most businesses are closed for a few days while most people spend time with their family.
My Recommendation
My recommendation for the best time to visit South and Central Vietnam is from November to March when it is dry and the heat and humidity are at their lowest. My recommendation for North Vietnam is either November and December or April to June when it is dry but not cold.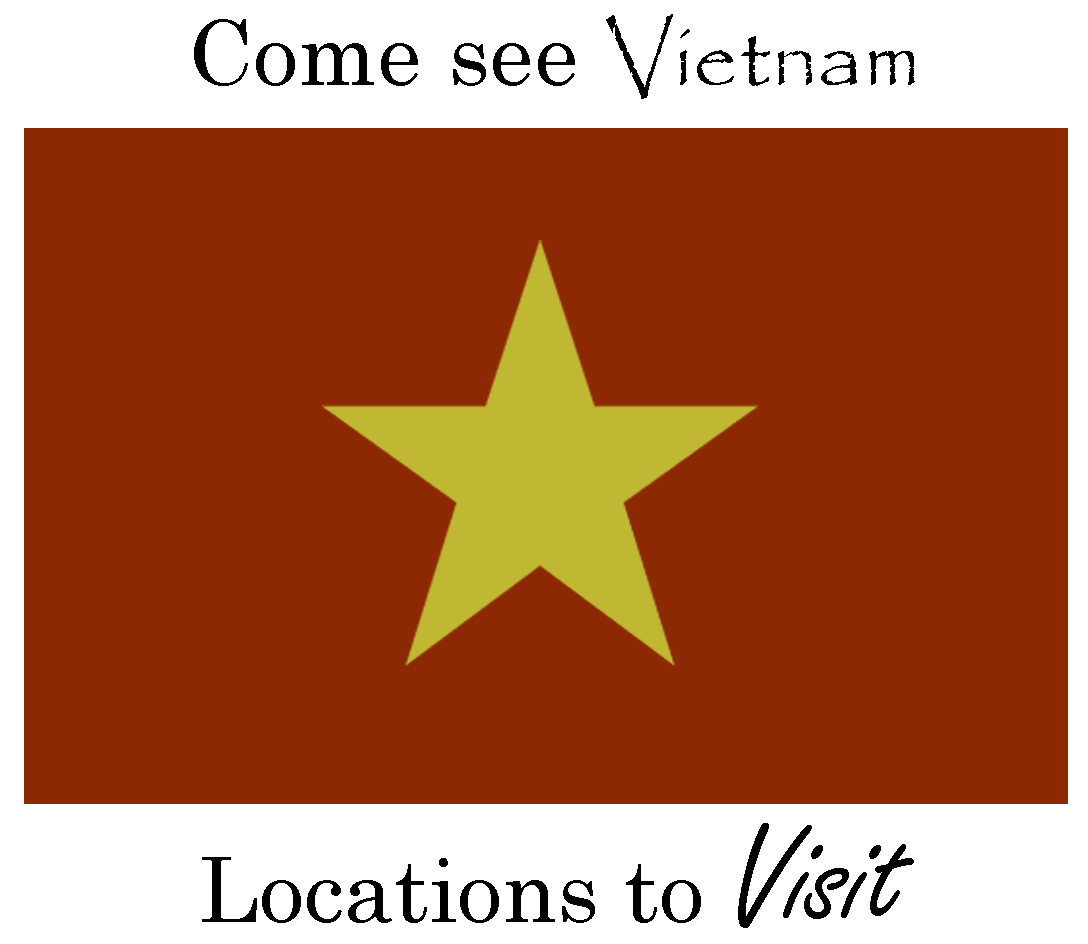 During my visits to Vietnam I have seen most of the tourist sites and many places that are unknown to most tourist.
I have made many posts in my blog about places to see and some events to attend in Vietnam. Each post provides detailed information about the place or event along with a series of photographs designed to provide a better understanding of the topic.
My desire for my posts is to provide more information than is normally found about each topic so that travelers will be able to decide if they want to include that place or event in their trip.
The posts that I have written along with a brief description of each location can be seen by clicking on the buttons below.