On The Surface . . . .
Thailand is Southeast Asia's most popular country for tourist.
It is known for being an exotic destination with world class beaches, crystal blue waters, lush jungles, ornate temples, ancient ruins, modern cities and wonderful food.
Thailand has so many sightseeing attractions that it would be easy to spend an entire trip going from one attraction to another but make sure to enjoy the diversity of activities that Thailand has to offer.
When planning your trip, make sure to schedule time to check out the night markets, enjoy an evening at one of the rooftop bars with spectacular views of Bangkok's cityscape, experience a traditional Thai massage, reserve some time to relax on the beach and of course enjoy all of Thailand's culinary pleasures.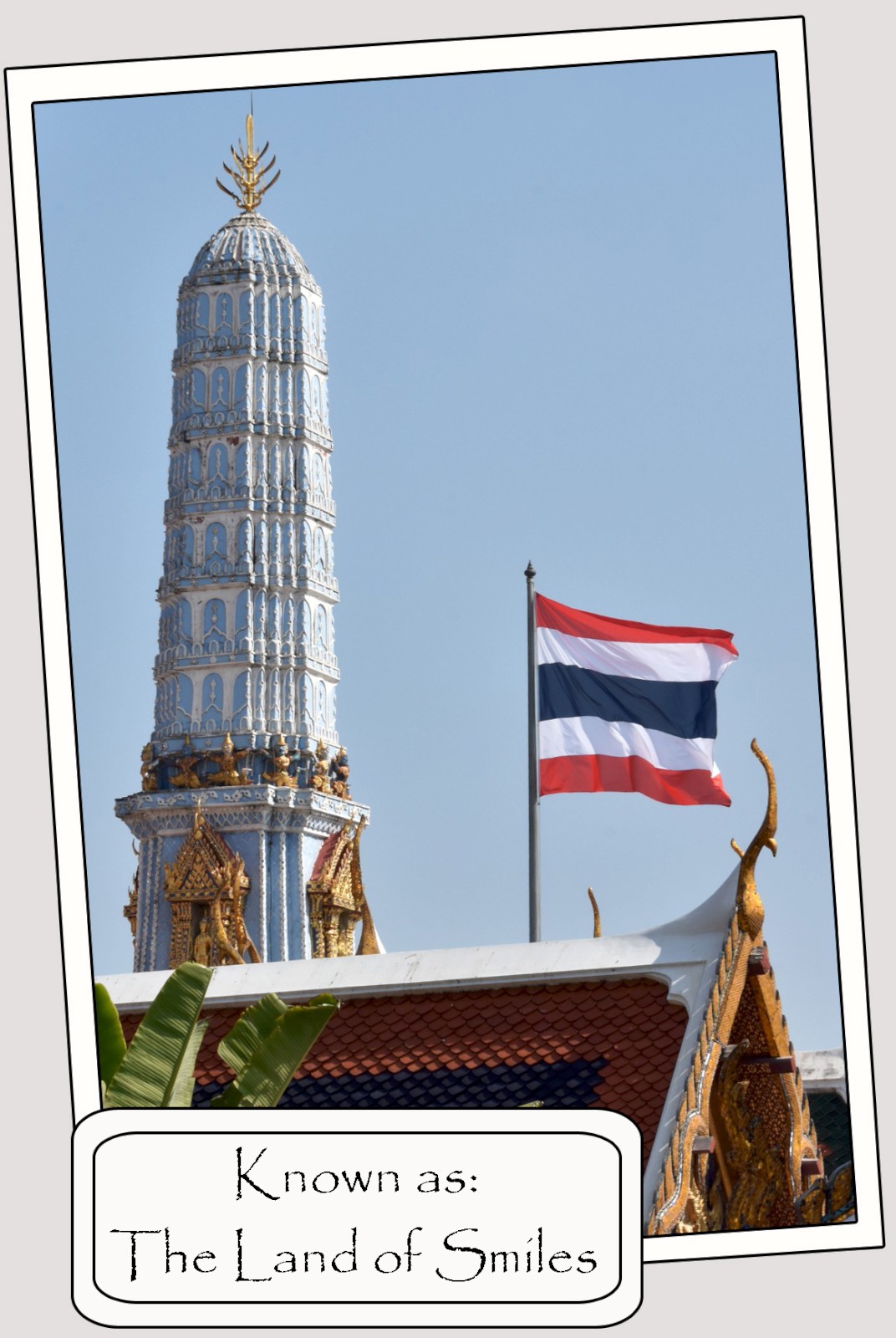 The Basics . . . .
Thailand is a travel destination that can be exciting for the adventurer and for someone looking for a luxury destination. Thailand is rich in history and culture, it is a county of natural beauty and it is still home to local wildlife and sea life but it also has its modern and luxury side.
This page is designed to identify the highlights of everything Thailand has to offer a traveler. My posts on individual place to see and things to do will provide more details on those activities. All of my posts on places to see in Thailand can be found by going to the bottom of this page and clicking on the button for each city in Thailand.
Thailand has almost countless tourist sites to visit. The list below are some of the most famous sites in Thailand. I have visited all of these and many more. Some of these I have already made detailed posts about and the others I will be posting on in the future.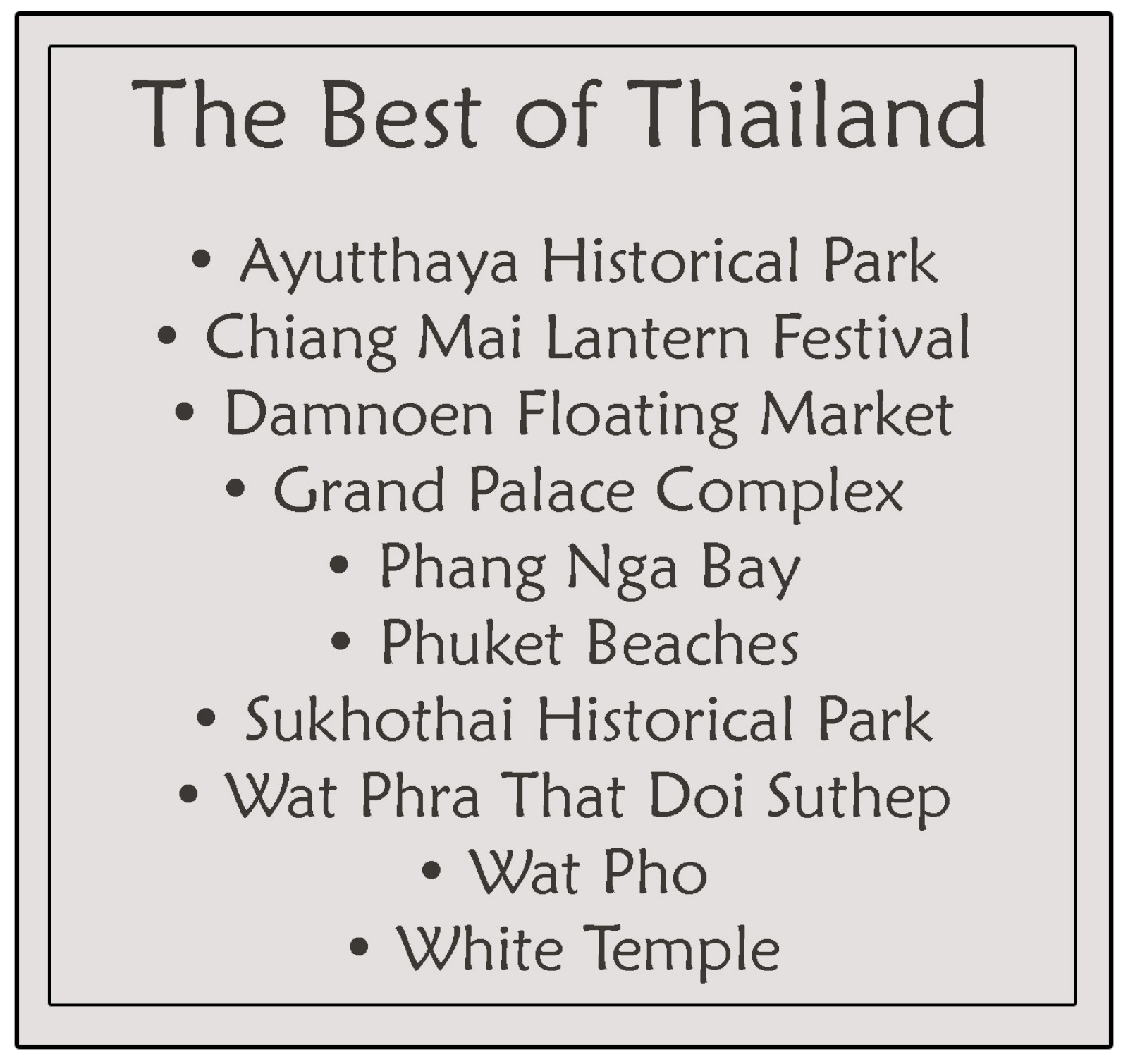 Check out all of my posts on places to visit in Thailand by visiting the information that I have provided on cities to visit in Thailand that is linked at the bottom of this page.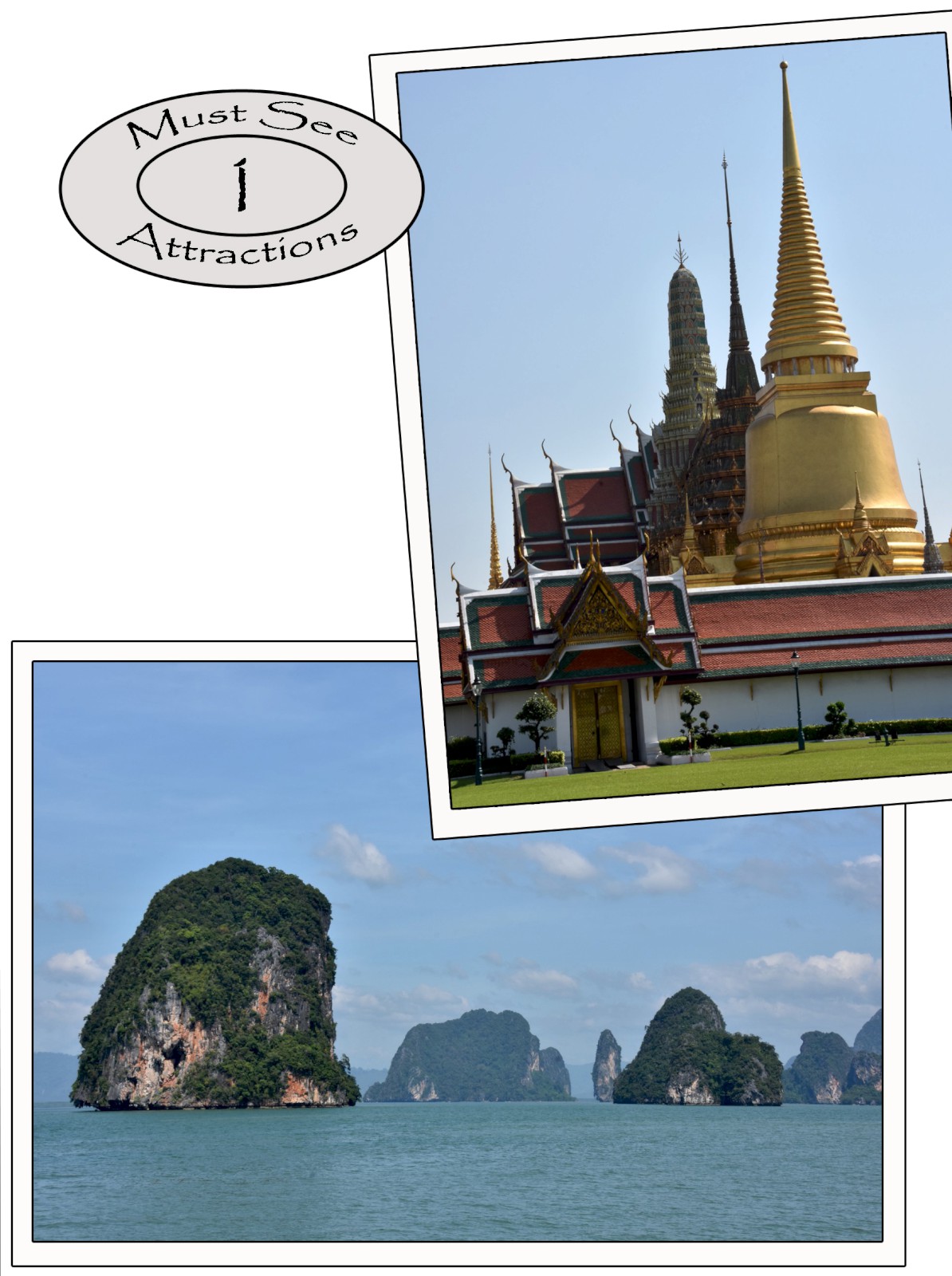 Visiting Thailand's major tourist sites is a good starting place to learn about Thai culture, history, religion and enjoy seeing the stunning nature.

Experiencing Thailand . . . .
Must see attractions are an important part of every trip but there is much more to experiencing Thailand than seeing the top tourist's sights.
It is hard to see and do everything in a single trip but no one wants to return home from a trip only to find out that they missed out on a great experience just because they didn't know about it. The topics that are identified below aren't specific places but they are the essentials that I would consider crucial to experiencing Thailand.
Make the most out of your trip by truly experiencing Thailand!
Visiting the local Thai markets are always exciting and they can be an adventure in itself. There are several options for markets depending on what you are "in the market for". Most people wanting to see an authentic Thai market should make sure to visit one of the night markets and the weekend market. One of the great things about visiting these markets is being able to wander through the market and eat a variety of fresh Thai food that is being cooked right in front of you.
Floating markets like the one in this photo are an important part of Thailand's heritage. A floating market is a place where vendors row to a meeting place from the nearby canals with their boats loaded with a variety of products to sell directly from their boats.
If you want a little less adventurous experience and have a wonderful night out then Asiatique is a great place for shopping and restaurants with live music.
Asiatique is an open air waterfront night bazaar with hundreds of shop, a mixture of Thai and western restaurants, live music and a river front boardwalk.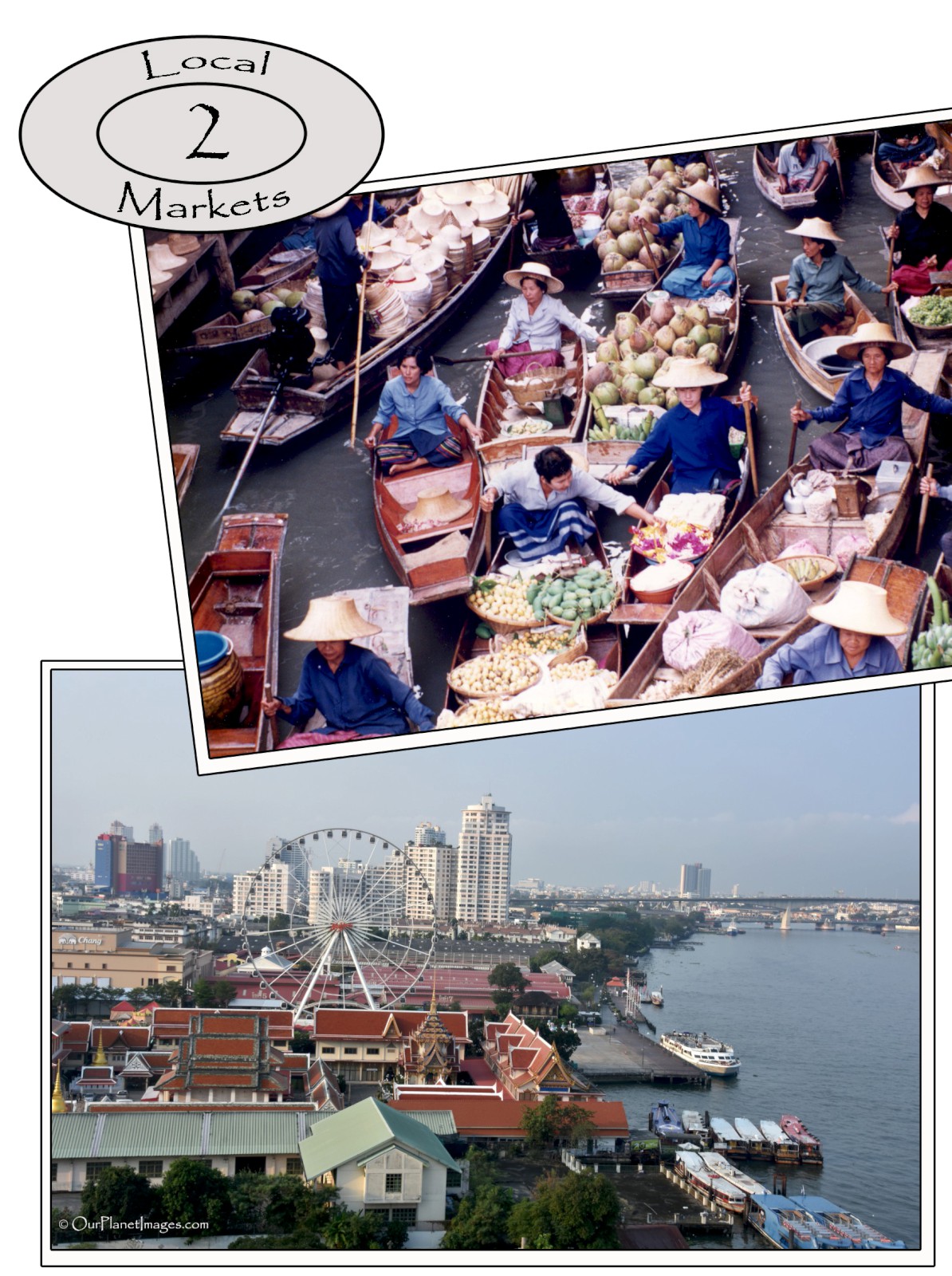 "I don't think that it is possible to truly experience Thailand without visiting a few temples!"
When visiting Thailand, it does not take long to see that religion is important. Between all of the spirit houses in front of houses and businesses, over 40,000 temples and approximately 300,000 monks there is no doubt that religion is an important part of the Thai culture.
Buddhism is practiced by more than 95% of the population and every man in Thailand is required to become a monk for a period of time before the age of 20.
Many of the Buddhist temples in Thailand are some of the most spectacular complexes that I have visited in my travels and three temples are listed in my must see attractions when visiting Thailand. I have visited many temples on my trips to Thailand and they all seem to have distinct differences. Some of the famous temples are crowded but other temples that I have visited are not often visited by tourists.
There are lots of temples in Thailand that are unknown to most tourist. We were the only people at this temple site and all of the sudden a group of monks appeared out of nowhere, circled the stupa then disappeared as mysteriously as they came.
There is another side of Thailand outside of Bangkok where life slows down but the adventure of being in Thailand continues. Thailand is filled with ancient ruins and lost temples. Some of these sites are popular tourist sites but some are almost deserted and you may be the only person there.
Being relatively alone at some of these ancient ruins allows you to get a feeling of the ancient culture that built these sites without the distraction of tourists everywhere.
The two top places for seeing ancient ruins in Thailand are Ayutthaya and Sukhothai. Both of these cities were capital cities of Siam and are currently on the UNESCO World Heritage Lists for their cultural and historical significance. Each of these cities have multiple locations that can be visited.
Being at these ancient sites always makes me feel like I am walking through a living museum. These sites are fully accessible, they are not roped off or hidden behind glass, they are touchable where it is possible to get a good sense of the history of these sites.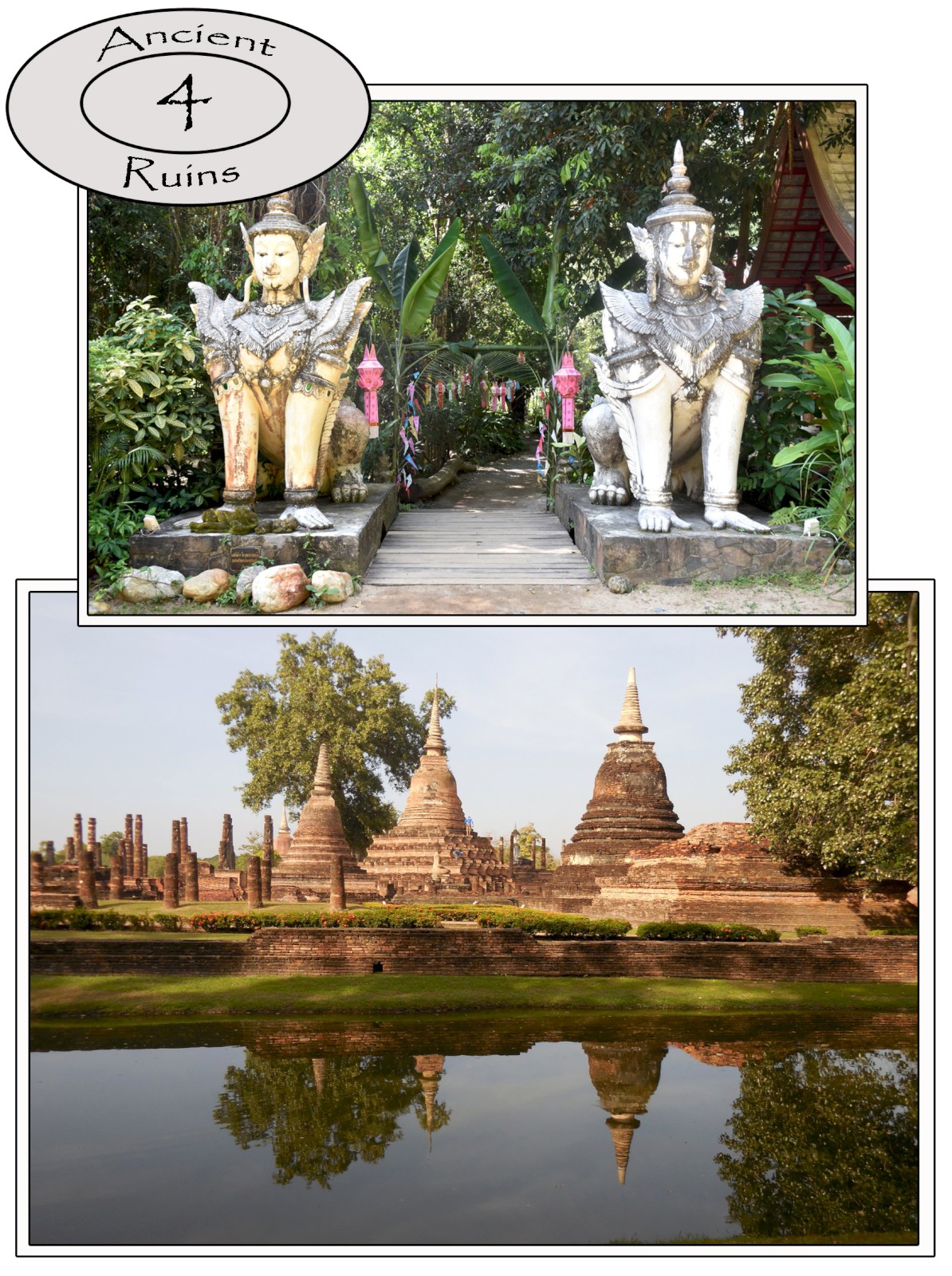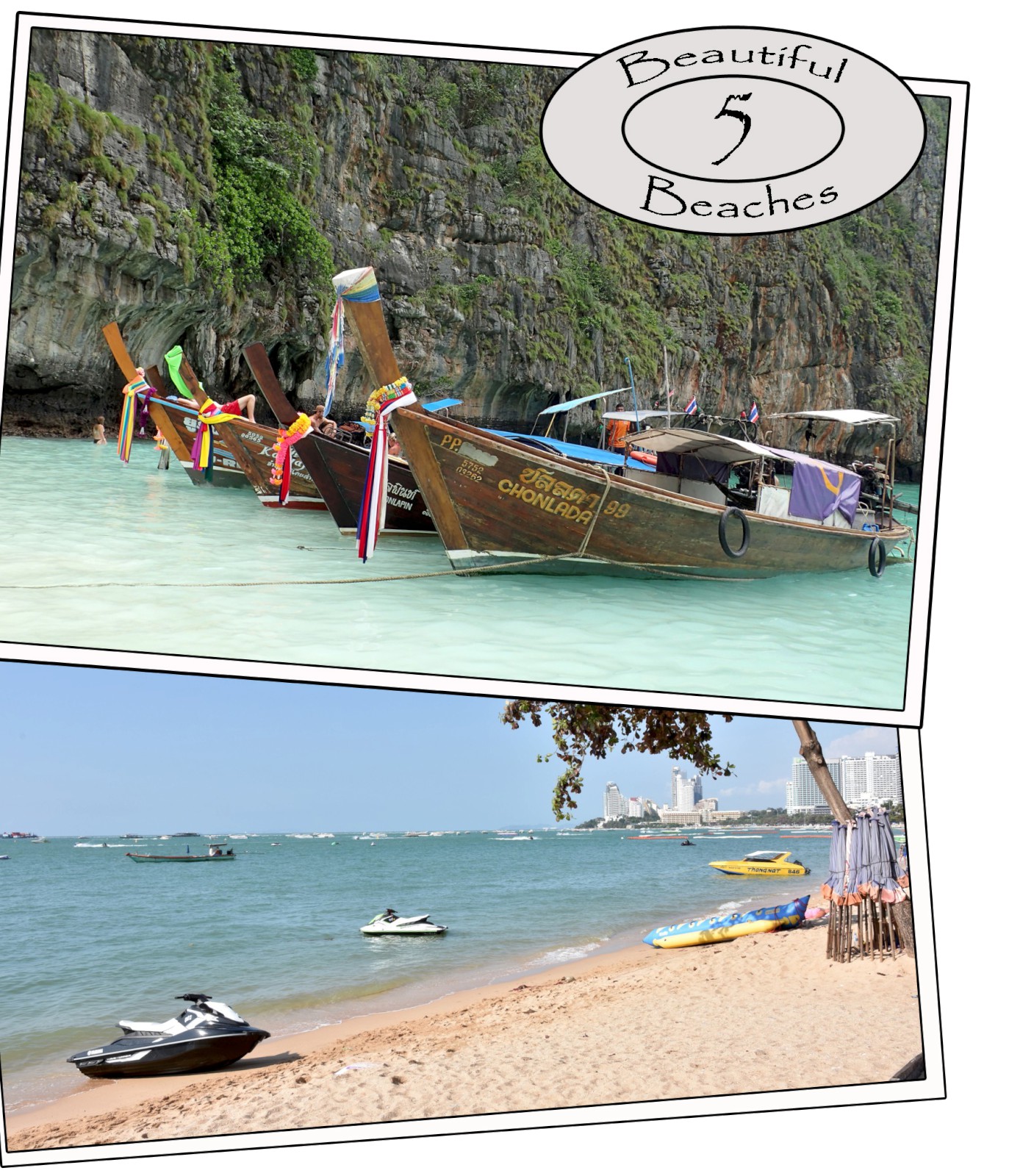 The coastal region of Thailand with its beautiful beaches and crystal blue water is one of Thailand's most famous attractions. Some of these areas are known for being party towns and lively night life but there are also places like Phang Nga Bay where you can get away from the crowds and find a lonely beach to relax and soak in the beauty of nature and wonder why you would ever want to go home.
In Thailand it is possible to stay in the luxury of a beach resort and spend the day on an isolated beach. Longtail boat vendors can take you from a resort to an isolated beach for the day and return you back.
Thailand has some of the most beautiful beaches in the world. There is nothing like being on the beach in Thailand, walking on the soft white sand while looking out across the crystal clear blue water and seeing the uniquely shaped limestone rock formations. It truly is the paradise that you imagined in your dreams.
"No trip to Thailand is complete without including a few days at the beach!"
Getting around Bangkok can be a challenge. Almost everyone in Bangkok uses the Skytrain to avoid the traffic jams on the roads but Bangkok has a couple of unique methods of transportation that will make you feel like you are getting a real Thai experience.
River boats and Tuk Tuks can take you anywhere that you want to go and you will be able to see other things along the way with these open air transportation.
A couple of easy ways to use these services are to buy a Tuk Tuk day pass for on-demand get on and get off in the Bangkok Old Town then on a separate day use the river boat taxis to visit the sites that are along the Chao Phraya River.
Using tuk tuks and river boats will let you see parts of Bangkok that you will miss out on if you only use the Skytrain.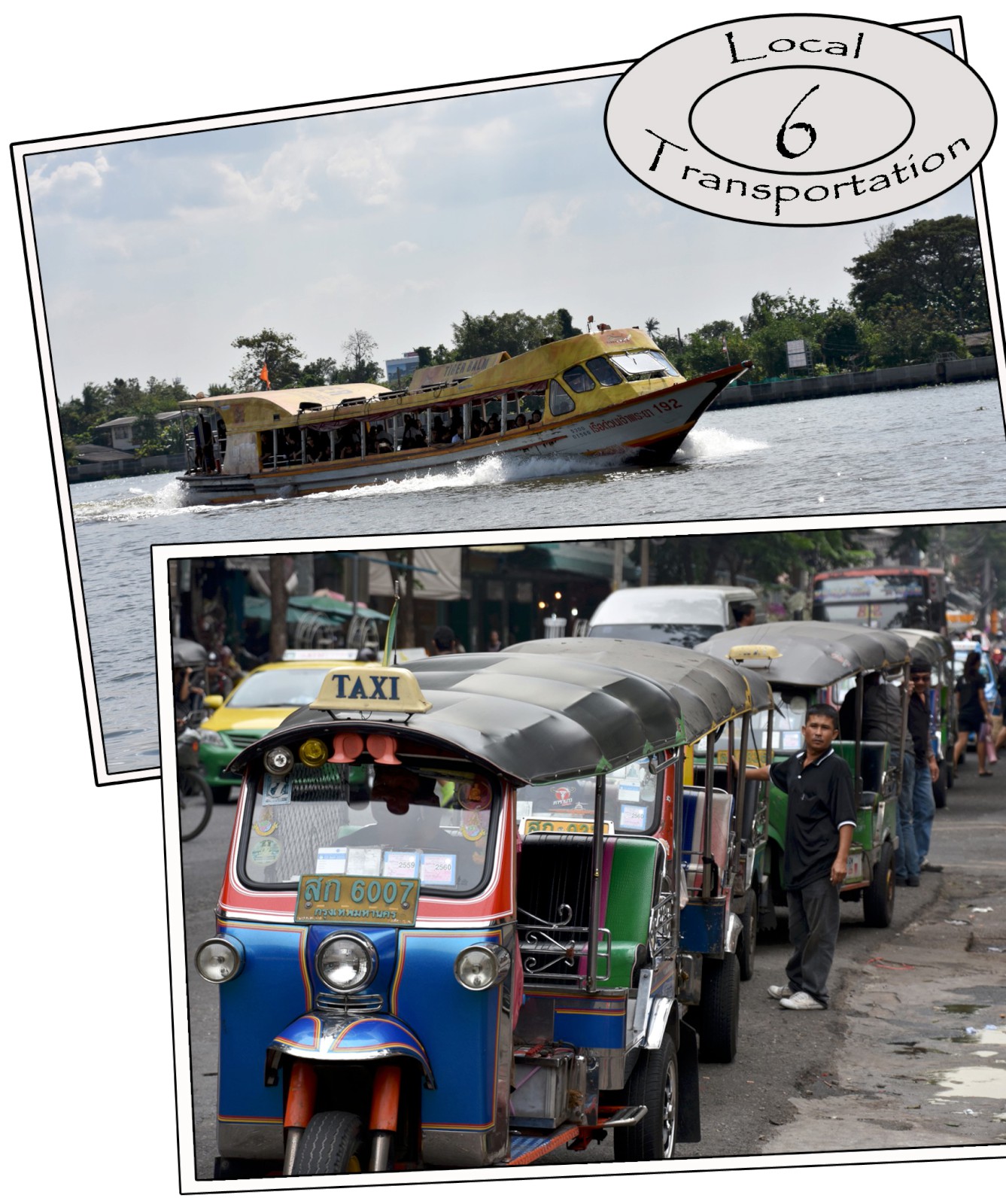 Thailand is an exciting destination with plenty of places to explore but it also has its modern side that is easy to overlook. Today's Bangkok is loaded with modern architecture that can be seen in luxury condos, office buildings, shopping malls and creative bridges.
These may not be at the top of your tourist list but some of the buildings are home to rooftop bars and restaurants that have spectacular views of the city and make for a wonderful relaxing evening in Bangkok.
Bangkok's newest mall, the ICONSIAM is an ultra-modern shopping mall that is one of the largest in Asia. Aside from premium brand shops and riverside restaurants it hosts the longest fountain in Southeast Asia that performs nightly shows similar to the Spectra Light and Water Show in Singapore.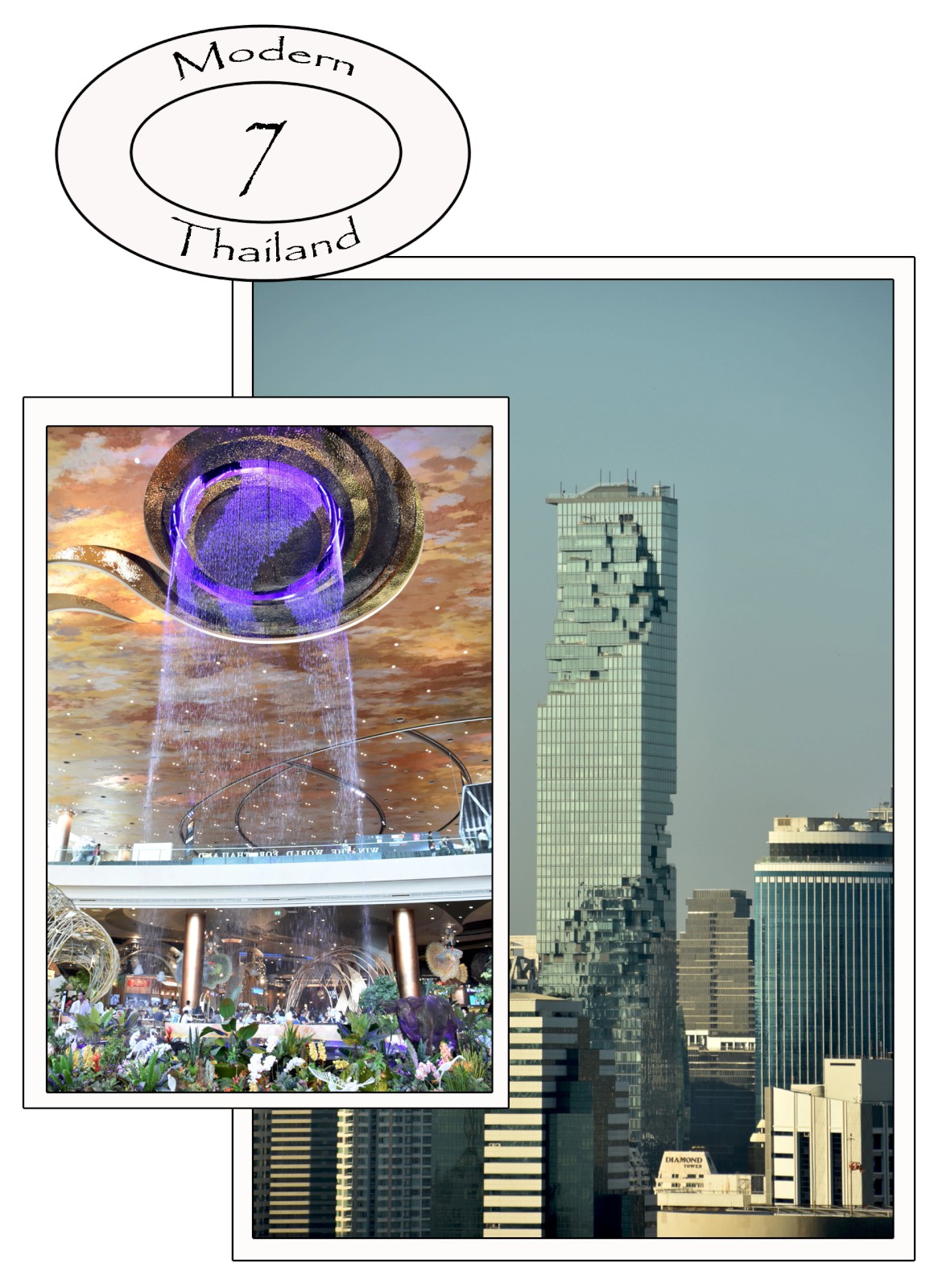 A Taste of Thailand . . . .
Thai food is one of the things that makes me excited when I start thinking about traveling to Thailand. The foods that I have highlighted below are some of my favorite Thai foods.
Don't Leave Thailand without eating these foods!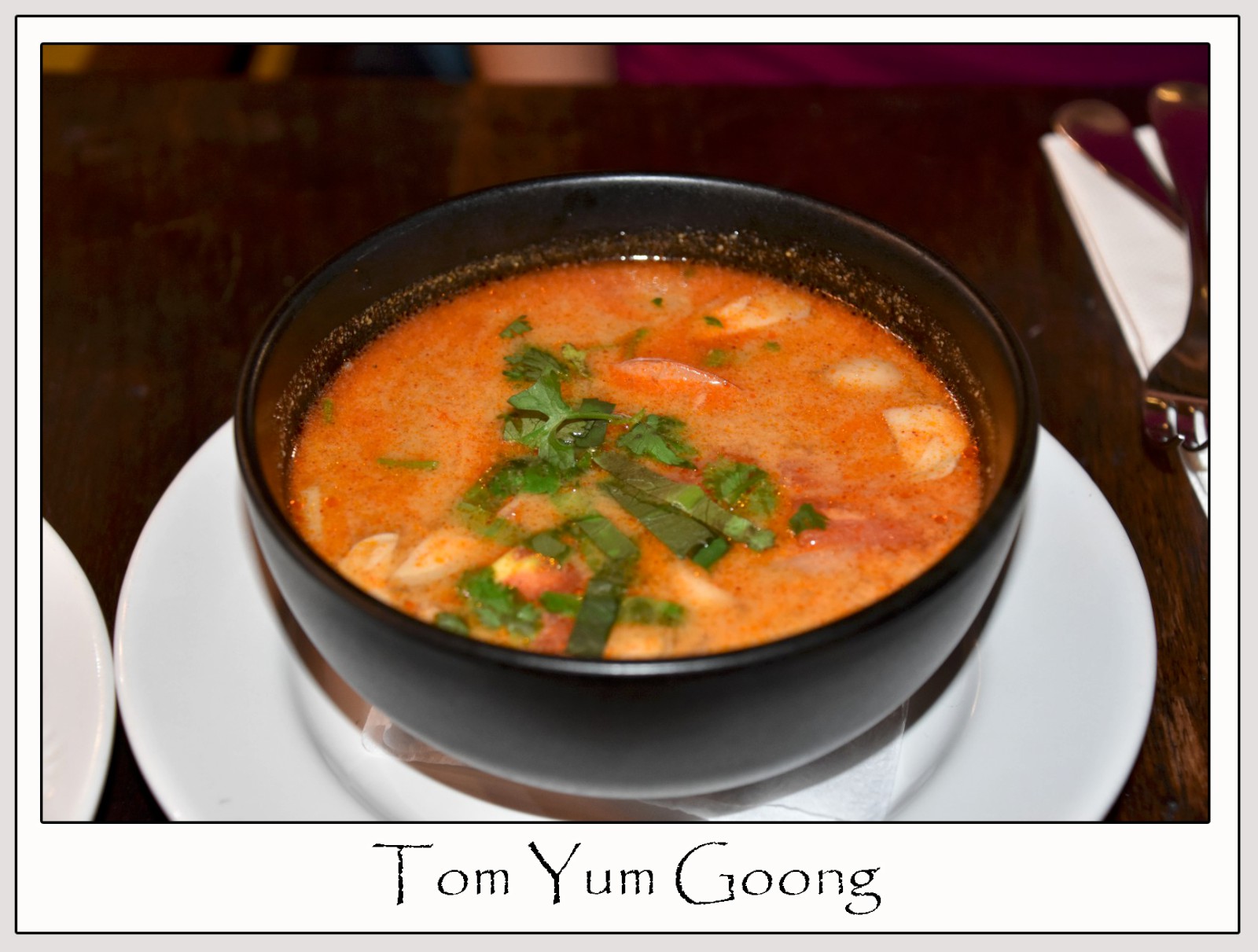 Tom yum Goong is one of the most favorite Thai dishes. Basically, it is a sour and spicy shrimp soup with lemongrass, ginger, lime leaves, mushrooms, chilies, and tomatoes. It sounds simple but once you try it you will want it again.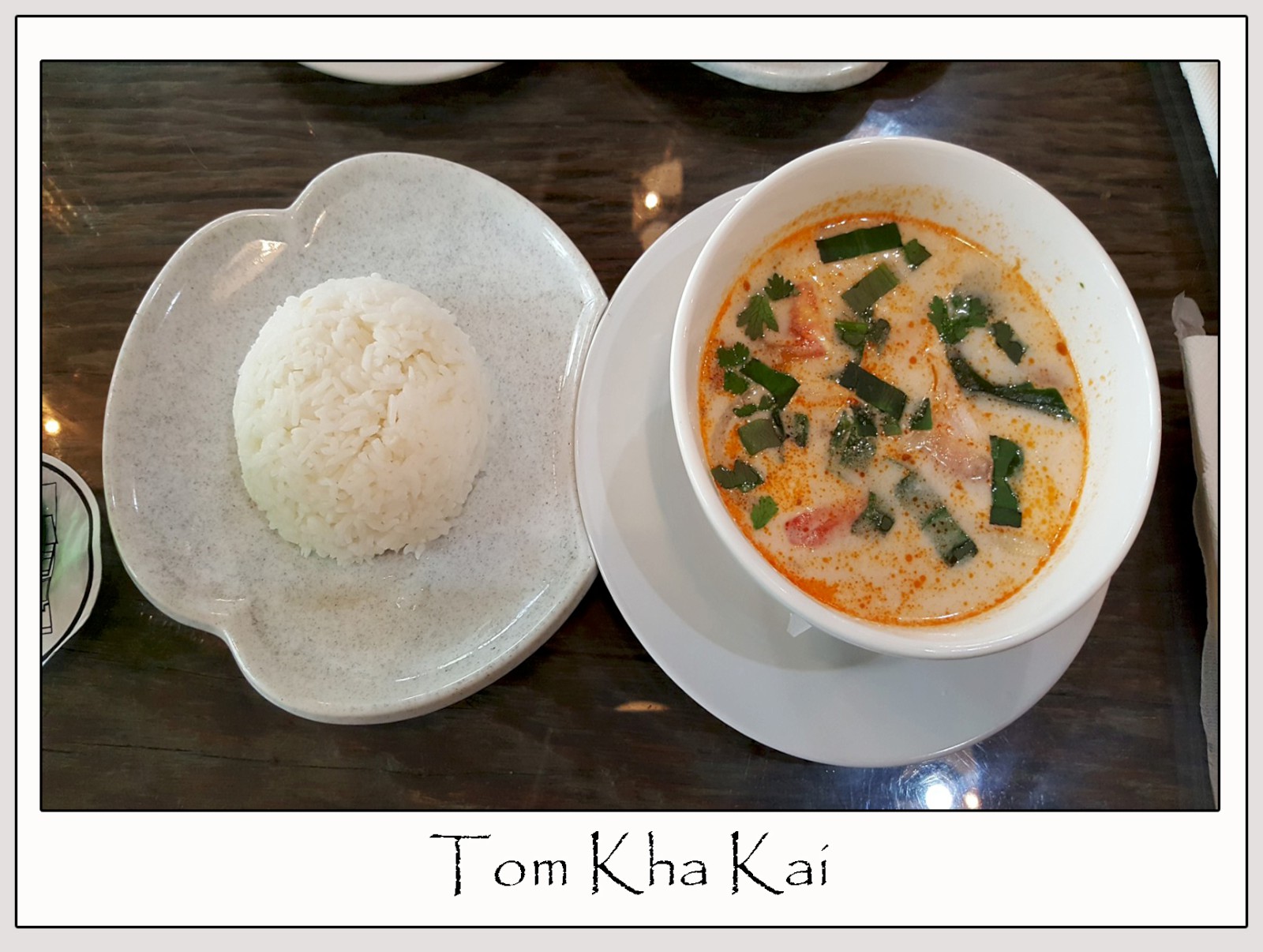 Tom Khai Kai consists of warm coconut broth, lemongrass, red curry, ginger, thinly sliced chicken, mushrooms and red bell peppers.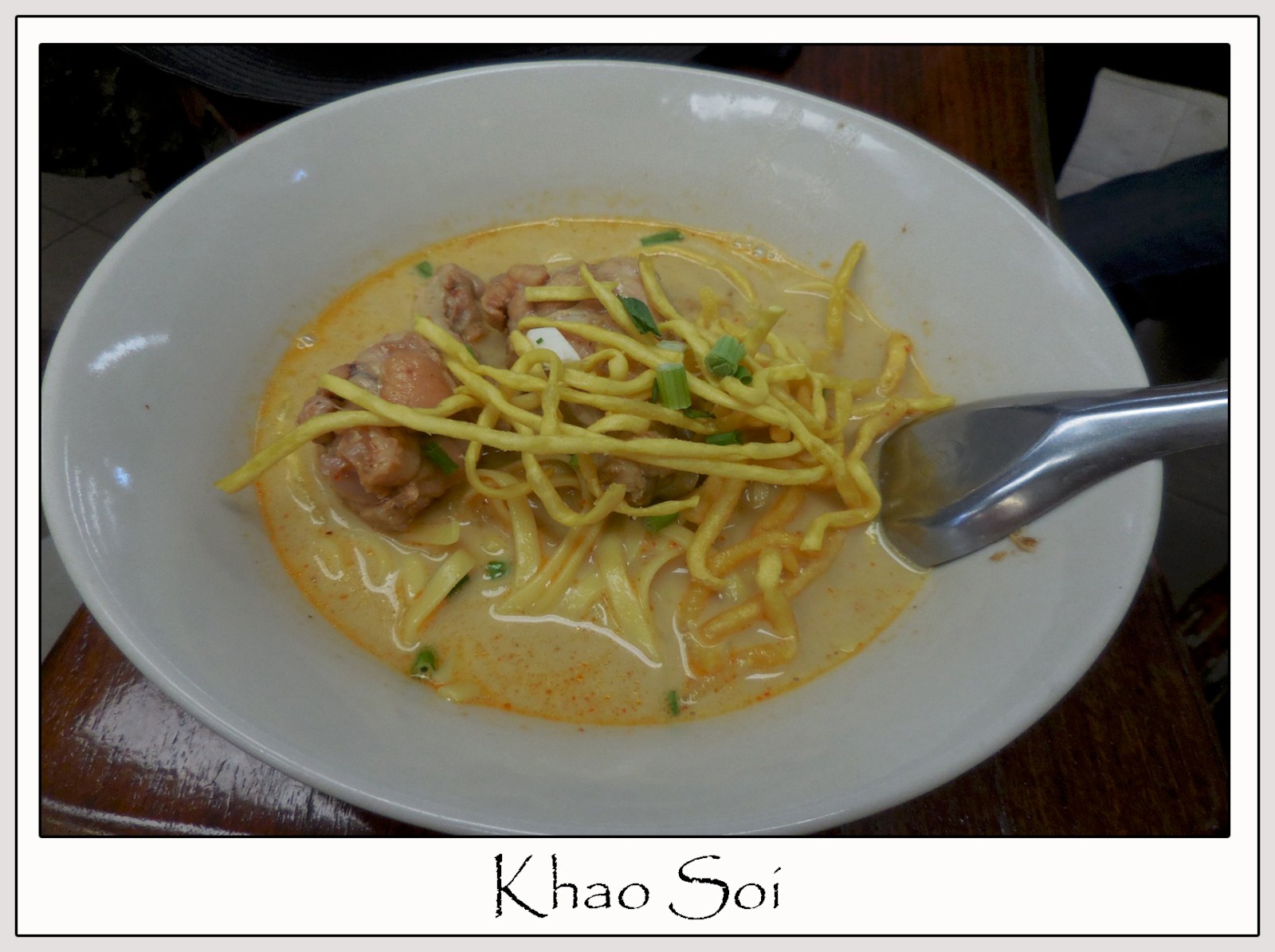 Khao Soi is a northern Thai dish made from egg noodles with a spicy coconut curry broth and your choice of chicken, pork or beef then topped with crunchy fried noodles. Served with pickled cabbage, raw onions and lime wedged on the side.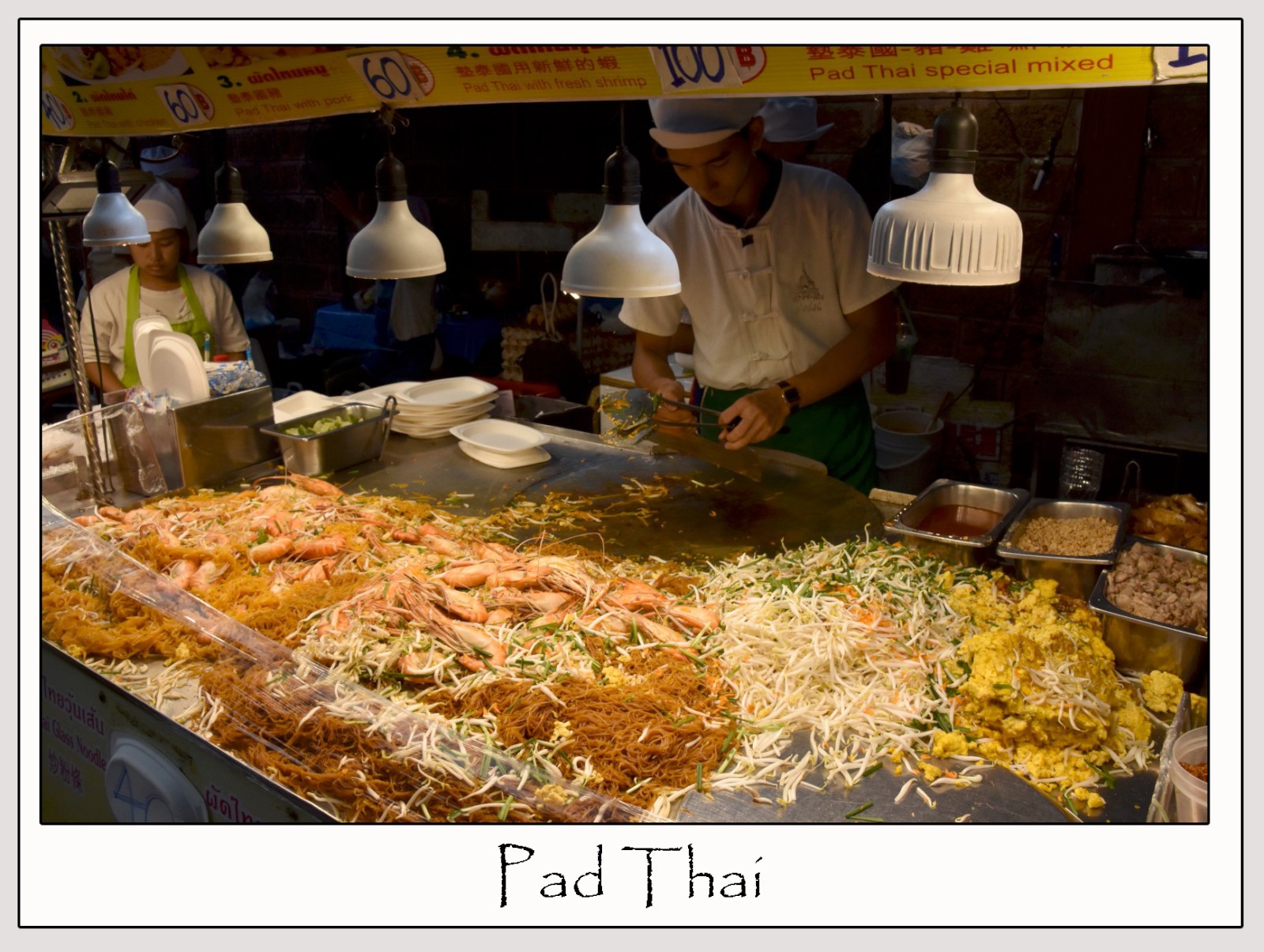 Pad Thai is probably the most famous Thai noodle dish. It is made with rice noodles, vegetables, eggs and chicken, shrimp, beef or pork. It is mixed together with a spicy Pad Thai sauce and cooked on a grill. After is is cooked, crushed peanuts are added and fresh lime is squeezed on top.
Desserts
Mango sticky rice is a classic Thai dessert that is simple but delicious. Sticky rice is soaked in coconut milk, sliced yellow mangoes are placed on top of the sticky rice and more coconut milk is poured over the mangoes.
Beverages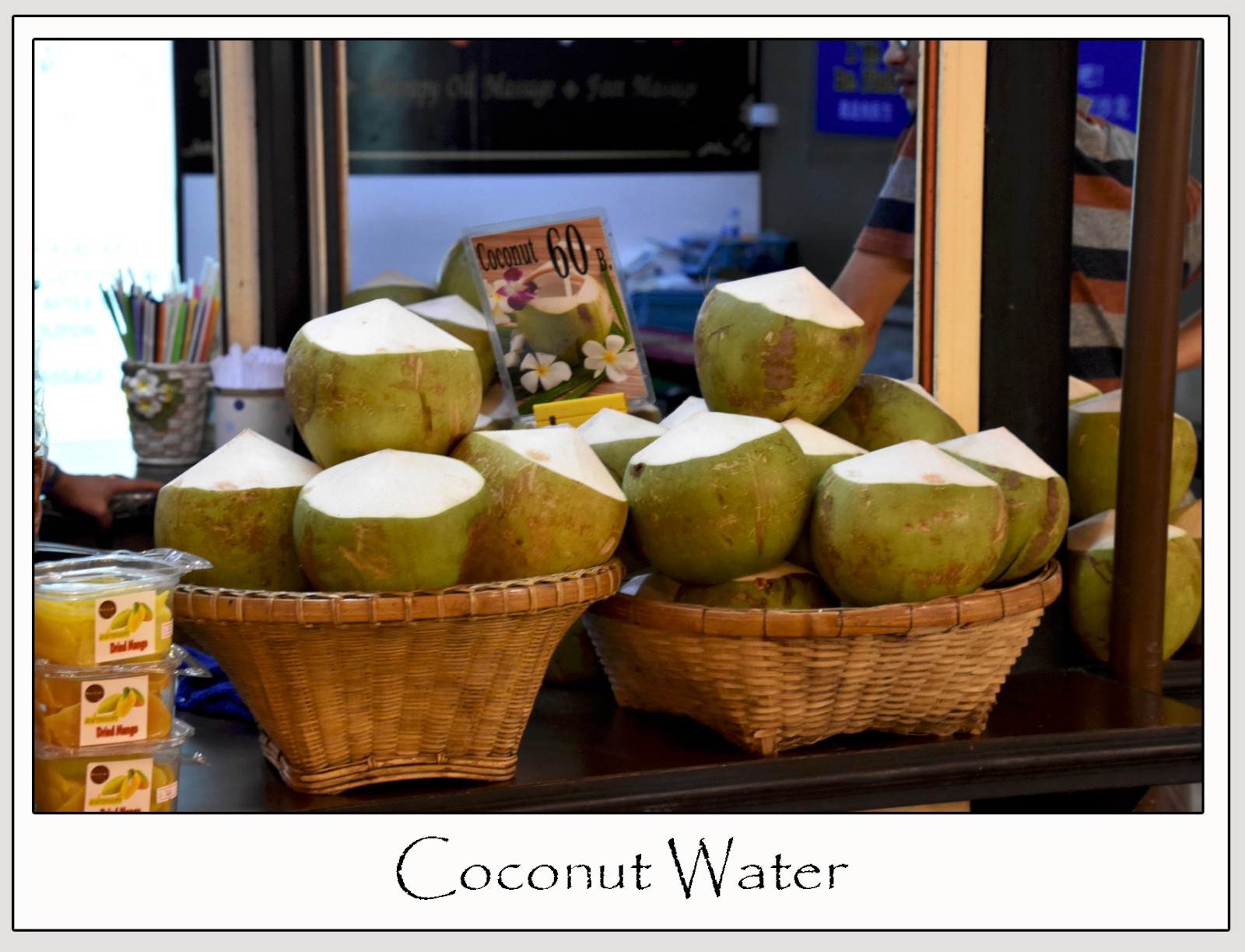 Coconut water is not unique to Thailand. It is common anywhere in the tropics but anytime that I travel to Thailand I always drink as much coconut water that I can.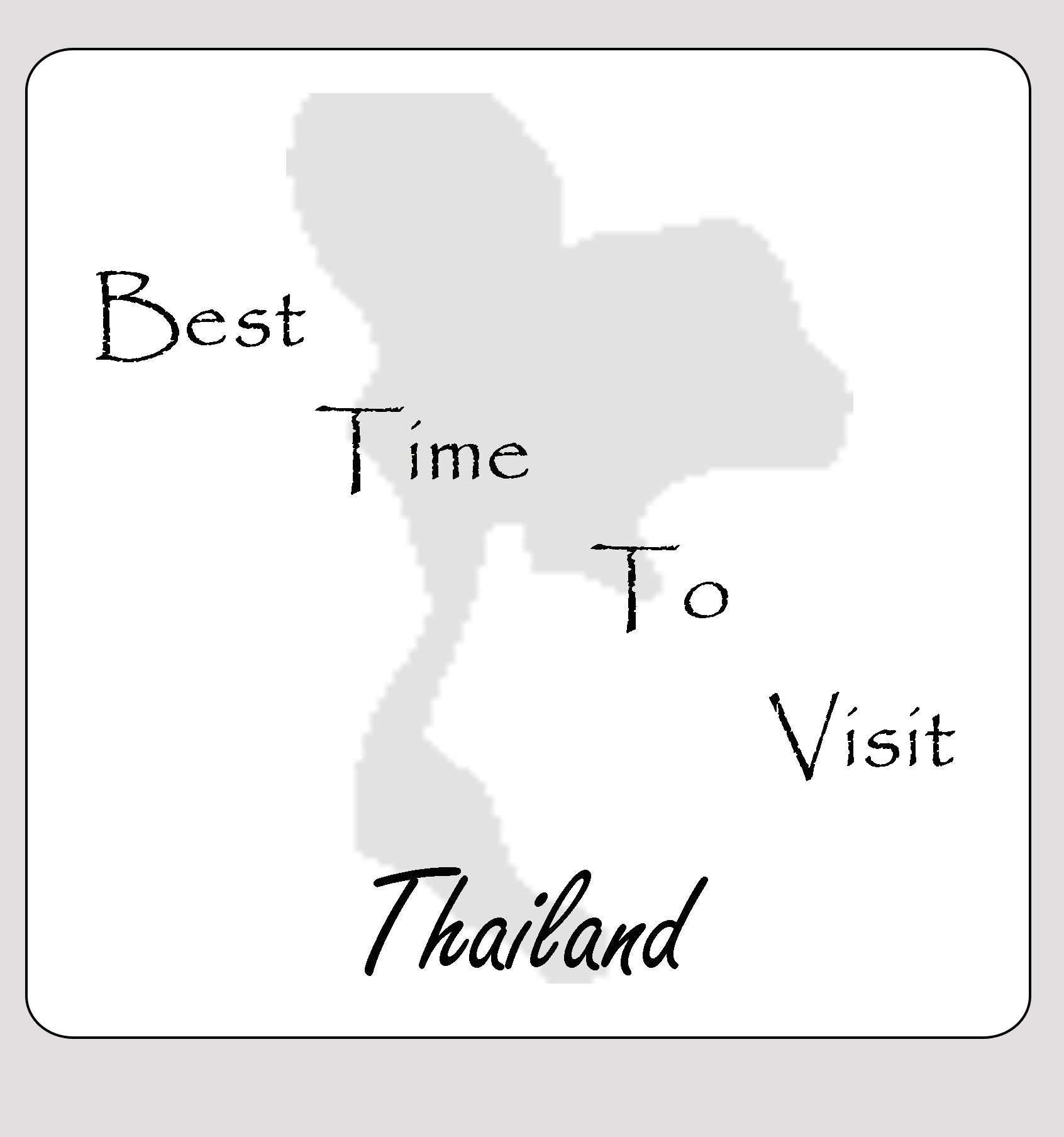 When I start to plan a trip I always consider three factors that help me to determine the best time to travel. These factors are weather, crowding and Holidays.
Being in an out of town location during bad weather conditions can destroy a trip.
Being in a vacation location during peak travel time when it is over crowed can ruin a trip as much as bad weather will.
Traveling to a location during a local holiday can make everything crowded and higher priced but being there during the holiday might be the entire purpose of the trip.
Thailand Weather
Thailand has a tropical climate so it is hot and humid all year. Thailand is known to have three seasons:
Cool – The winter months (from November to the end of February) are slightly cooler with low temperatures around 70 degrees F and highs in the upper 80s to low 90s.
Hot – The summer months (March to June) are warmer with lows in the upper 70s and highs that can get into the upper 90s.
Rainy – The monsoon season (from July to October) when Thailand can get heavy rains and flooding is not uncommon.
Peak season and off season
The peak season in Thailand is in the cool season and the off season is during the hot and rainy season. I have only traveled to Thailand in the peak season and it really was not over crowded. Rainy season is something that I always try to avoid because it truly does ruin a vacation to have rainy days.
Holidays
Thailand has a large number of holidays and many of them are not on a fixed day. It is best to check the holiday schedule for the year that you will be traveling and determine if that is a time that you want to be in Thailand or if it is a time that you want to avoid.
My Recommendation
My recommendation for the best time to visit Thailand is from November to March when it is dry and the heat and humidity are at their lowest.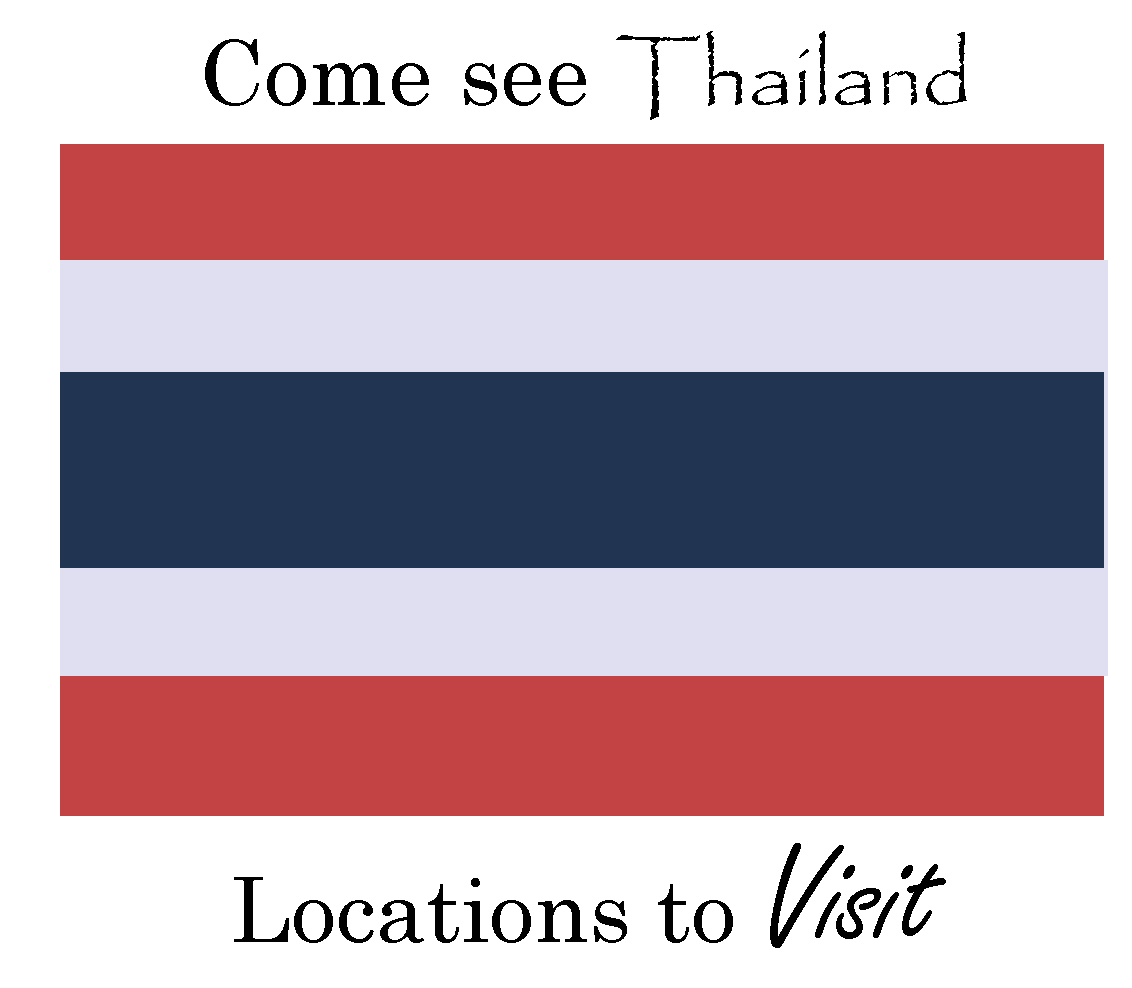 During my visits to Thailand I have seen most of the tourist sites and many places that are unknown to most tourist.
I have made many posts in my blog about places to see and some events to attend in Thailand. Each post provides detailed information about the place or event along with a series of photographs designed to provide a better understanding of the topic.
My desire for my posts is to provide more information than is normally found about each topic so that travelers will be able to decide if they want to include that place or event in their trip.
The posts that I have written along with a brief description of each location can be seen by clicking on the buttons below.