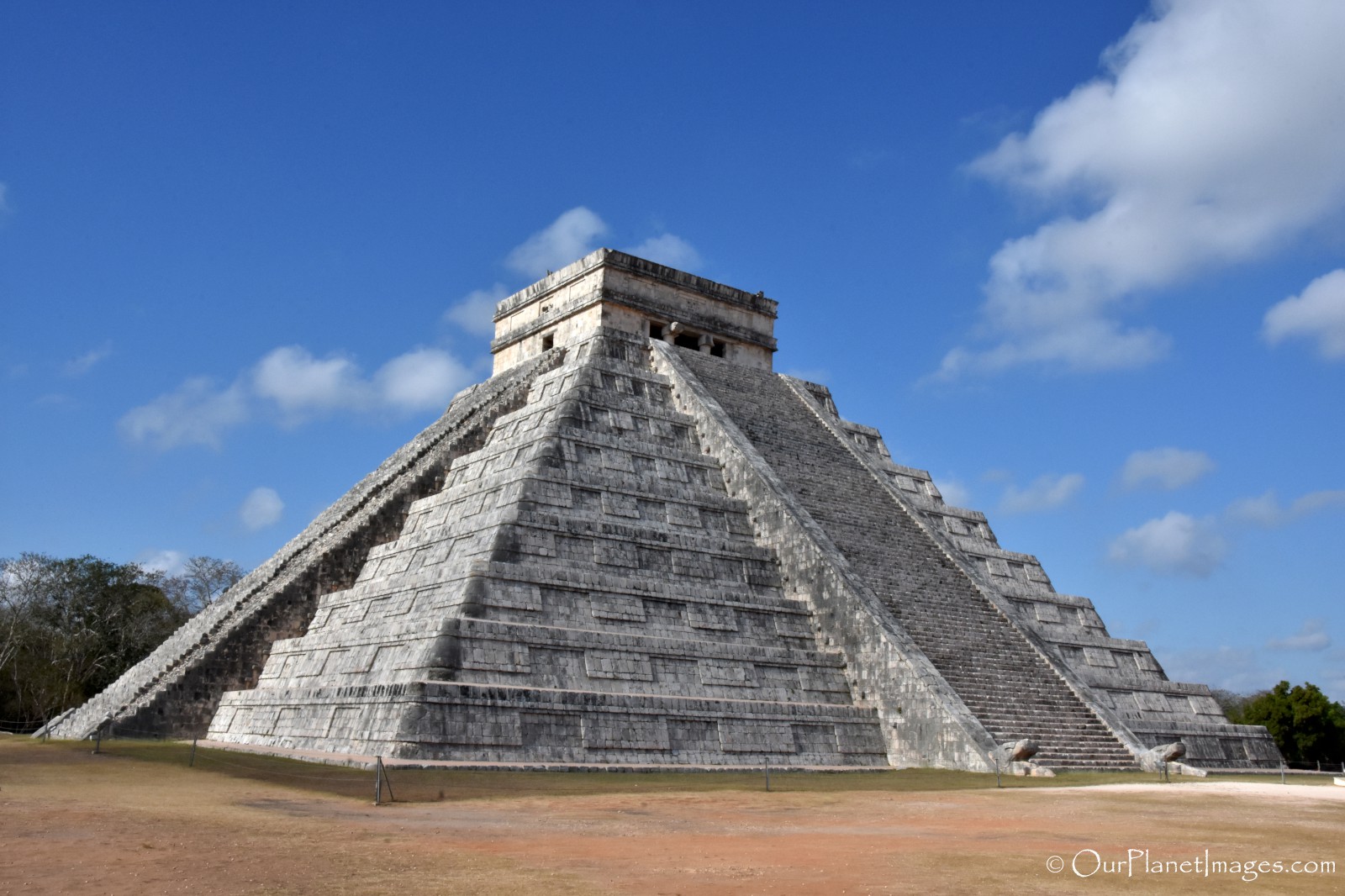 Mexico is a country best known for ancient historical ruins, delicious food, lively culture, and white sand beaches that are lined with palm trees. The combination of these attractions has made Mexico a favorite vacation destination for North Americans.
The top activity on the list for most vacationers to Mexico is to enjoy the seemingly endless sunshine, clear turquoise colored water and beautiful sand beaches. Some of places to spend your days relaxing on Mexico's famed beaches are Acapulco, Cancun, Cozumel, Playa del Carmen and Puerto Vallarta.
While most visitors to Mexico are allured by the beaches, visiting Mexico's ancient historical ruins are nearly as popular. Mexico is covered with ancient Mayan and Aztec ruins, most of which are unknown to tourist but the most well-known ruins that are commonly explored are Chichén Itzá, Palenque, Teotihuacan, Tulum and Uxmal.
When the sun goes down, Mexico's culture heats up. Mexico is renowned for bright colors, delicious food and vibrant music with spirited dancing. But the night life doesn't really get started until around 9 P.M. when the restaurants begin to open and the night clubs start filling up.
One of Mexico's commonly overlooks destinations is the capital of Mexico City which is one of the liveliest and largest cities in the world. The city offers a metropolitan experience with renowned arts and culture scene including excellent cuisine. Places to visit include the National Museum of Anthropology, Templo Mayor, Plaza de la Constitucion, Parque Mexico and an easy daytrip to Teotihuacan.
The beaches in Mexico are truly spectacular but don't overlook the country's history and culture.
Many travelers to Mexico are more interested in activities than attractions. Beach activities and water sports are at the top of most tourist list of things to do. It is hard to think about other places to visit when you are on the beach near the water, sailing on the water or snorkeling in the water. For many tourists visiting Mexico is all about the water.
If you have spent much time on Mexican beaches then you will know that the sun is hot and it is easy to get too much sun. After about two day on the beaches it is time to take a break from the sun and look for other activities to enjoy. It is best to plan ahead and have some non-beach activity scheduled.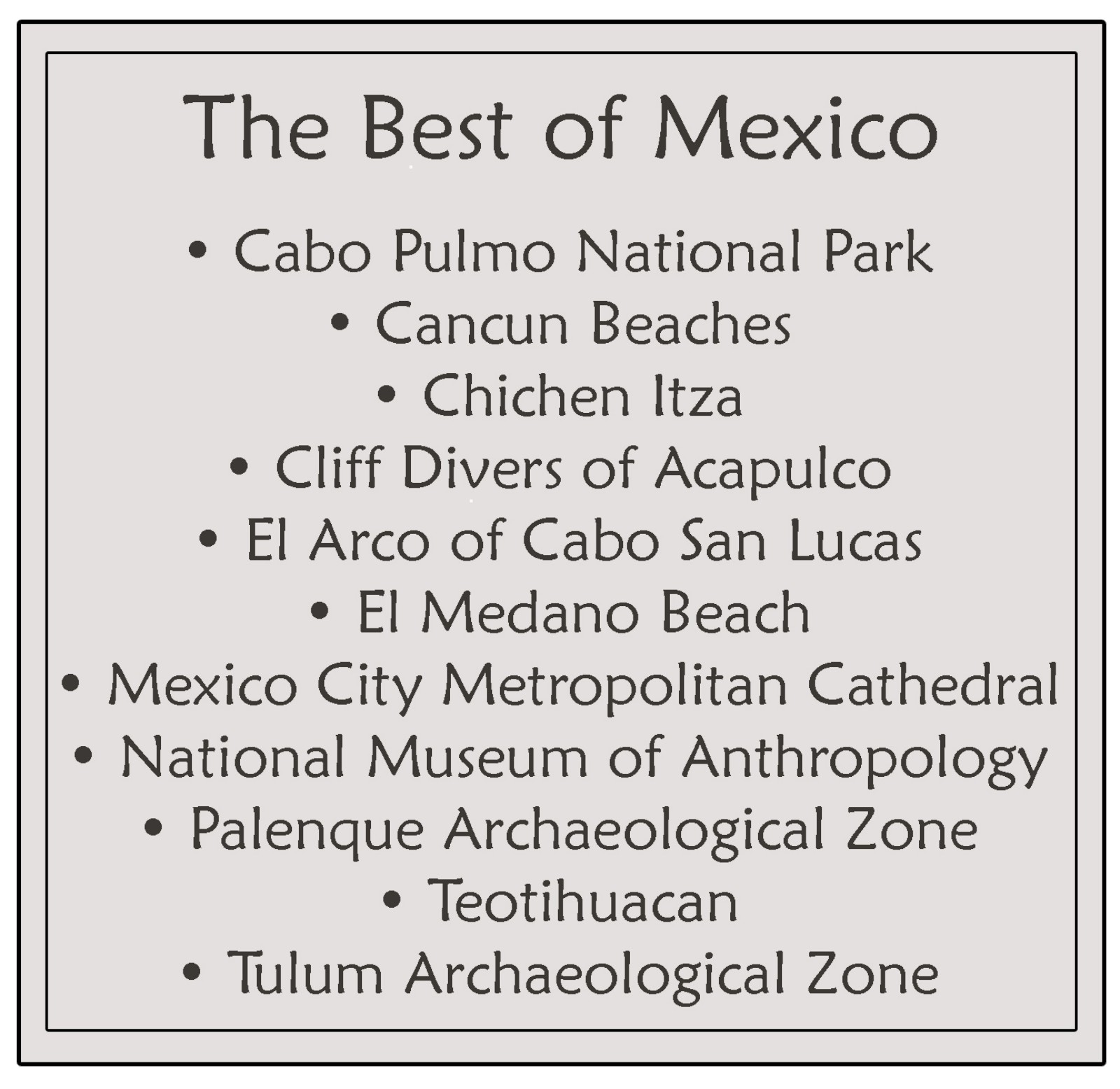 Two of my standout experiences in Mexico have been to visit Teotihuacan and to see the Acapulco Cliff Divers.
Mexico has ancient ruin scattered all over the country so you are never very far from an ancient ruin to visit. One of the less touristy ancient ruins is the archaeological complex of Teotihuacan which is easily reached from Mexico City. The complex has many small pyramids but it has two extremely large pyramids and the Pyramid of the Sun is the 3rd largest pyramid in the world. The complex stretches over a mile but my favorite part of visiting Teotihuacan was to climb to the top of the Pyramid of the Sun. Standing on top of a huge pyramid has been a "once in a lifetime experience for me".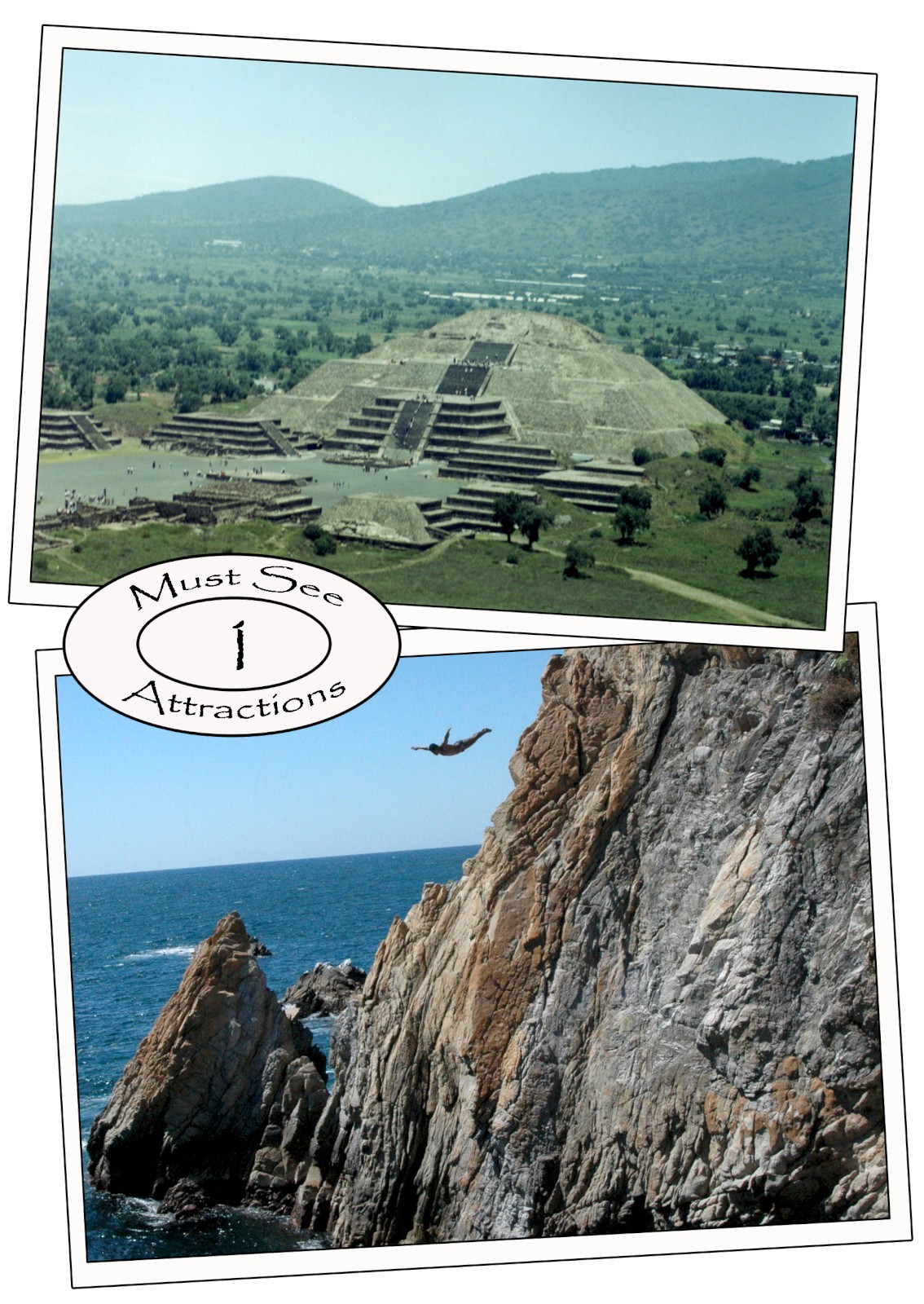 One of the first things that I knew about Mexico, as a kid, was watching the divers jump off a cliff in Acapulco on TV. I thought it was amazing then and many years later when I actually had the opportunity to see them do it in person it was even more thrilling. Seeing the divers in person really showed the danger they were taking and the courage that they have to make the jump.
Just like most visitors to Mexico, most of my time in Mexico has been doing activities centered on the beach but my two standout experiences in Mexico were not beach activities. Make time to experience all that Mexico has to offer when planning your Mexican vacation.
(Click on the photo below for more information on each topic.)


I will be making more posts on things to do in Mexico, so check back later to see my future posts on Mexico.