Anyone seeing a picture with the Marina Sands Hotel in it will instantly know that they are looking at Singapore but few people will know anything about the Helix Bridge which provides access to the hotel.
The Helix Bridge is one of the most creative walking bridges that I have seen. It is a modernistic bridge that is a perfect fit for being in Singapore. The bridge is modern with clean lines, fresh, attractive and creative which is exactly how I would describe Singapore. During the day the bridge is surrounded with spiraling stainless steel motif which gives the bridge its name as the Helix Bridge.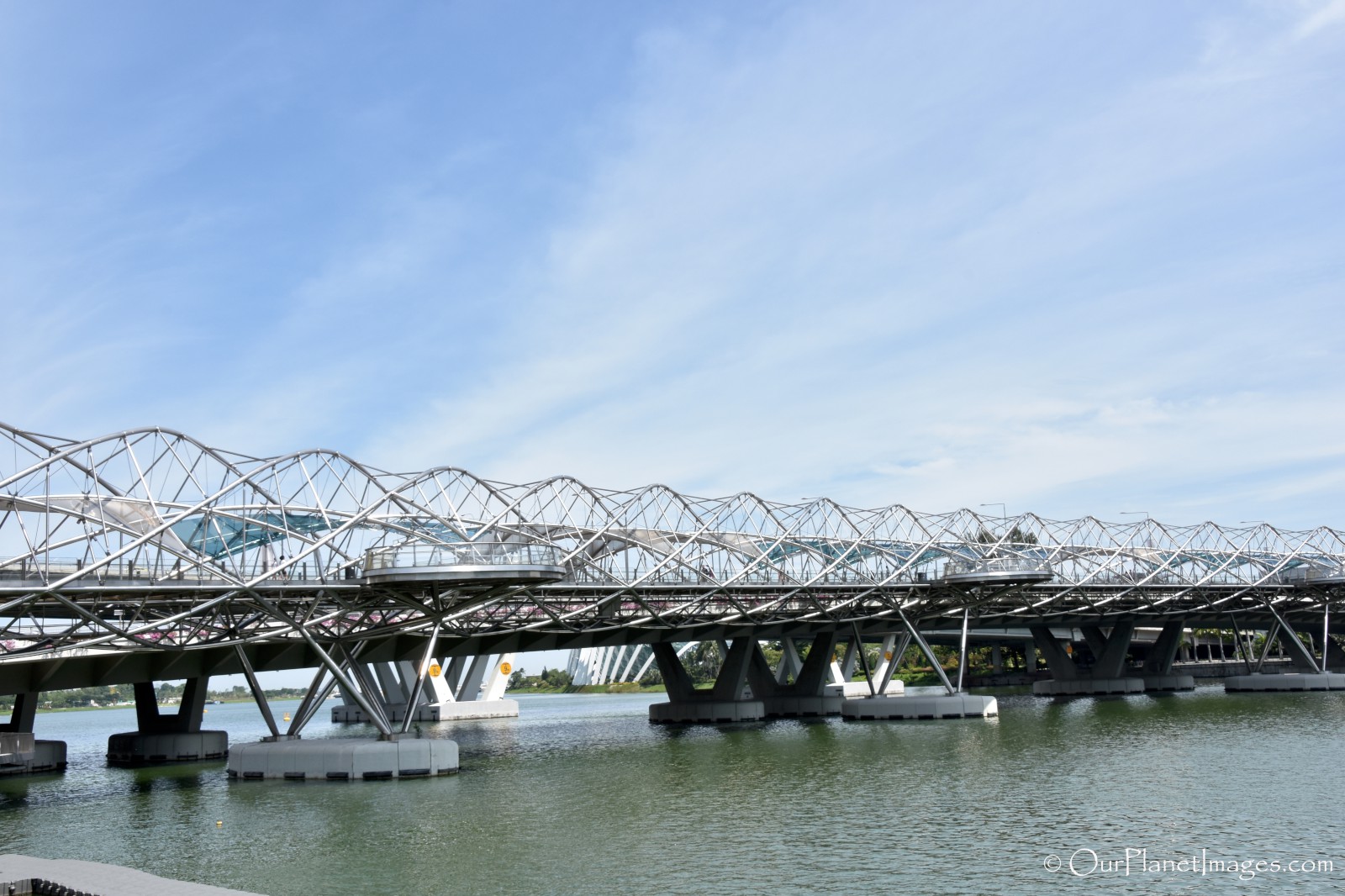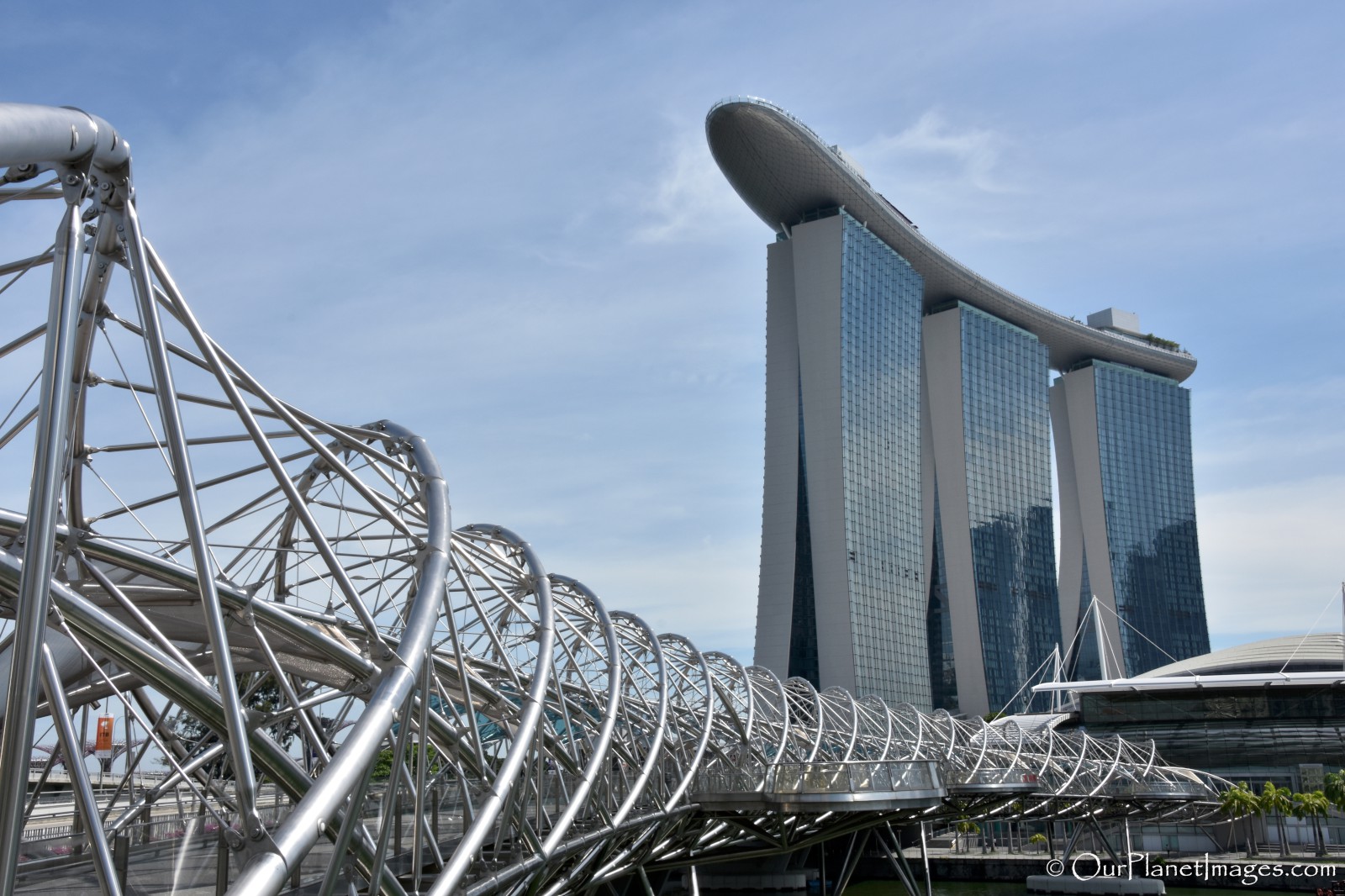 There are four platforms along the side of the bridge that allows people to step outside of the bridge and get a better look at some of the other Marina Bay attractions like the Merlion and the ArtScience Museum.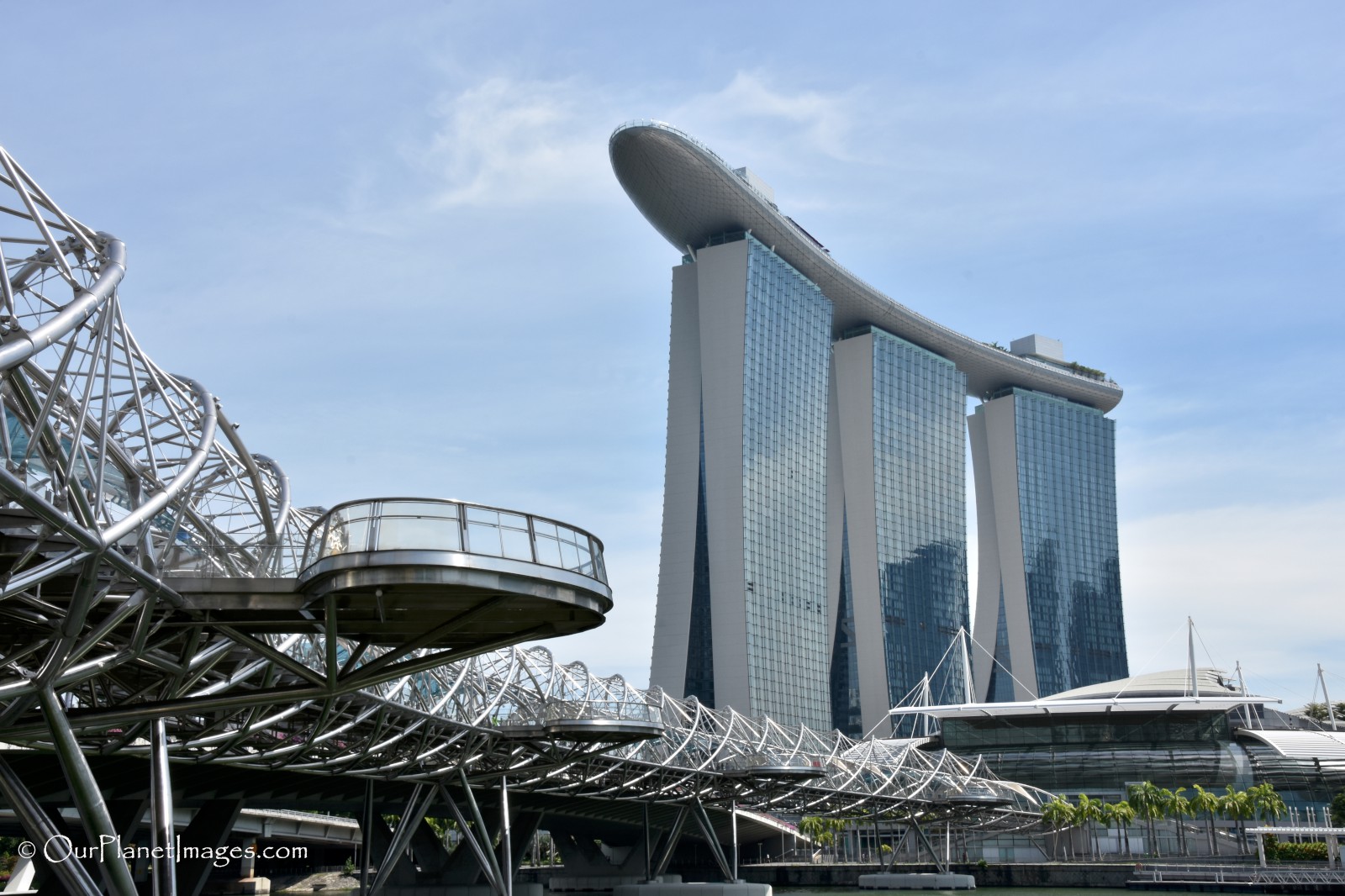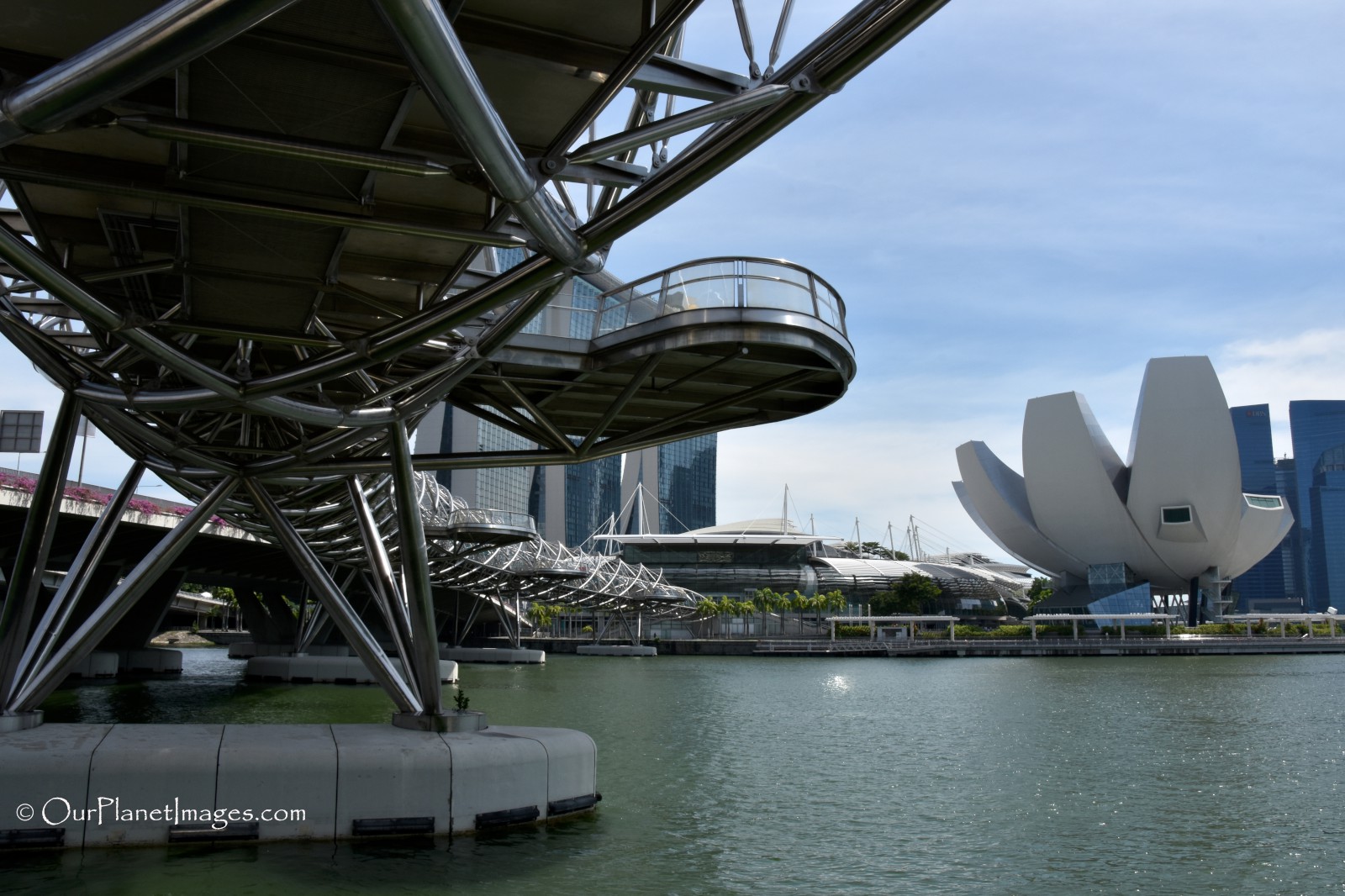 Most bridges are not attractive on the underside but the Helix Bridge has a special site. The stainless steel design continues to the underside and the pink flowers on the railing of the Bayfront Avenue Bridge perfectly frame a nice view of the Marina Bay Sands Hotel.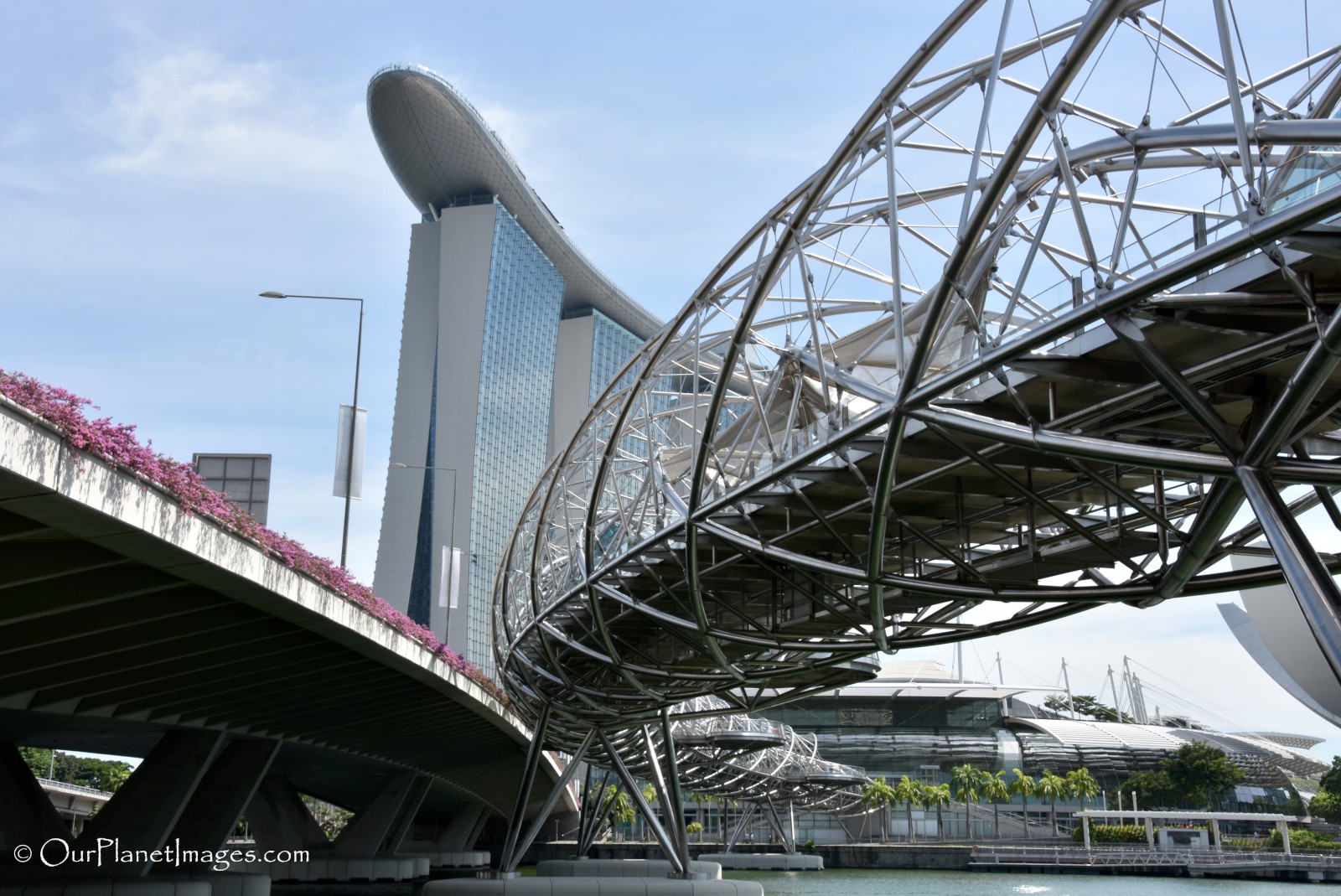 Walking across the bridge is a nice experience because not only is the view is good but it is partially covered with mess which provides places of shade that helps to keep it cool during the middle of the day.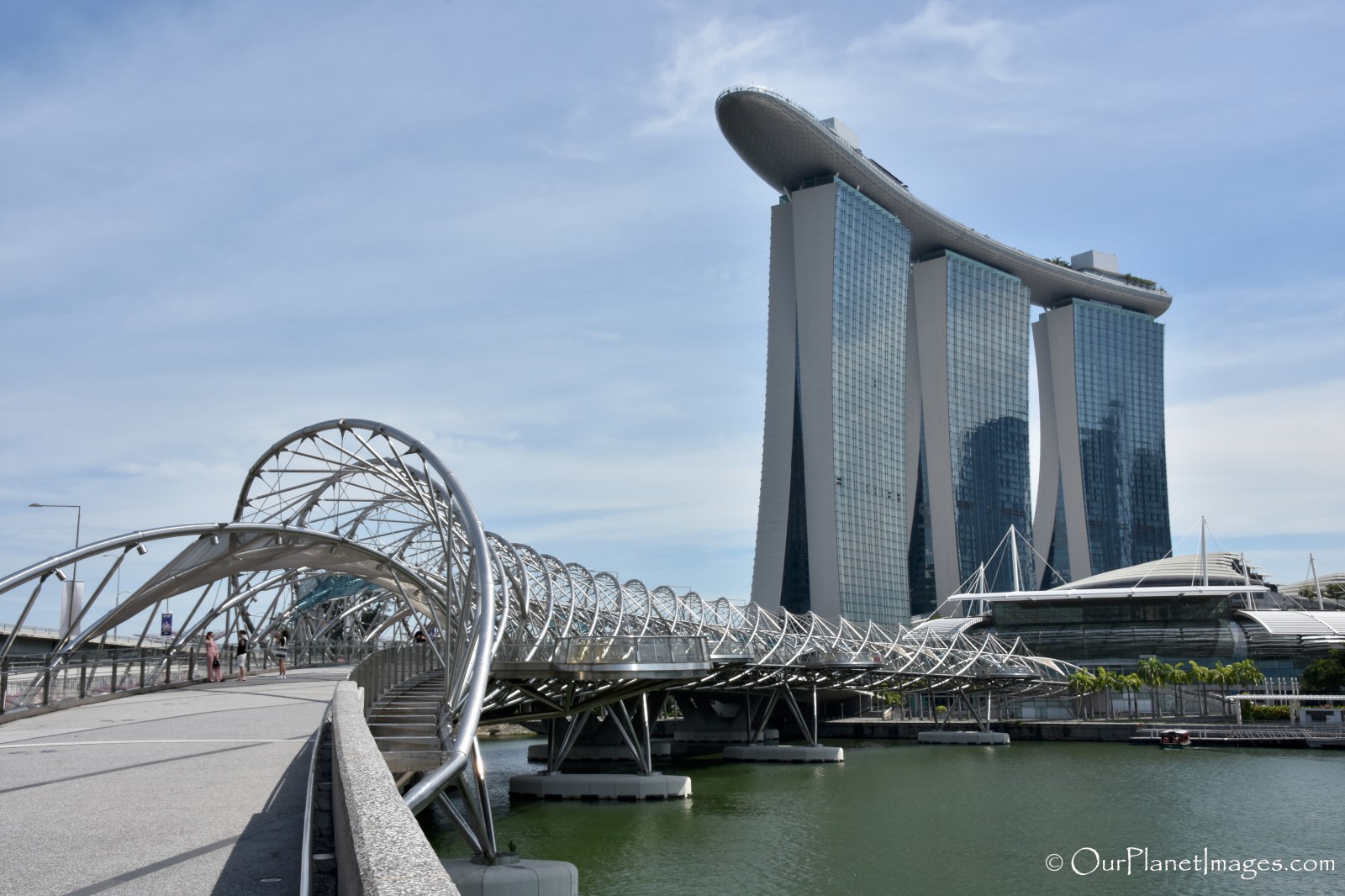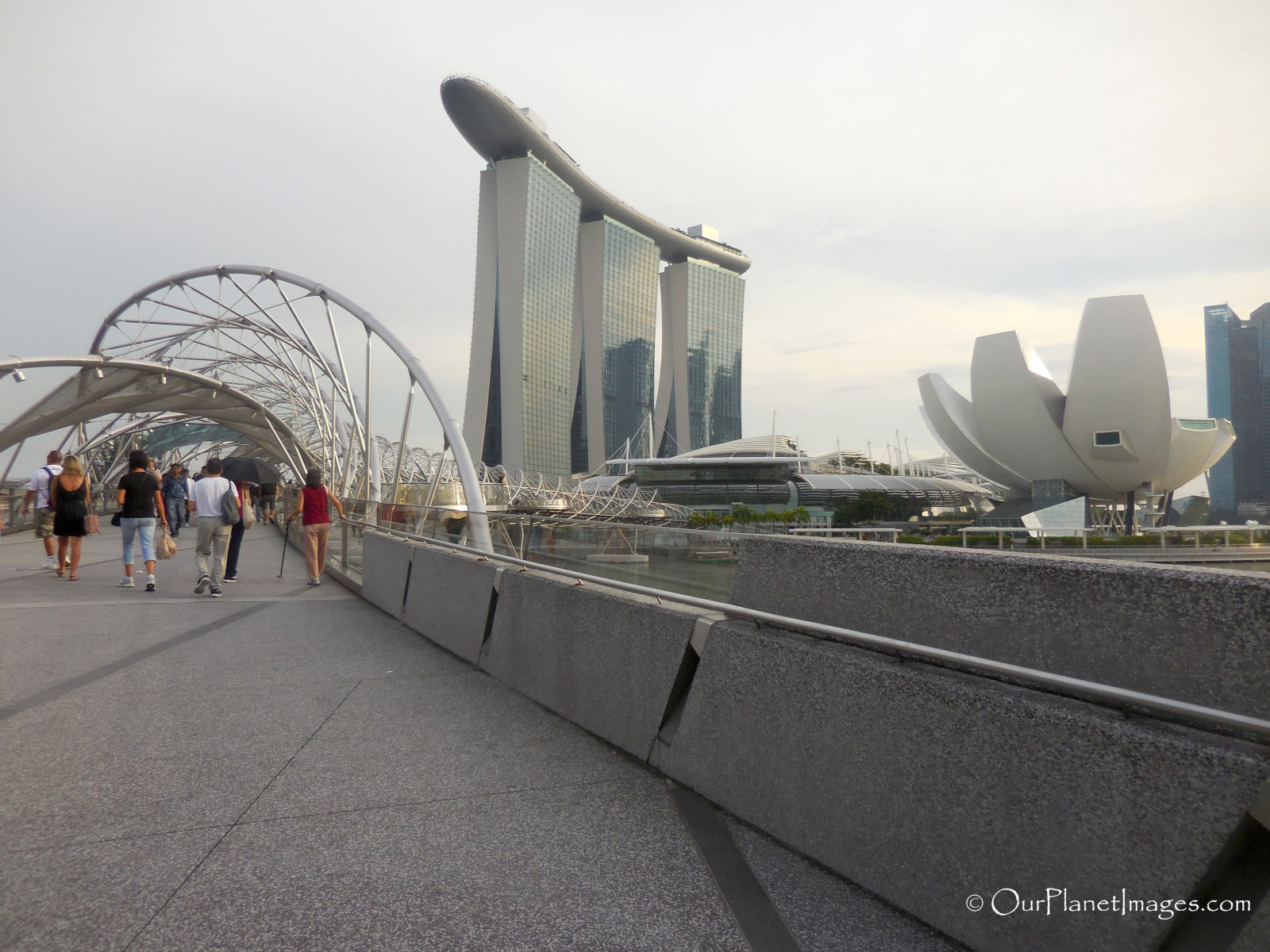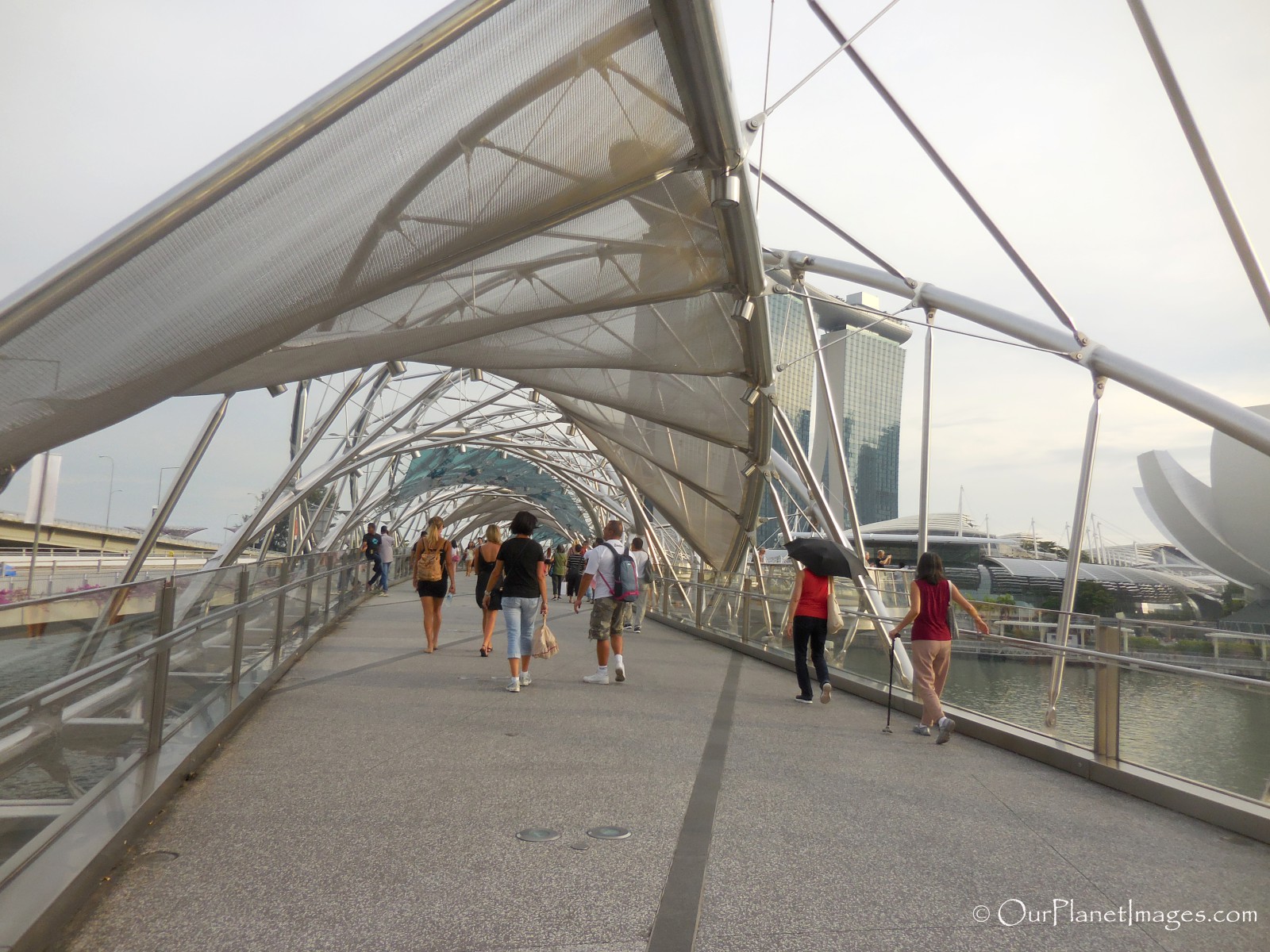 At night the bridge really becomes a special sight as the stainless steel spirals are lite up and the bridge becomes illuminated with twisting lights that truly makes the bridge an attraction of its own.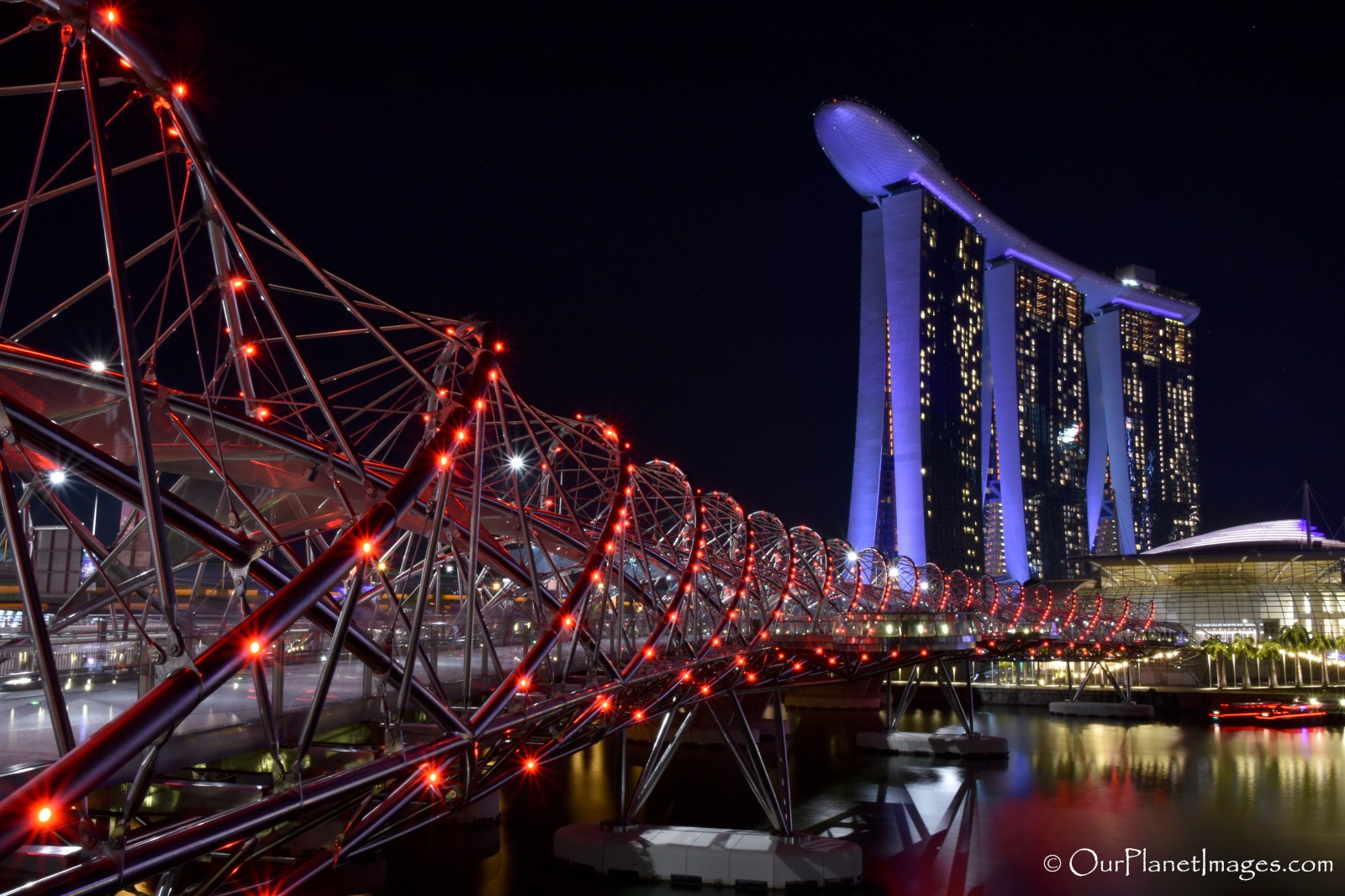 I have seen many pedestrian bridges in major cities around the world but the Helix Bridge in Singapore is one of my favorites. I like the contemporary design and it looks spectacular both during the day and at night.
I really enjoy seeing the creativity of people that can build something that is unlike anything that currently exists. I also enjoy seeing projects that fulfill a functional need but also does it in a way that it becomes an attractive part of the city. The Helix Bridge does all of those things so well that I think it has also became a separate tourist attraction.
There are many highly rated attractions in the Marina Bay area like the Marina Bay Sands Hotel, the Merlion, the Gardens by the Bay, the ArtScience Museum, Spectra Light and Water Show and the Singapore Flyer but I think the Helix Bridge should also be included as a top attraction when visiting the Marina Bay area.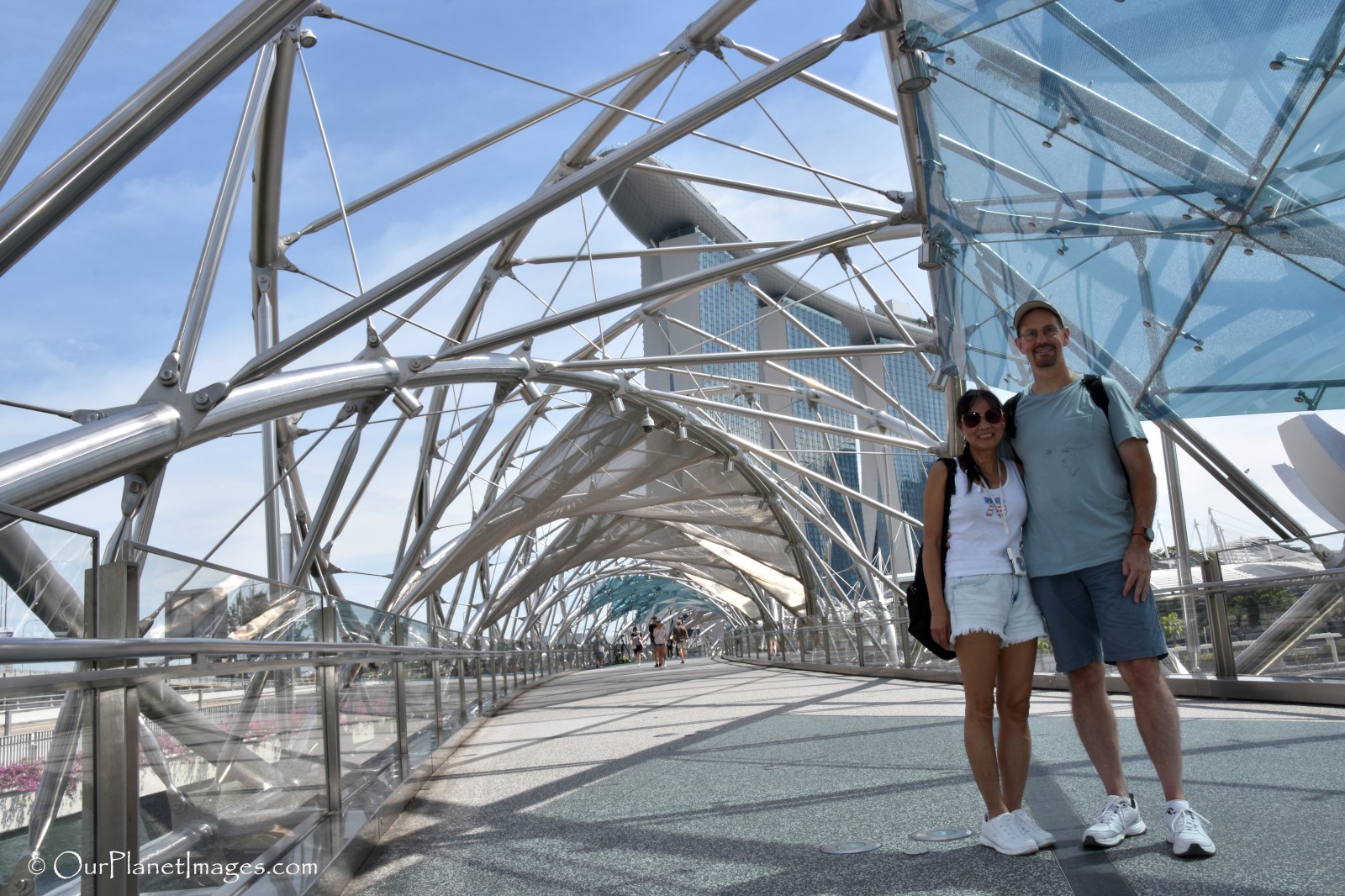 The Helix Bridge is probably not listed as one of the top 5 things to see in the Marina Bay area of Singapore but don't overlook a really great attraction just because it is not at the top of the list of things to see.