Many of the Glaciers of the Southern Alps can be easily seen.
There are about 3,144 glaciers in New Zealand and all but 20 of these are in the Southern Alps. Glacier Country is located amongst the untamed natural wilderness of the West Coast of the South Island.
There are many stunning glaciers of the Southern Alps. Exploring these majestic rivers of frozen ice is a once in a lifetime experience. Most of the glaciers are located high in the mountains near the Main Divide but some glaciers are lower in the mountains and are easier to access.
In the heart of Glacier Country are two of New Zealand's most famous glaciers, Franz Josef and Fox Glaciers. These glaciers are two of the most accessible rivers of ice in the world as they plunge down the mountain through rainforest almost reaching sea level. Not only are these glaciers near the ocean but it is an easy walk to the terminal faces of both glaciers.
It is a four hour drive from Queenstown to reach Fox and Franz Josef Glaciers and they are a short 30 minute drive apart from each other.
The Franz Josef Glacier was first explored in 1865 by Julius Haast of Austrian, who named it after the Austrian emperor. This 12 Km (7.5 mile) long glacier is located within Westland National Park which has some of the most spectacular scenery in New Zealand.
Franz Josef Glacier is a 7000 year old body of ice that is sliding down a mountain valley into a rainforest. It is the steepest and fastest moving glacier in New Zealand. It is a very volatile glacier that occasionally sees flow rates up to 70 cm (27.5 in.) per day which is about ten times the average. This volatility has forced closer of the access to the terminal face but it can be safely viewed from as close as 15 meters.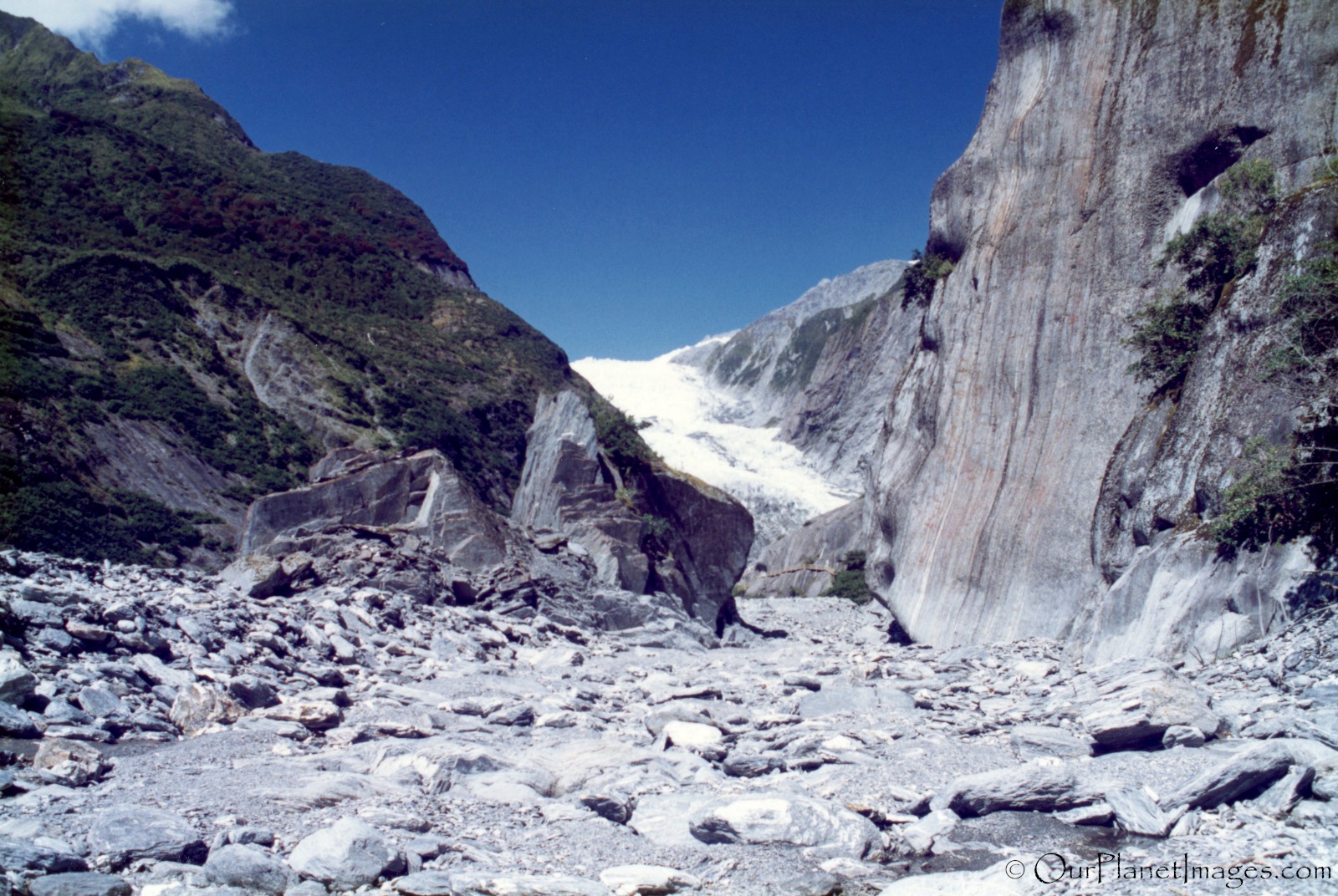 Ice Cave
A small ice cave is located at the terminal face. The cave was accessible during my visit but it is currently off limits to visitors.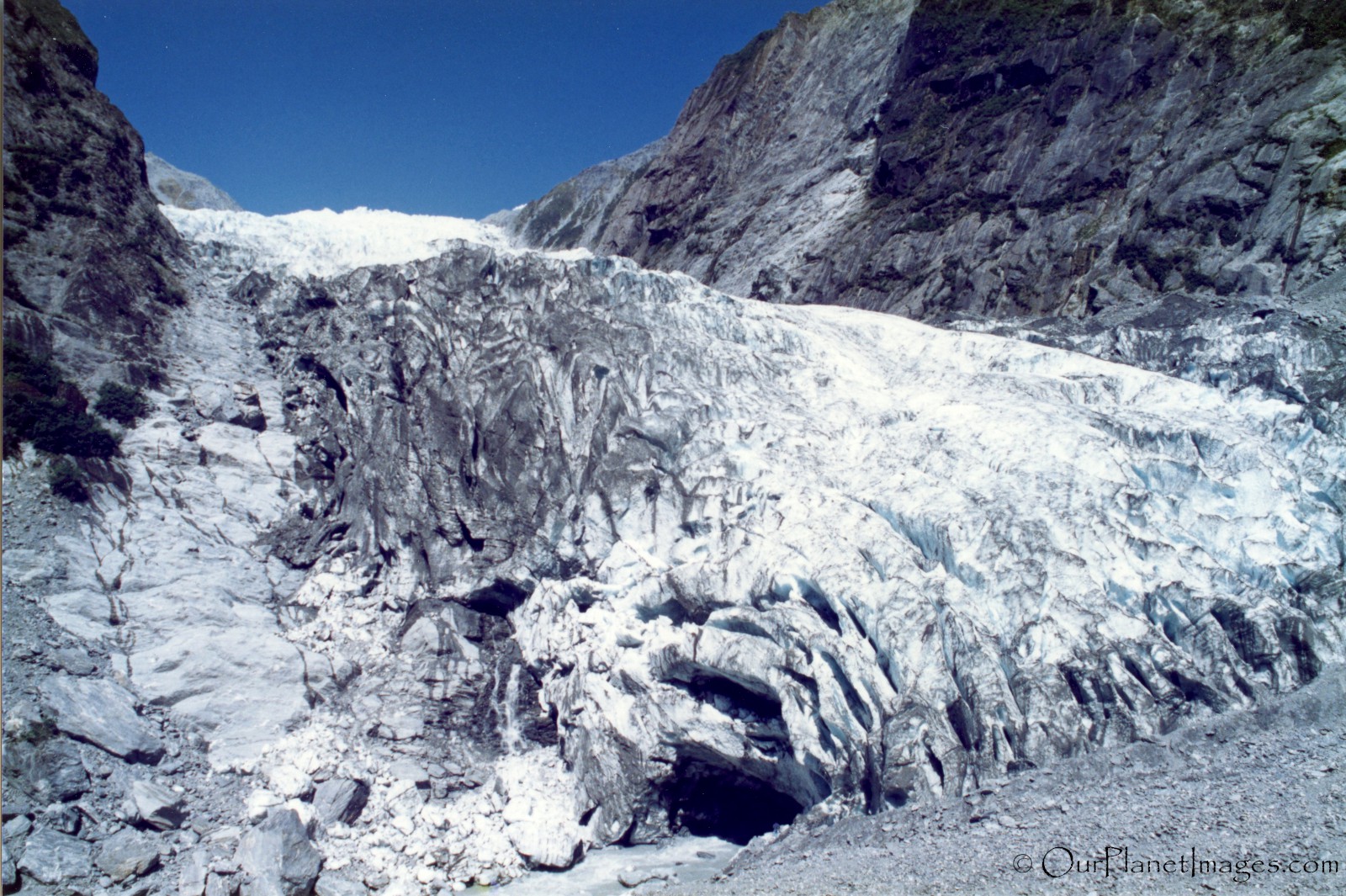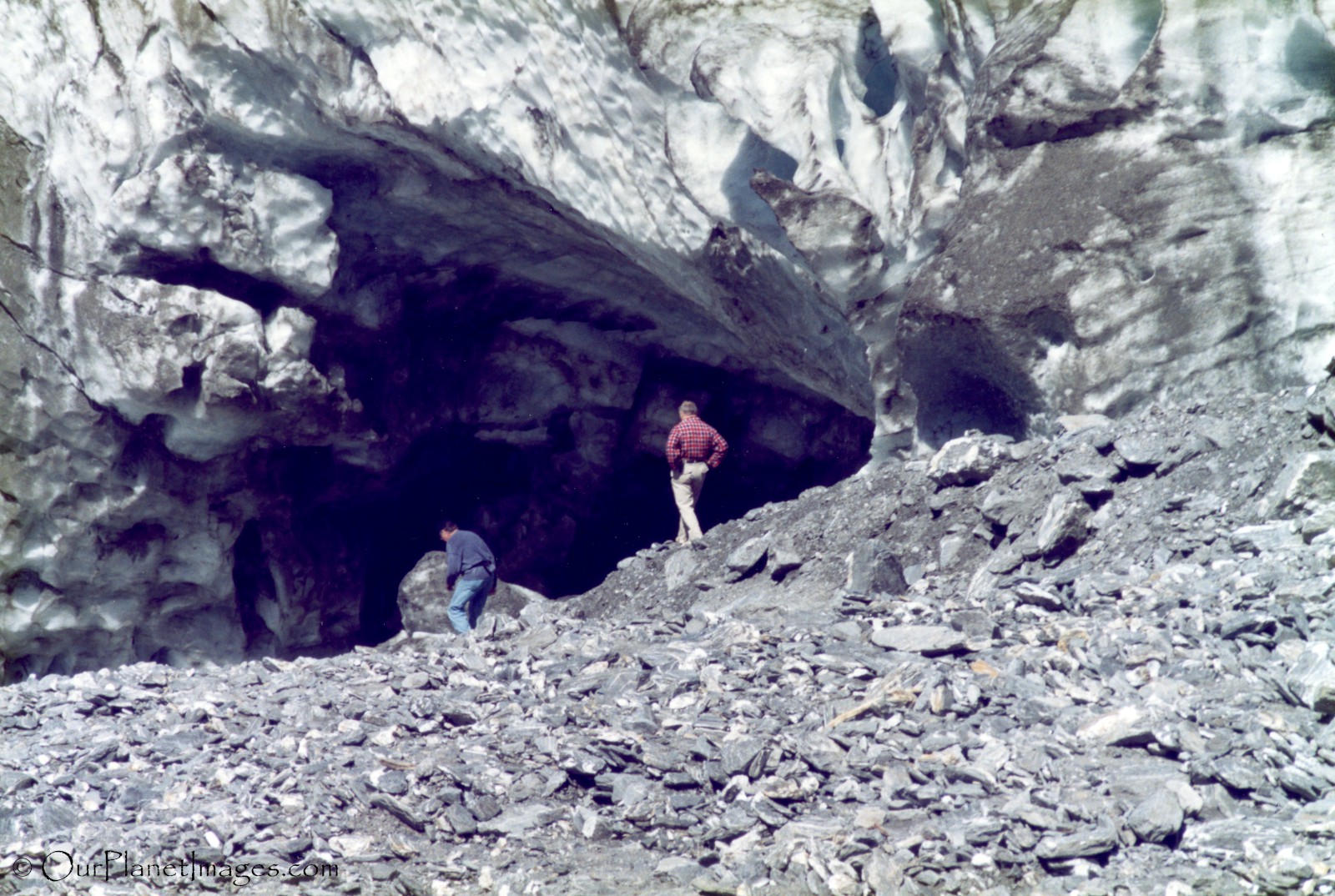 Fox Glacier was named in 1872 after Sir William Fox, New Zealand's Prime Minister from 1869 to 1872. This glacier is located only 25 Km (15 miles) from Franz Josef Glacier near the village with the same name.
Fox Glacier is fed by four alpine glaciers and is 13 Km (8.1 miles) long making it the longest of New Zealand's glaciers. It starts just below Mt. Cook and Mt. Tasman and falls 2,600 meters (8,000 ft.) to where it terminates just 250 meters above sea level.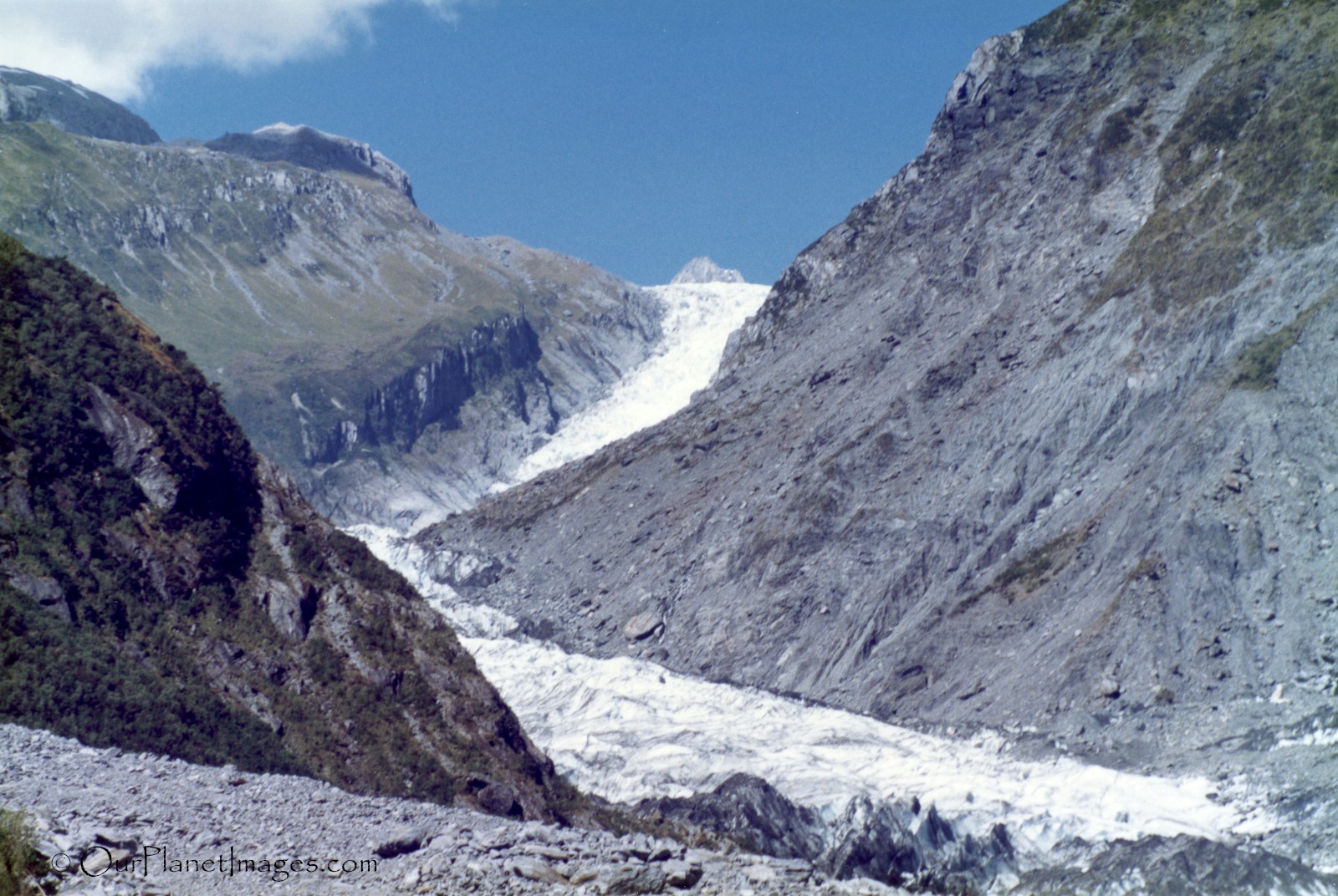 Frozen Rivers meet Tropical Forest
Franz Josef and Fox Glaciers are the only two glacial formations on Earth that coexist with tropical plant life. These remnants from the ice age carve their way through the Southern Alps descending to an altitude of less than 300 meter above sea level where their terminal faces end in the middle of a tropical forest.
Much of the plant life is exclusive to New Zealand so seeing unusual vegetation while hiking through some of the nearby trails alongside a huge ice field make for a very memorable experience.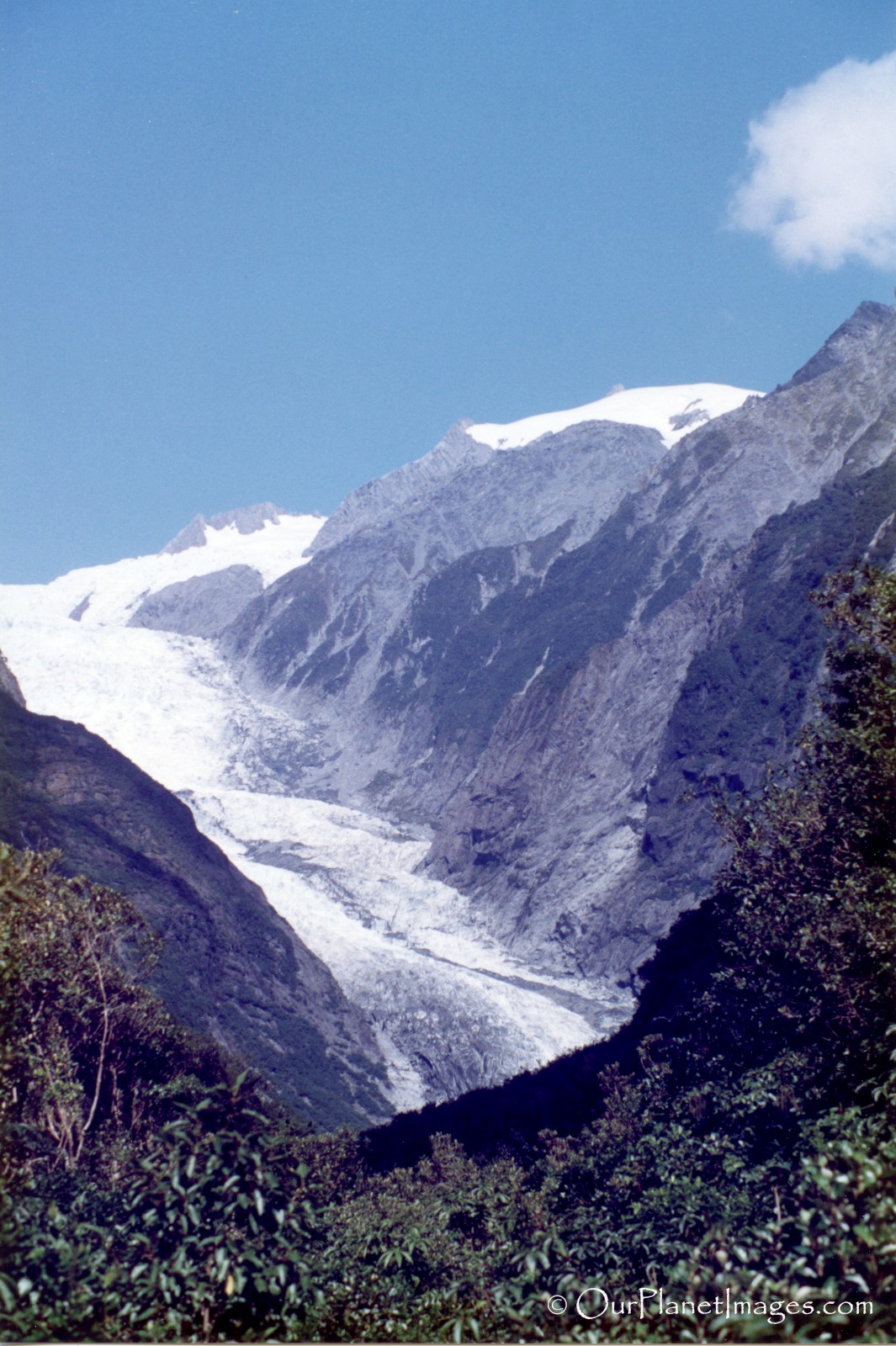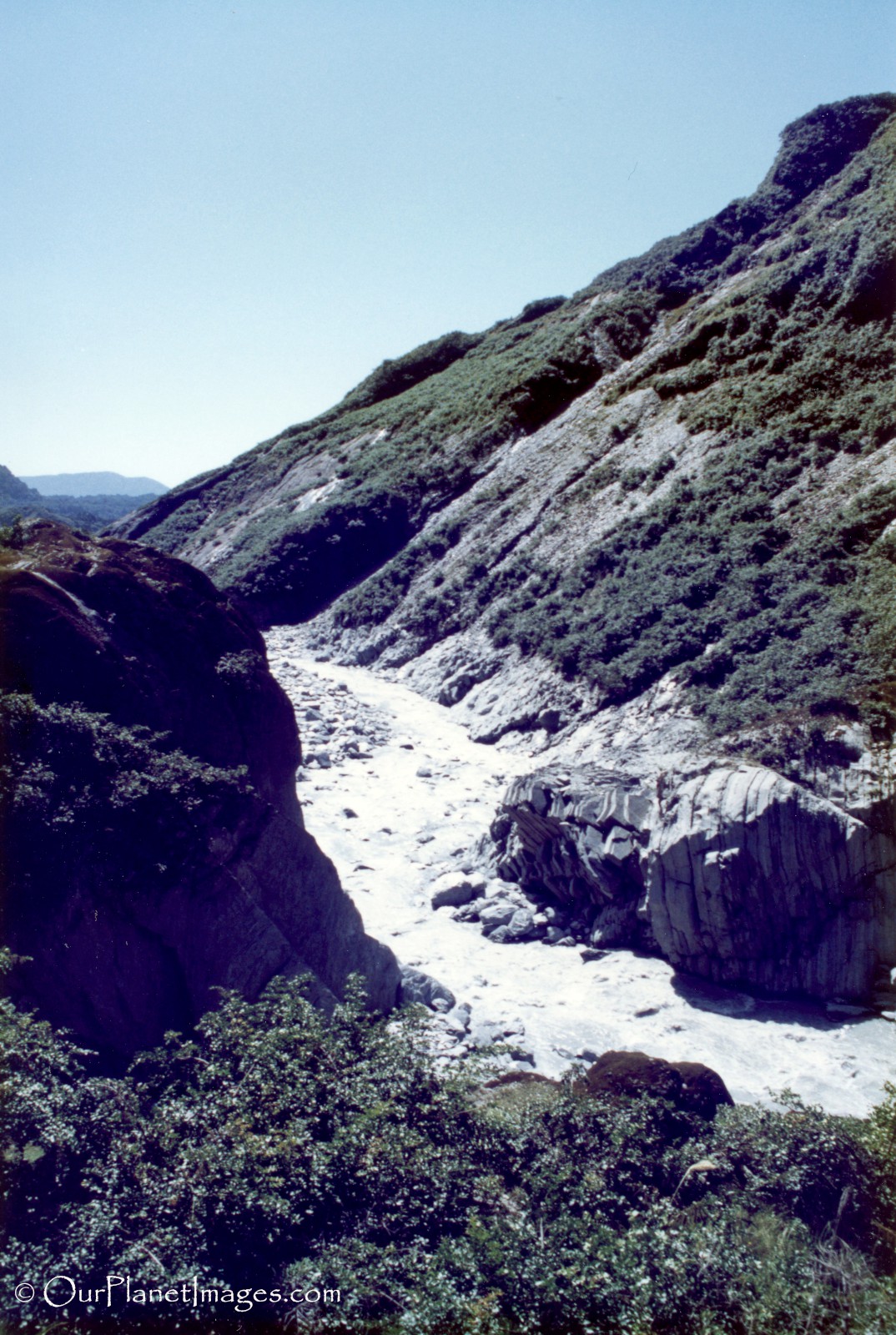 Waterfalls from melting ice
During the warmer temperature of the summer months, the ice of the glaciers and the ice form the Southern Alps melts and makes its way down the mountain resulting in waterfalls. Some of the waterfalls are near the glaciers terminal face and can be seen on the trail to the glacier viewing point. The first photo below is of a small waterfall created from melted ice of Franz Josef Glacier and the final two photos are waterfall created from melted ice of the Southern Alps.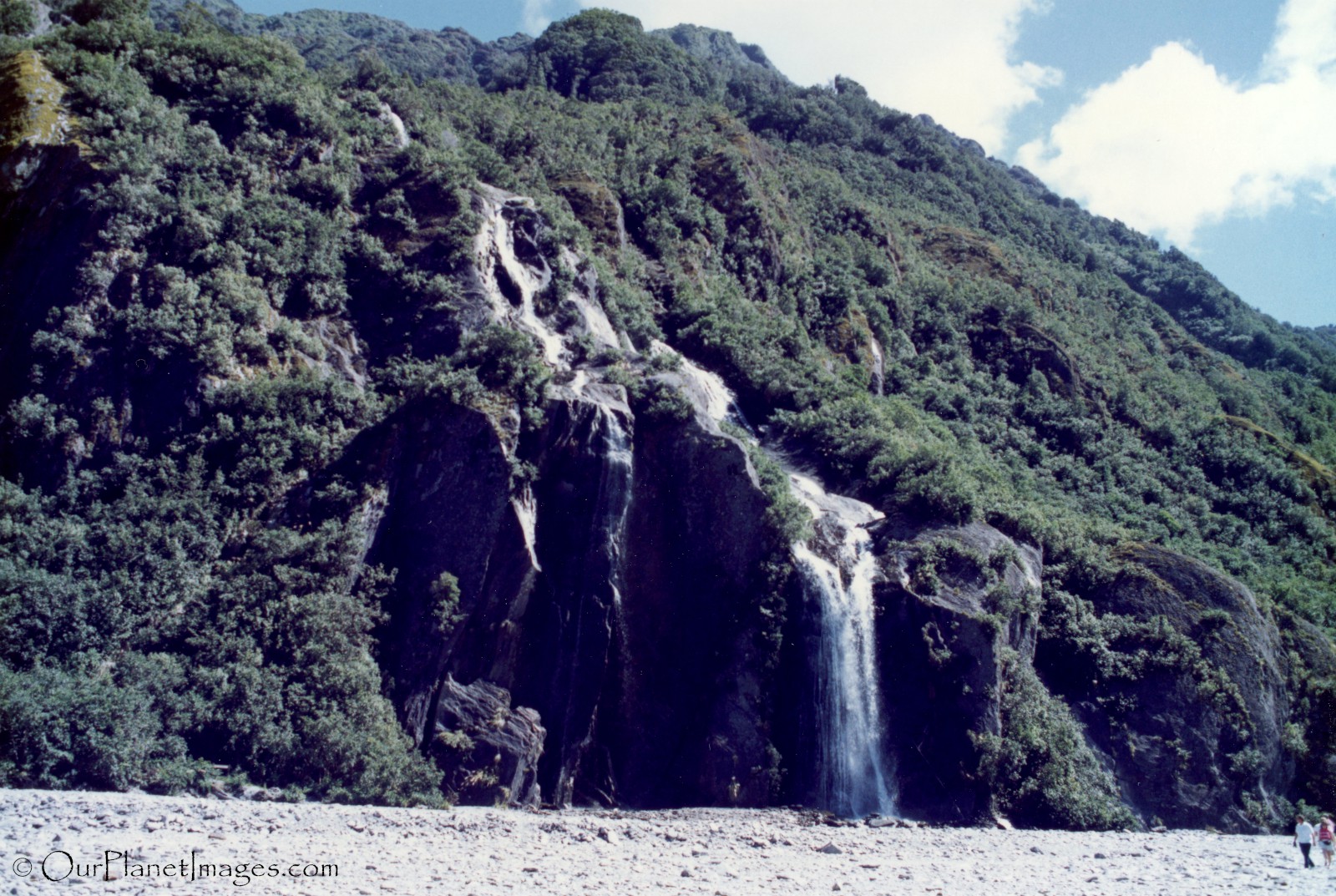 Seeing a glacier is a special experience. There are over 200,000 glaciers in the world so they are not really rare but they are only found in a relatively few locations around the world which make experiencing a glacier something that not everyone gets a chance to do.
I have been fortunate to see glaciers on two of my trips and I have had the same feeling both times. The two major feelings that come to mind while I am seeing them are that they are huge and they are ancient.
Glaciers are massive, they are so big that it is only possible to see a small portion of them without flying over them. The Fox Glacier is approximately 300 meter tall so standing at the terminal face a looking up at a 1000 foot wall of ice is a humbling experience. Very rarely can we see something this large.
Glaciers have been around for a long time. There are very few places where we can see something that has been on the Earth for as long as glaciers. The thought that something living 7000 years ago could experience the same formation that we experience today is astonishing.
Most people probably won't plan a vacation solely for the purpose of seeing a glacier but New Zealand is a place where seeing a glacier is easy to do while experiencing all of the other natural beauty in the country.