Thap Rua Tower in Hanoi is also known as Turtle Tower. Thap Rua Tower is built on a small island in the middle of Hoan Kiem Lake in the Old Quarter of Hanoi.
The tower honors Le Loi, who freed the Vietnamese from Chinese forces in 1427. After the liberation from China the Le Dynasty ruled Vietnam for 360 until 1788.
Because the tower is located on an island, the tower cannot be accessed by the public but it can be viewed in all directions from the lake's edge. This makes the tower interesting because it can be seen from different perspectives.
For me, one of the most interesting things about the tower is how the tower changes its looks from full daylight to dusk and then in again in complete darkness. When the tower is in full daylight is reveals its age and its historic architecture can be seen.
At dusk the night lights start to show on the tower but there is still enough daylight to see most of the details of the tower. This makes the tower look mysterious.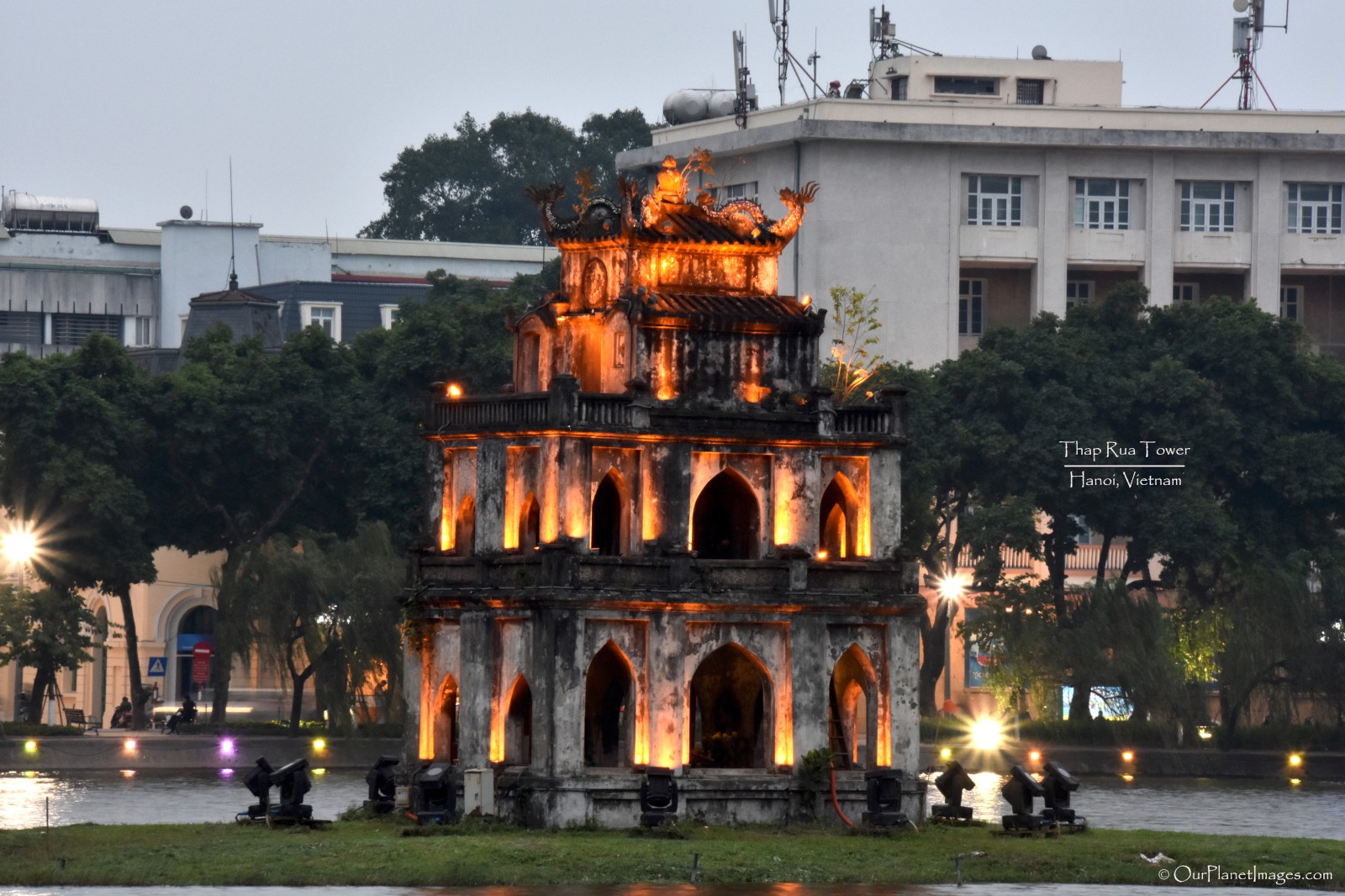 In the dark the night lights bathe the tower with gold and the tower looks more modern and the lights wash away many of the signs that make the tower look old.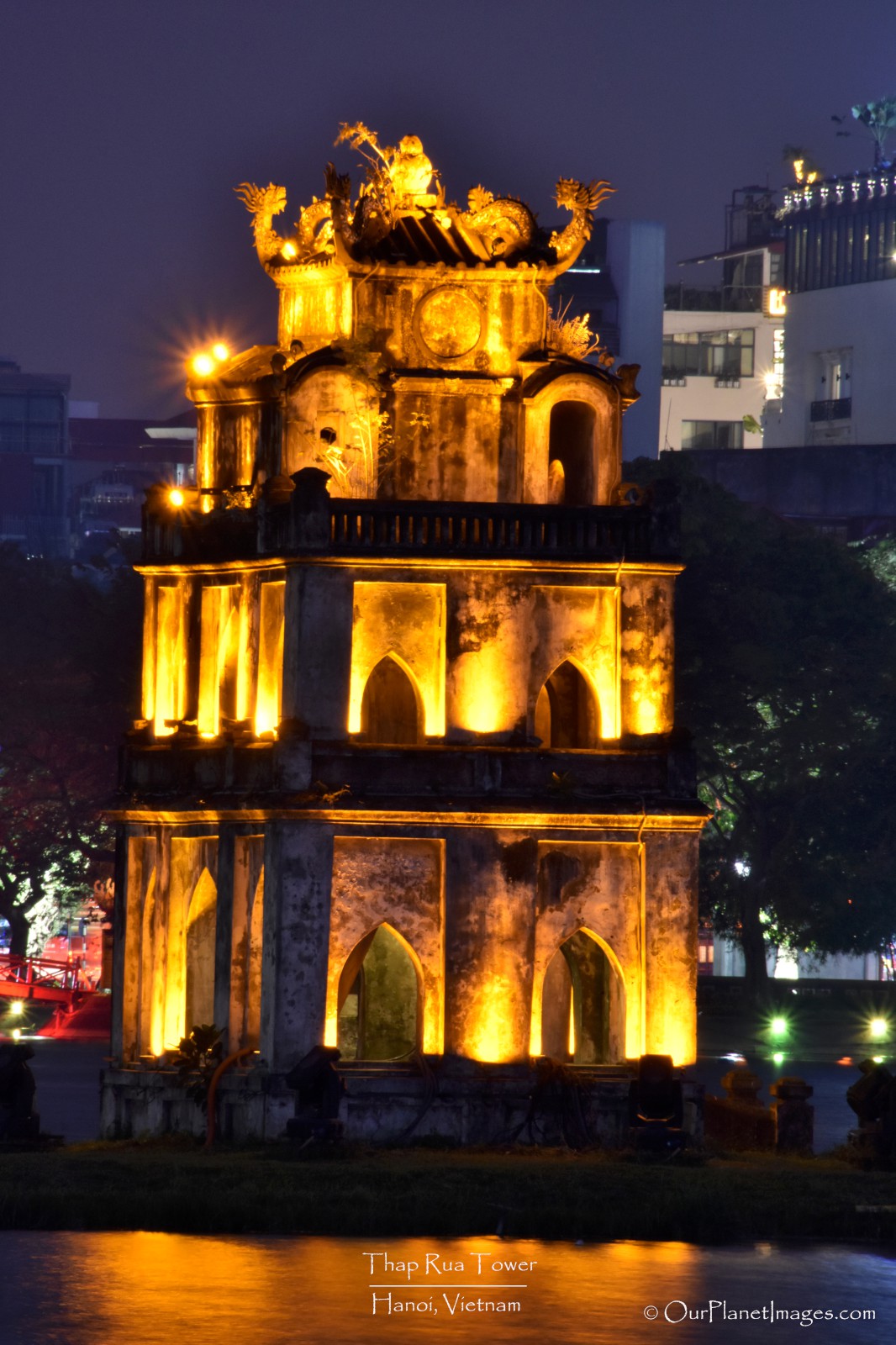 The other thing that I like about the tower is as I walked around the lake, the tower seemed to have a different look as the background behind the tower changed. My favorite view of the tower is with Ngoc Son Temple and The Huc Bridge in the background. The picture below shows the Thap Rau Temple with Ngoc Son Temple behind it on the left and Huc Bridge behind it on the right.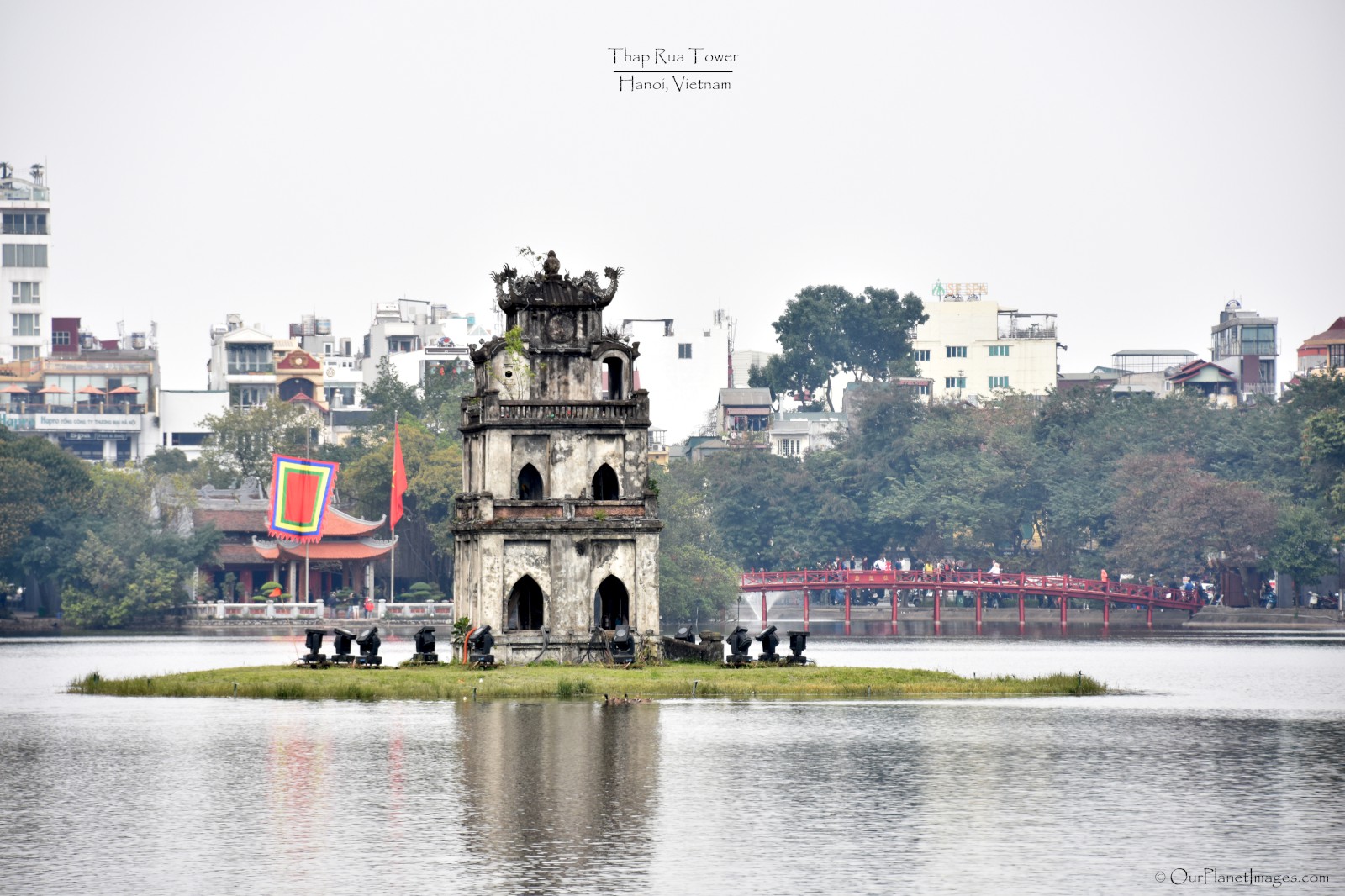 I also photographed Thap Rua Tower with only Ngoc Son Temple in the background.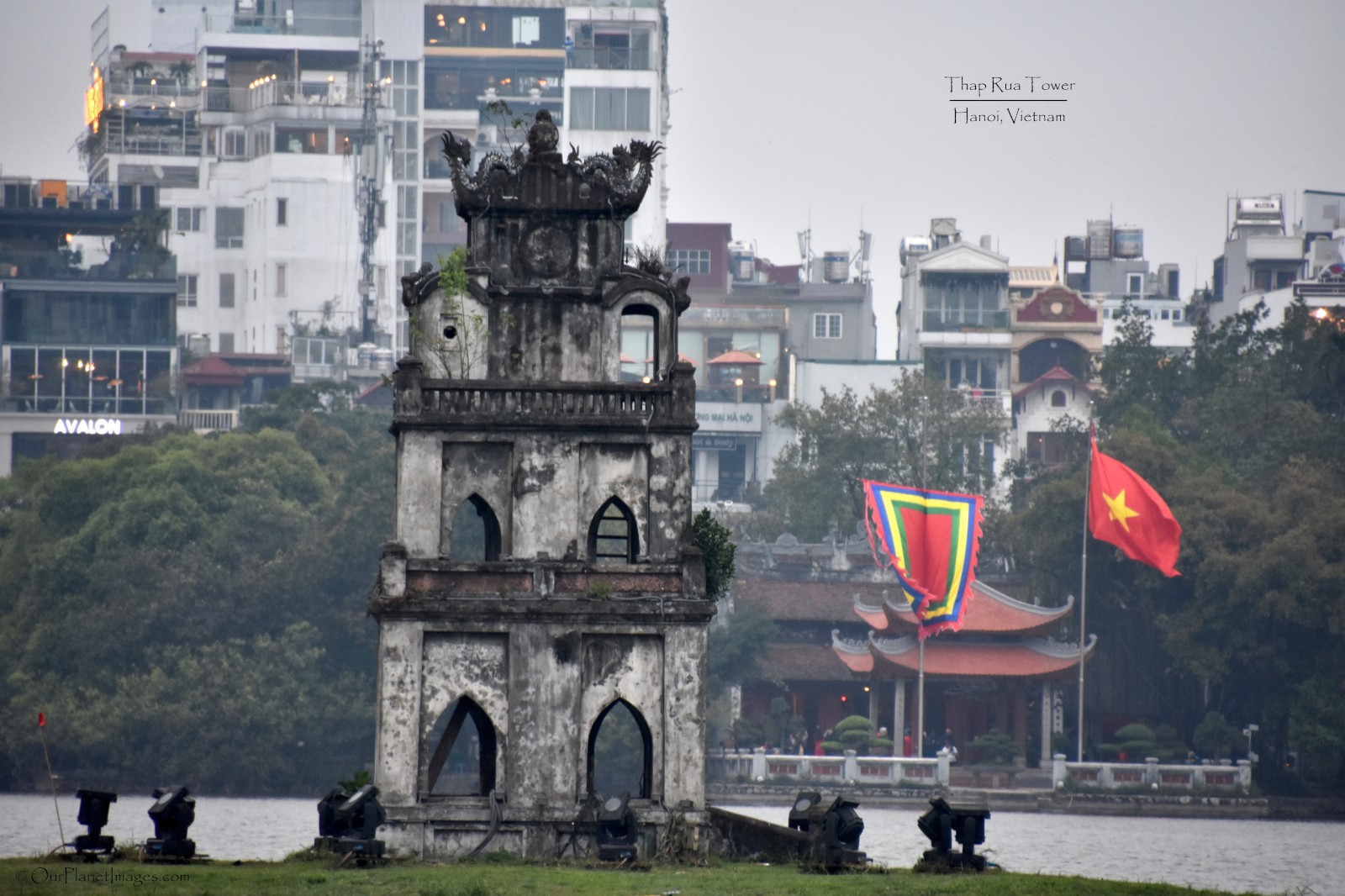 Then I photographed Thap Rua Tower with only The Huc Bridge in the background.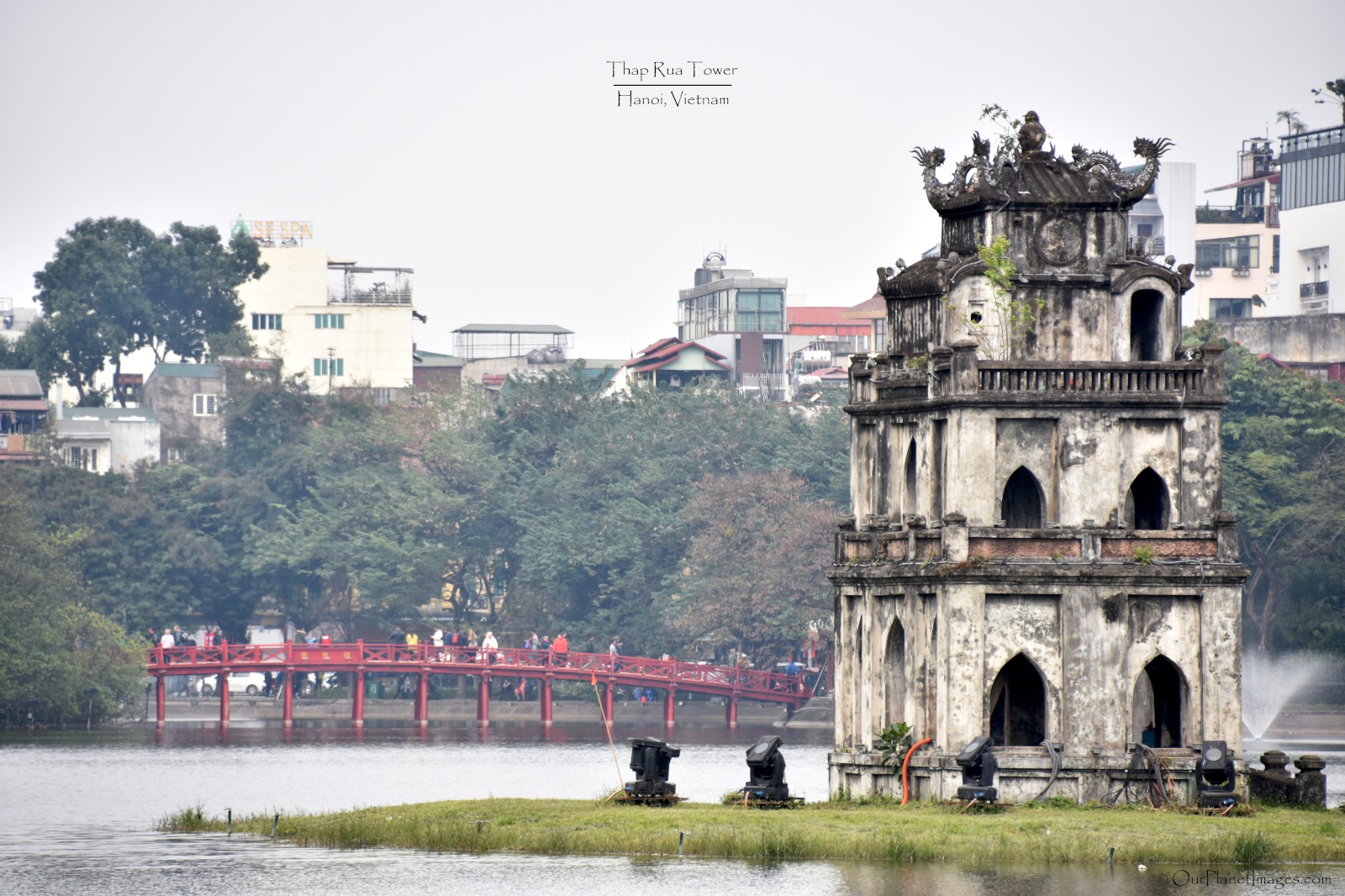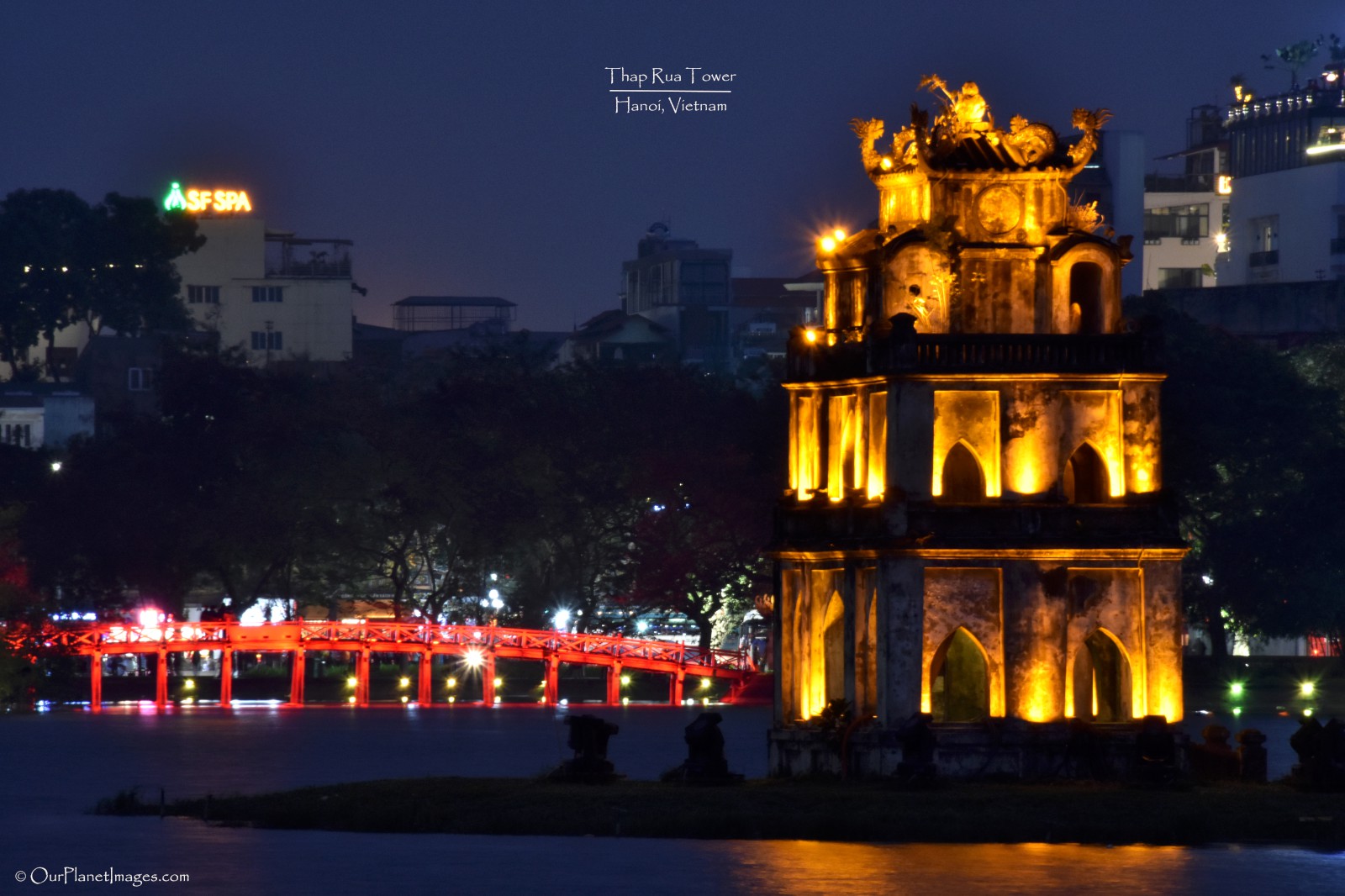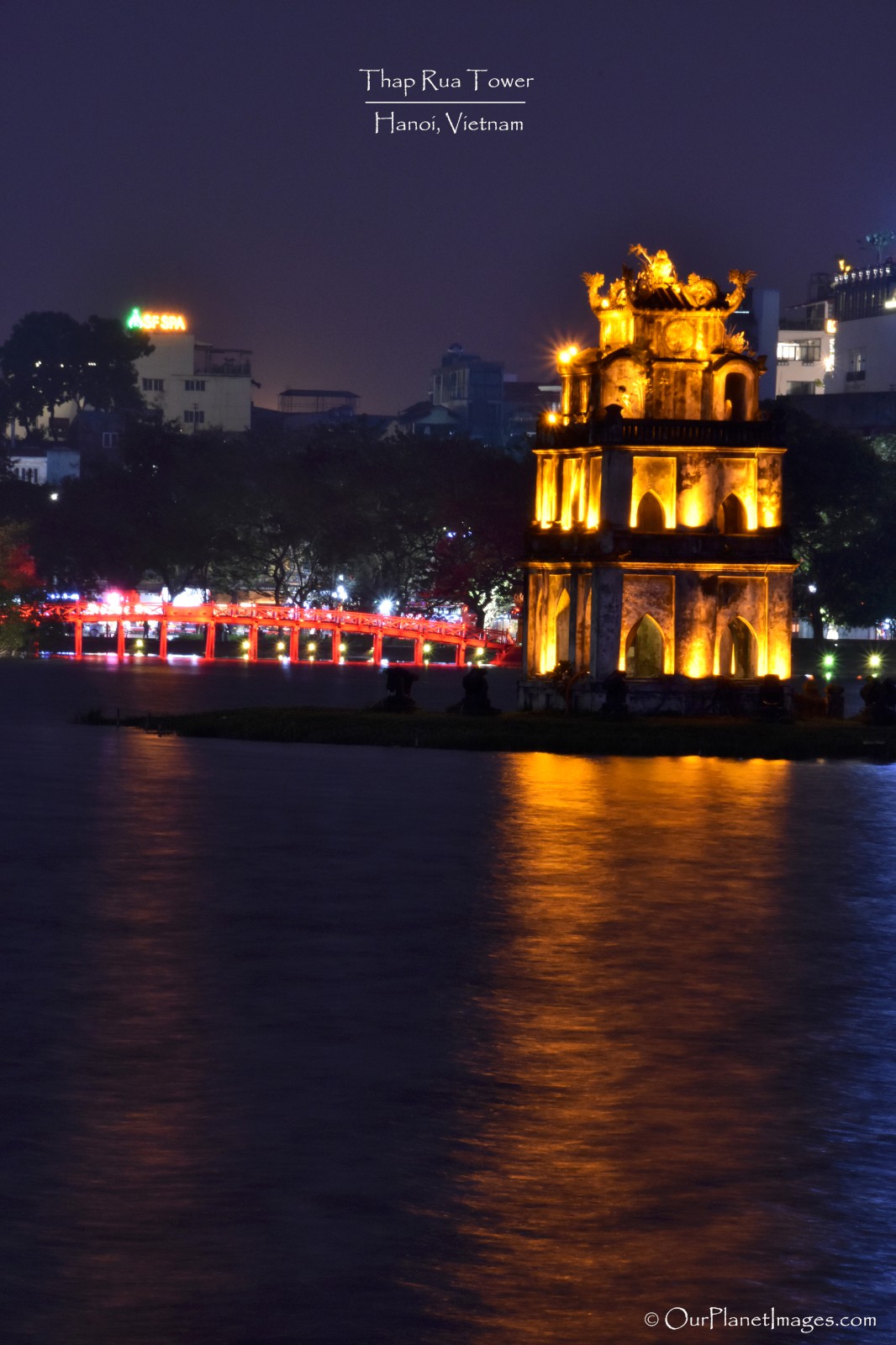 Hoan Kiem Lake is located in the Old Quarter of Hanoi that is a very popular area in Hanoi. The lake is surrounded with parks and a walking area with restaurants and shopping. The lake is a meeting point and the following two photos shows that the area is beautiful both during the day and at night.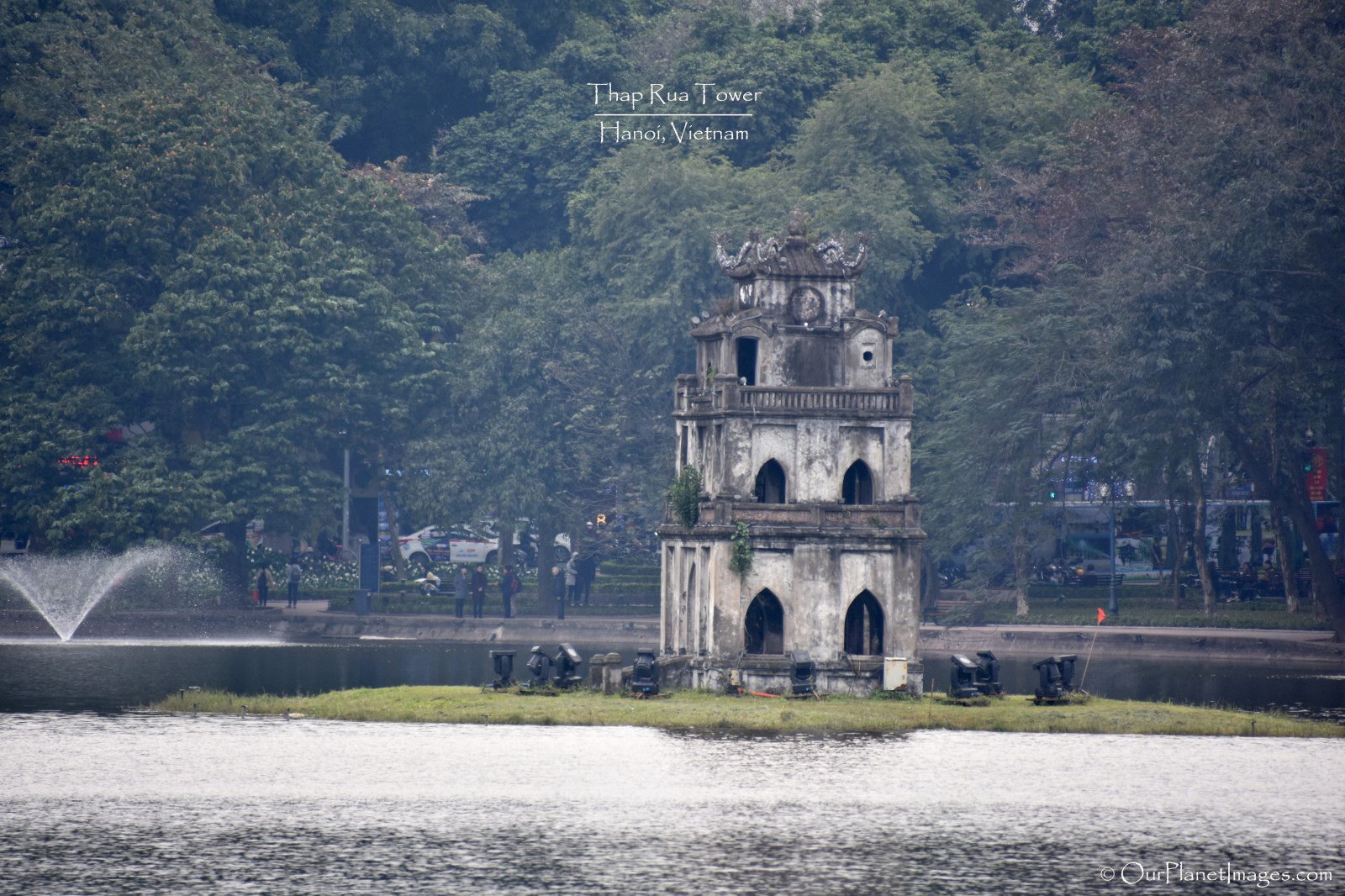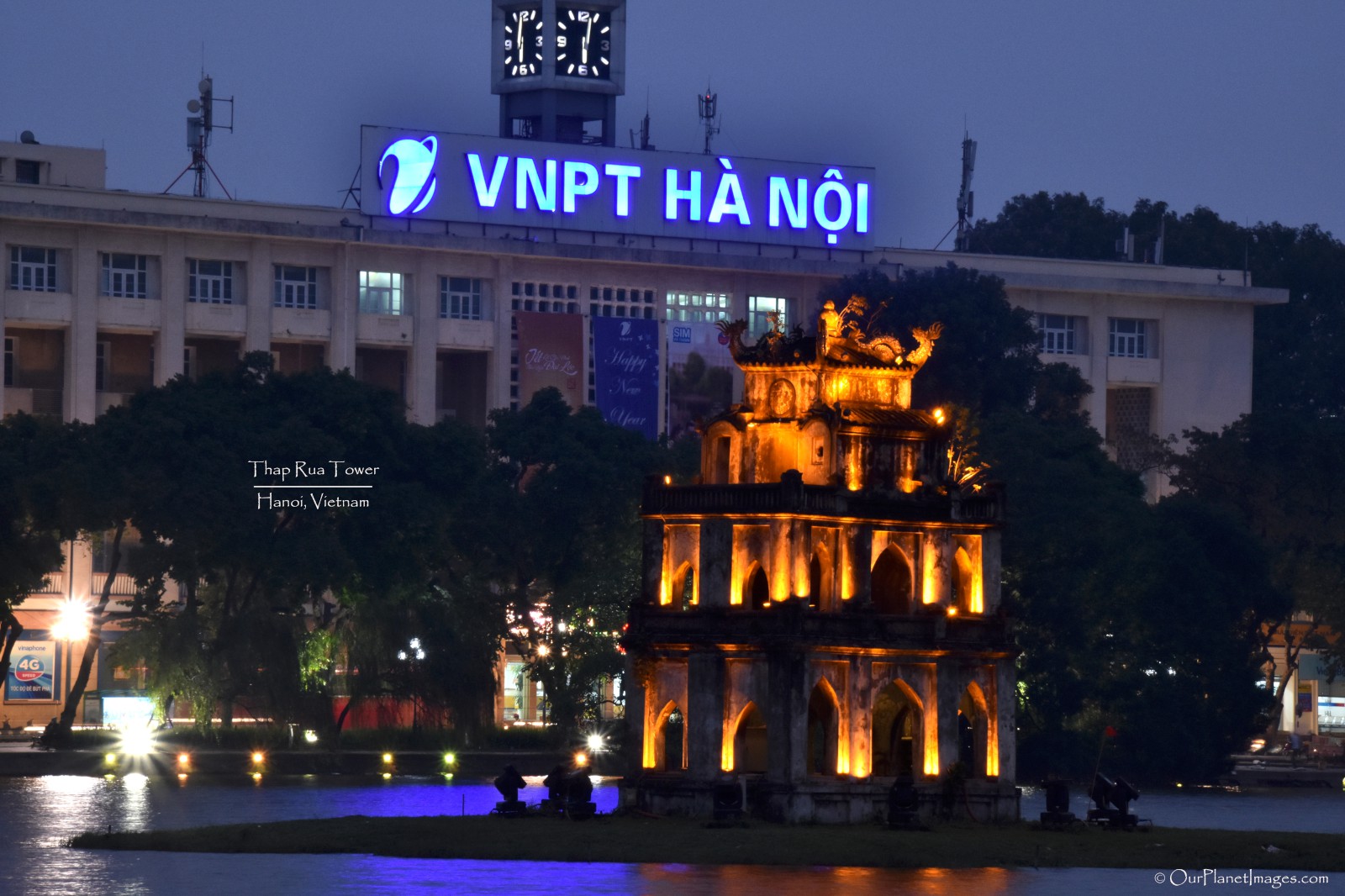 One of my favorite things about visiting sites that are near water is how beautiful the water makes the colors of the lights reflecting off the water. My final photo below illustrates this as the Thap Rua Tower lights and the surrounding light around the tower reflecting off the Hoan Kiem Lake water.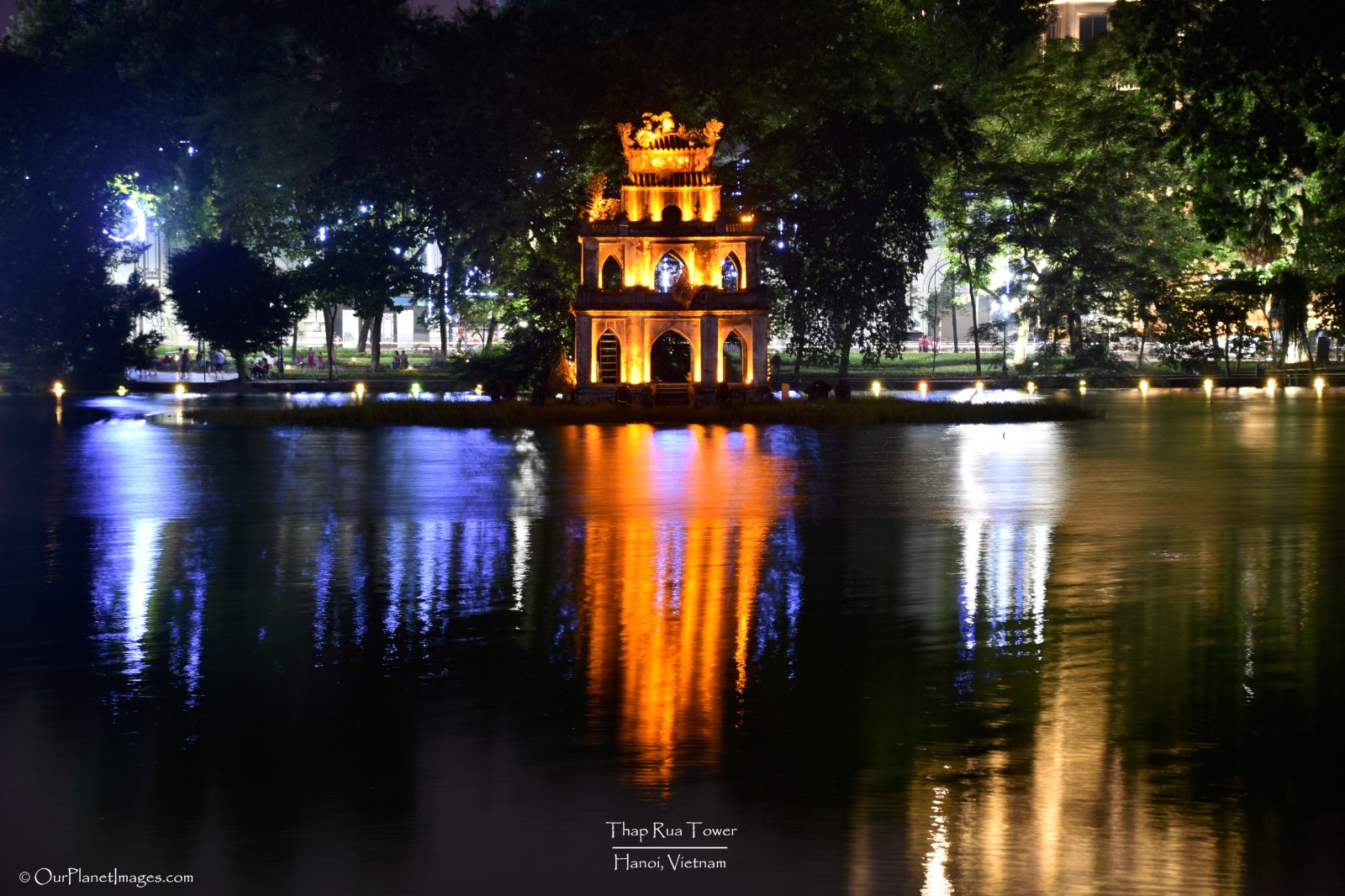 This is a really pretty site at night.