Hawaii is one of the most popular tourist sites in the world and there is a good reason for it. Hawaii is one of the most beautiful places on earth and it has lots of things to see and do or it can be a nice place even if you do nothing at all.
I recently returned from my 3rd trip to Hawaii. While I have not came close to seeing or doing everything that can be seen or done when visiting Hawaii, I think that I have seen enough to put together an overview of things that make Hawaii such a popular place to visit.
In this post I want to share some of my photos that communicate Hawaii's past culture and Hawaii as it is today. This post is really a brief overview of what can be seen when visiting Hawaii by showing "images of Hawaii" that capture Hawaii's most popular attractions.
Hawaii's Polynesian Culture
When visiting Hawaii, most people want to see part of Hawaii's past culture and Hawaii makes that available in a number of ways. I think any first time visitor to Hawaii should schedule one evening to take in a luau. It is just one of those things that is a quintessential part of a Hawaiian vacation. There are two major components that make up a luau, food and dancing, but the Hawaiian do it differently than any other place.
The primary food of a Hawaiian luau roasted pig but the pig is roasted over several hours by setting it on a bed of coal and covering it with sand. The luau normally gets started by digging up the pig.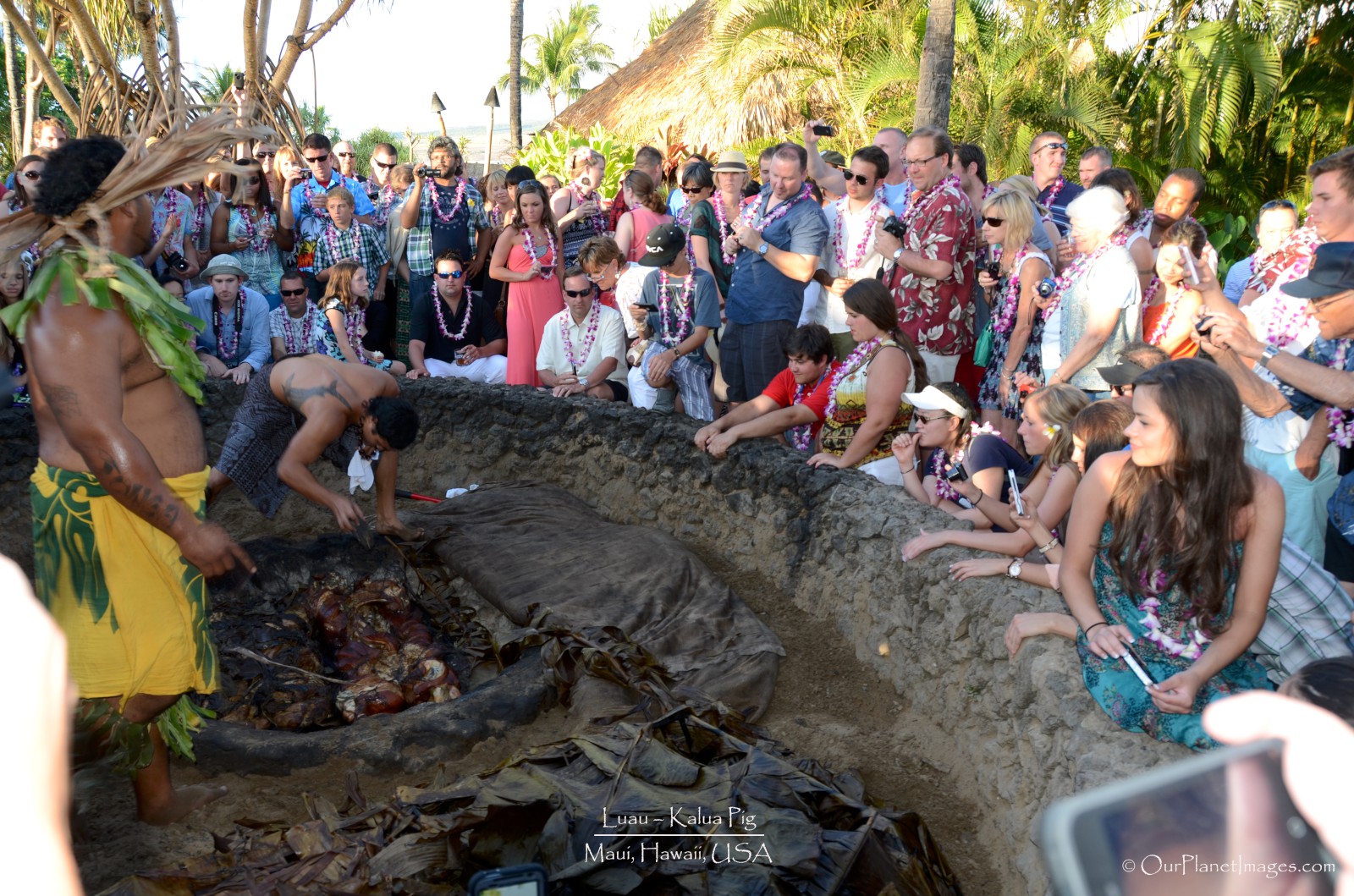 When everyone is happily fed and enjoying some drinks, then the dancing starts. There are two primary dance shows, one features the women doing a hula dance and the second is the men doing a fire dance. The following photos are from both of those dances.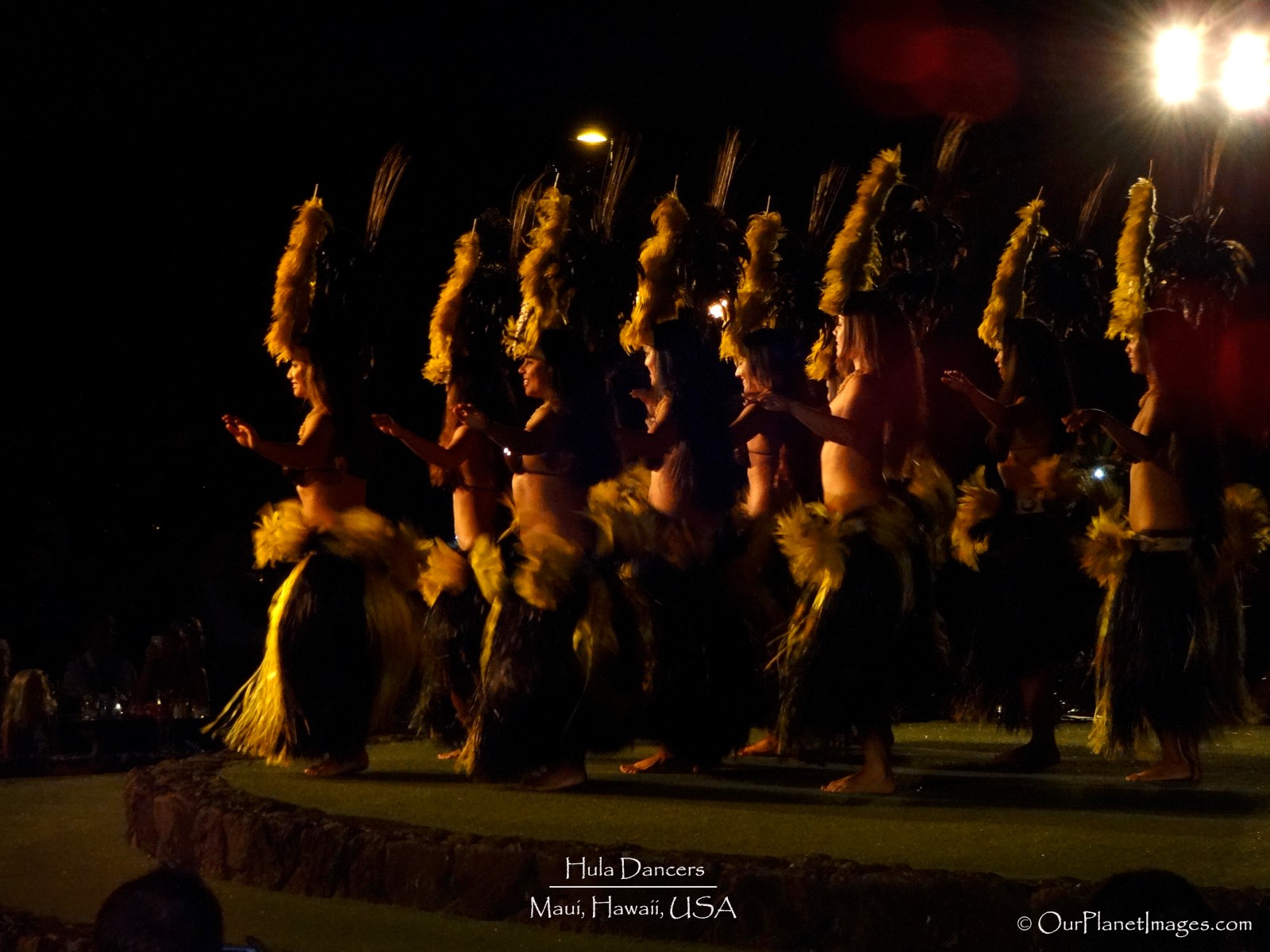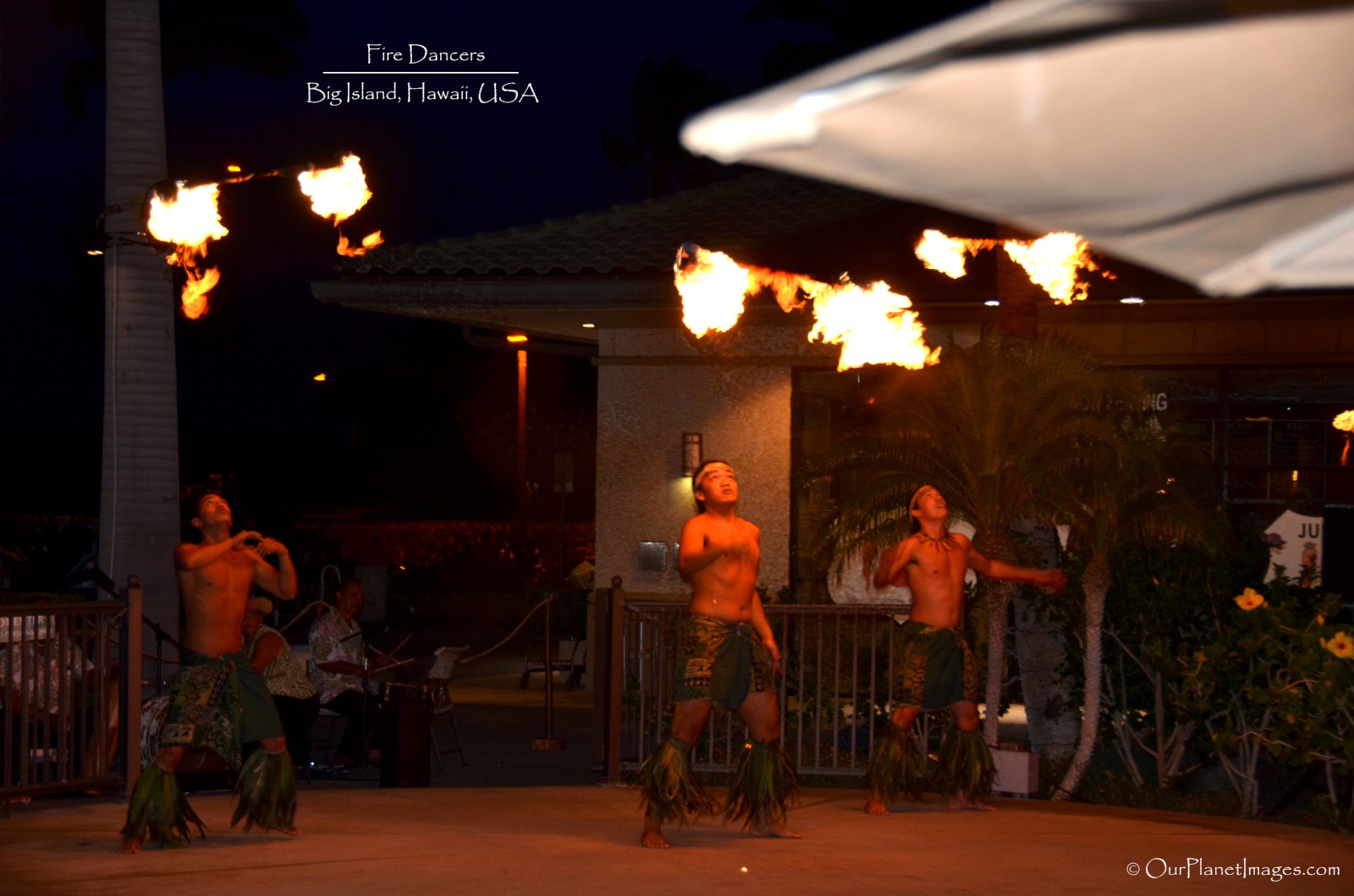 Another part of Hawaii's past culture is the tiki statue. Tiki statues were carved for different purposed and replicas of them can still be seen all over the islands. Many places use them to provide a Hawaiian atmosphere. The following two photos are of tikis being carved and of a tiki on the beach in front of a Hawaiian outrigger (canoe).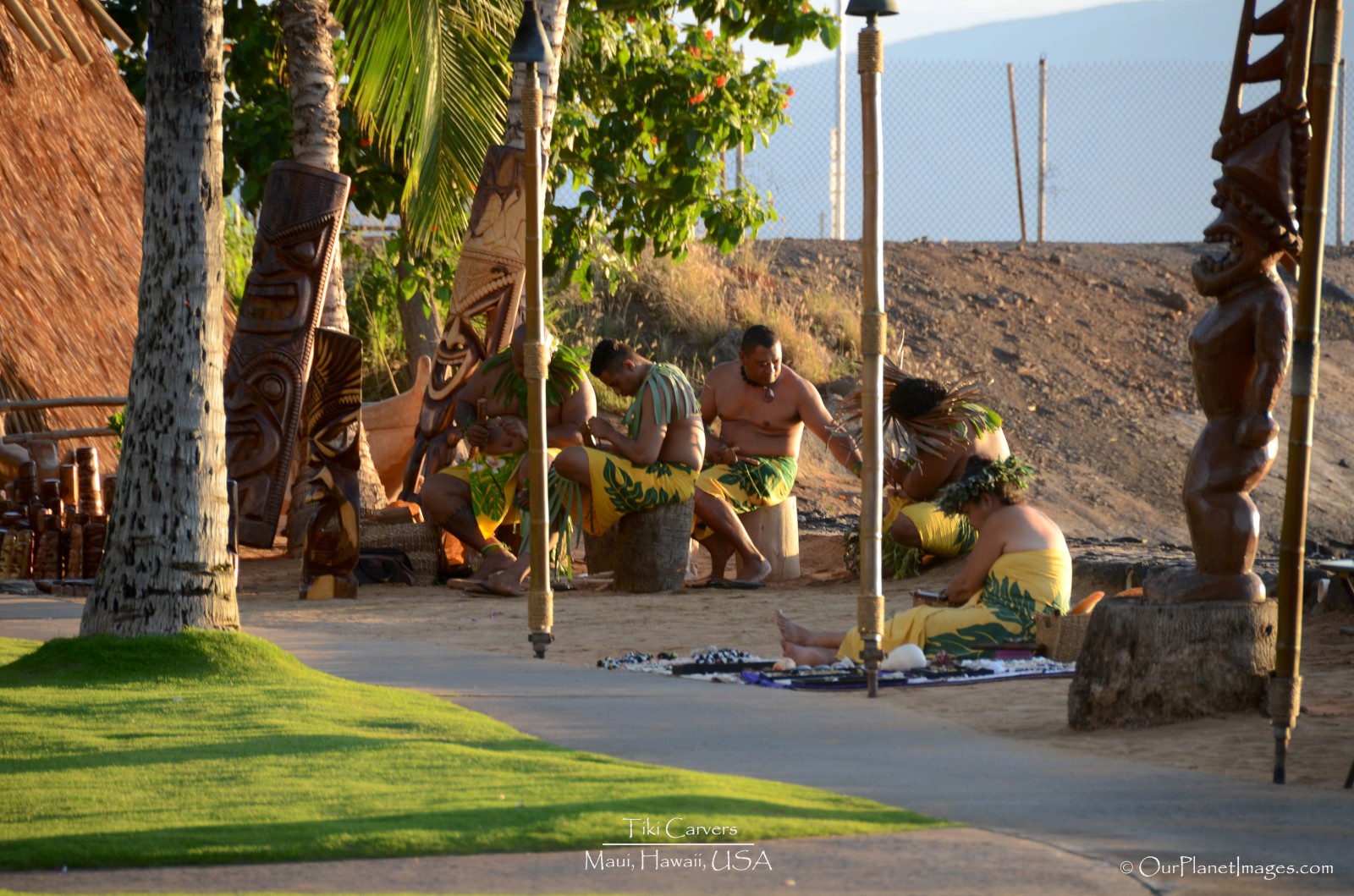 Hawaii as it is today
Most people enjoy getting a glimpse of Hawaii's past culture but everyone comes to Hawaii for the things that Hawaii has that they can't get by staying at home. These are the things that makes Hawaii a place that everyone dreams about visiting at least once in their lifetime.
Beautiful Beaches with Clear Blue Water
Hawaii's coastline is a combination of sandy beaches and lava rocks. This makes for a striking contrast of white sand and black lava rocks against warm clear blue Pacific water.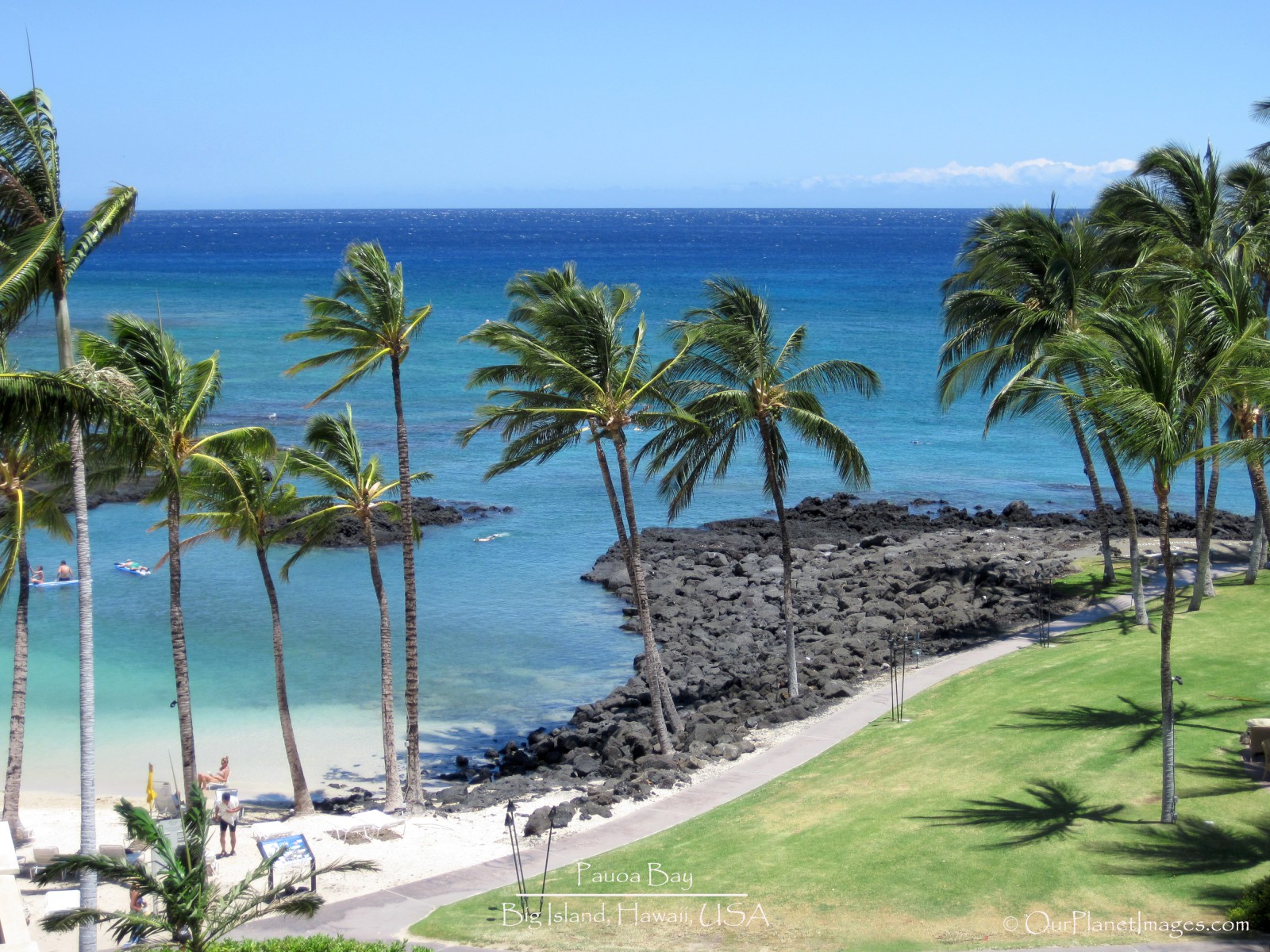 The water itself is perfect for lots of activities like surfing, outrigger canoeing, paddle boarding and snorkeling. Hawaii is known for surfing and the North shore of Oahu is famous for its Bonsai Pipeline where some of the best surfers in the world come to surf. For most of us, paddling in an outrigger canoe is exciting enough.
Paddle boarding and snorkeling are other water activities that are popular but they can be much more difficult than they look if the surf is choppy or rough. That is why there are many more people laying on the beach than there are actually in the water.
Of course, the beaches are lined with sun bathers and people that just want to relax and enjoy the view but some of the less popular beaches are common for Hawaiian destination weddings that really make for a beautiful and romantic backdrop for couples to start their new lives together.
Lush Tropical Mountains
Everyone that visits Hawaii will undoubtedly spend some time on the beaches but when the beaches become too hot or you need time to dry out or take a break from the sun then Hawaii's lush tropical mountains are just as appealing as the beaches. Hawaii's mountains are unique from many of the mountains that I have seen because they are steep with unusual ridges carved into the side of them and they drop down into magnificent valleys. These mountain ridges really are unique from any other mountains in the world and because of this they have been used as settings for many movies.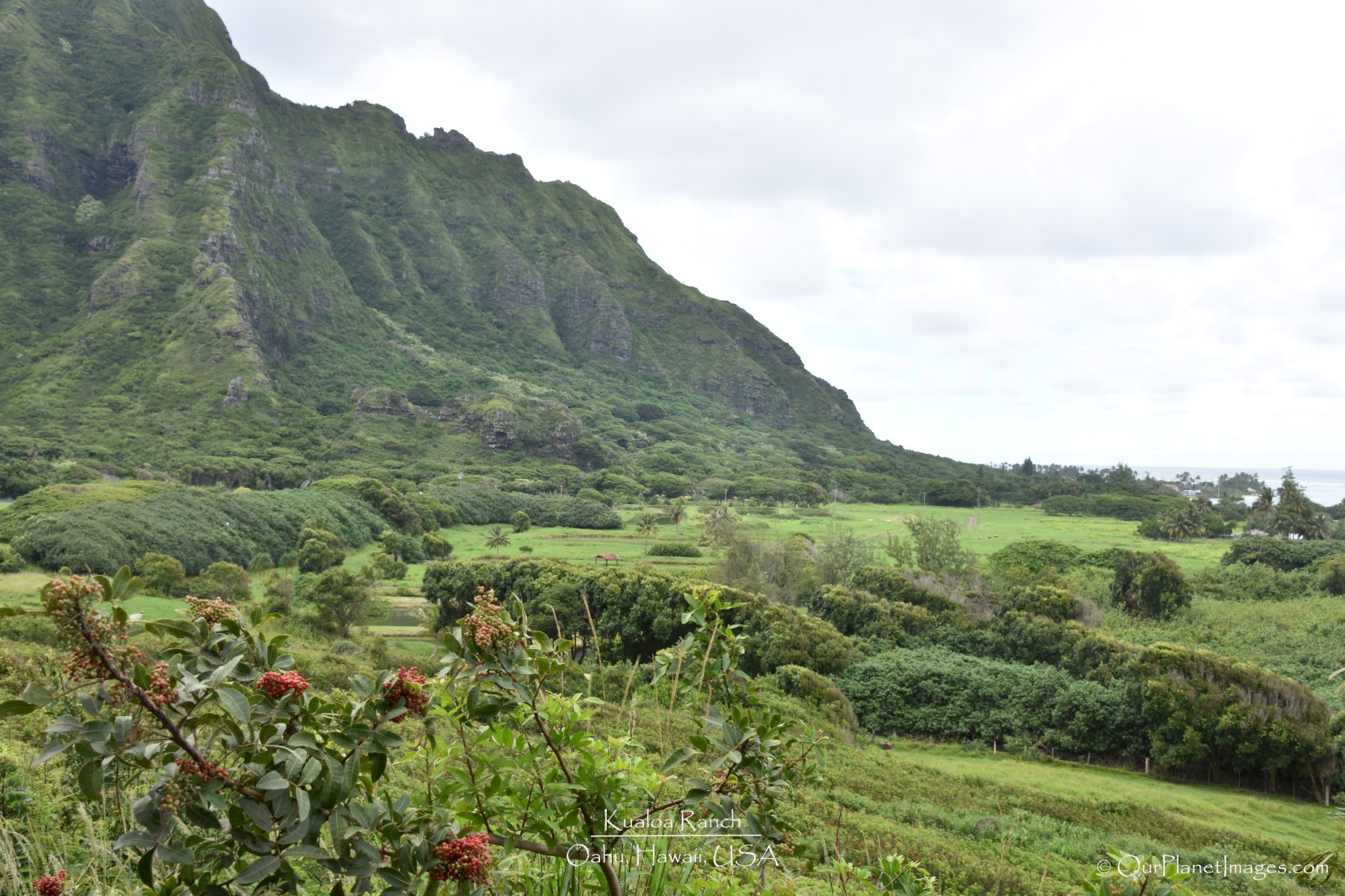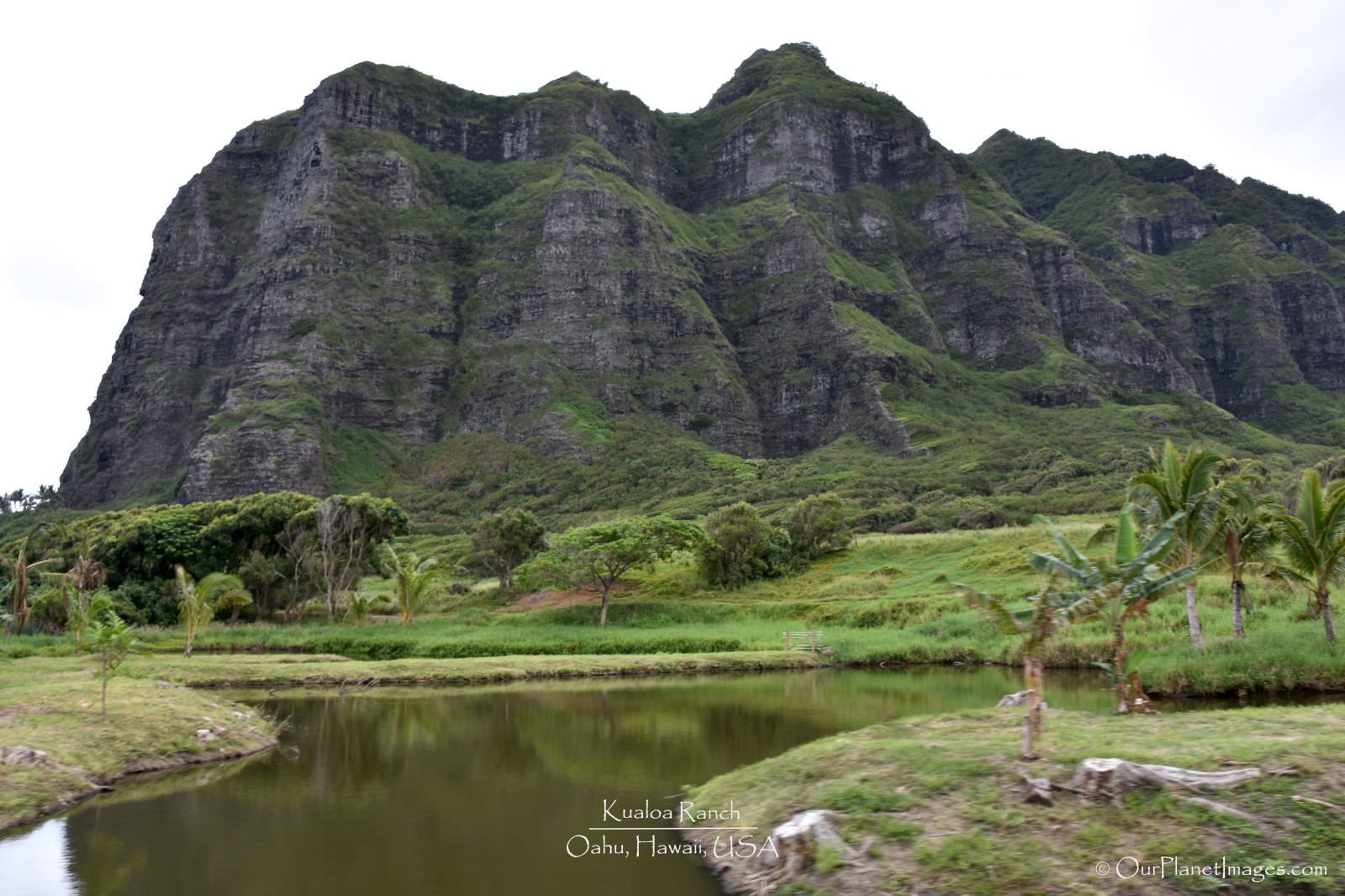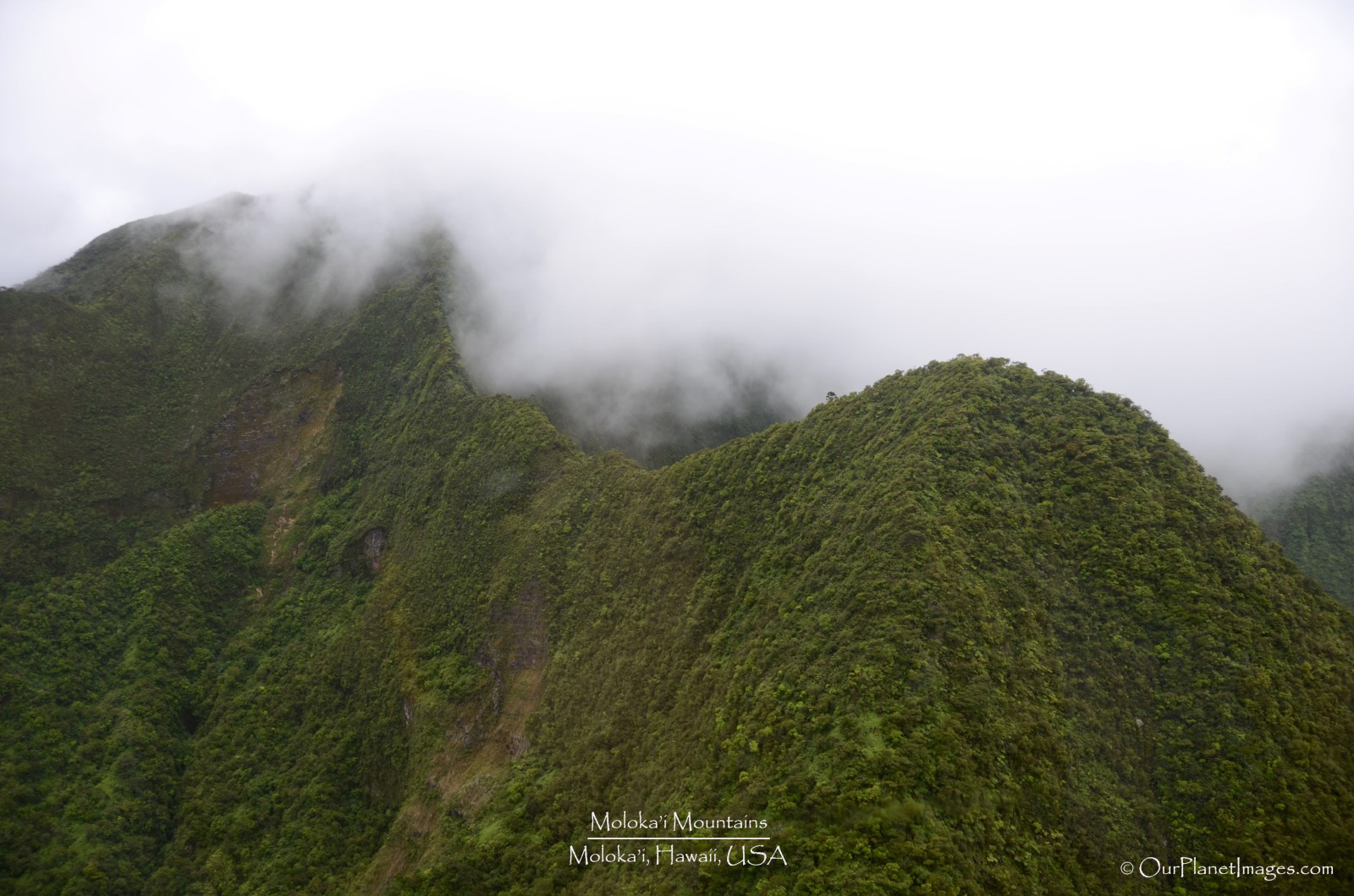 If looking at the beautiful mountains aren't exciting enough then the mountains also produce some of the most beautiful and stunning waterfalls. Hawaii has numerous waterfalls on each island. Many of the waterfalls are easily accessible by short hikes. These waterfall normally descend into small pools of water that are surrounded by tropical plants and they are perfect for taking a swim in a place that makes you feel like you are in paradise.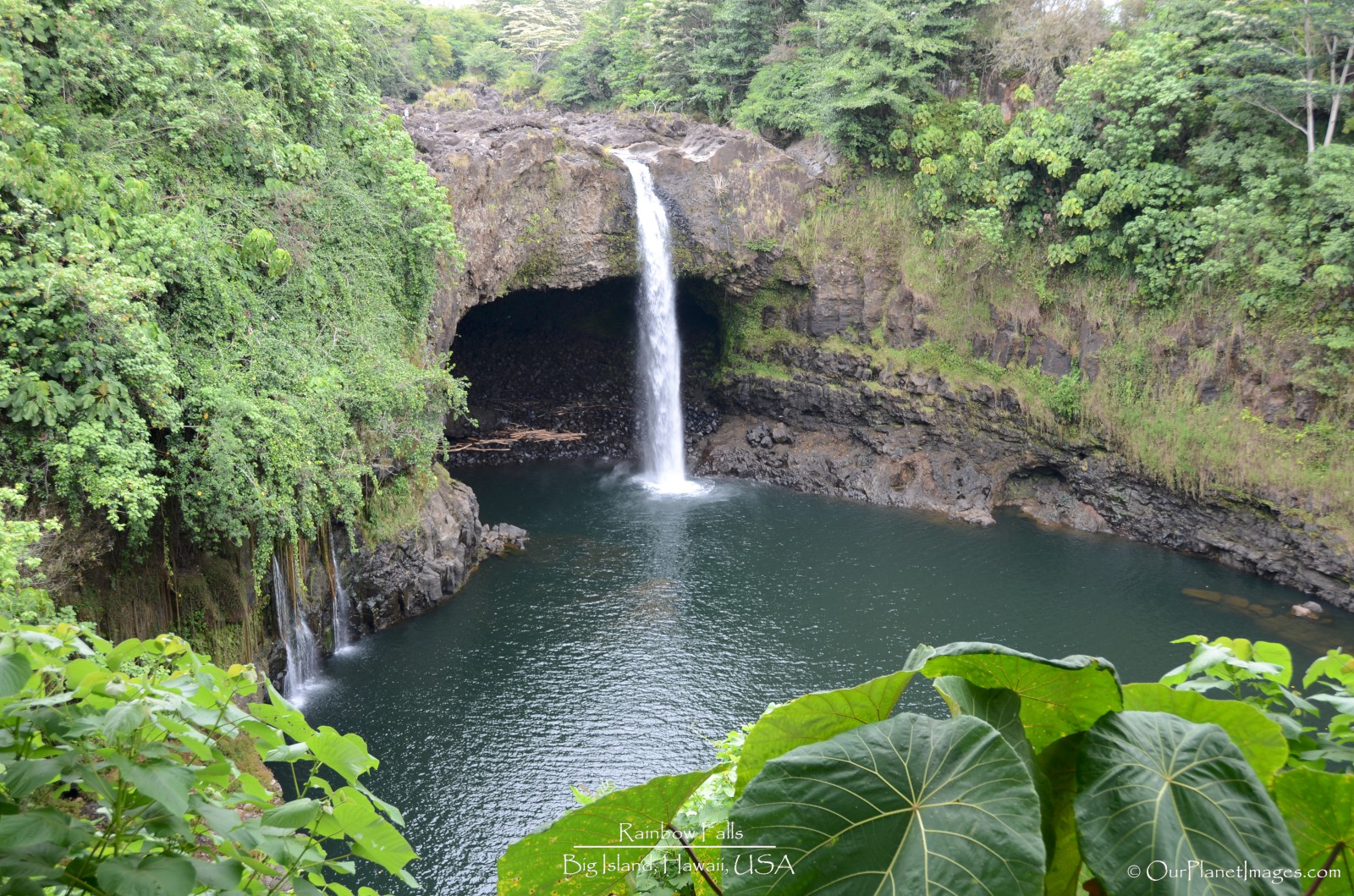 But some of the waterfalls are very remote and can only be seen from the air. Luckily, there are many helicopter tours that provide a chance to see these tall multi-drop waterfalls. The view from the air also give a perspective of the entire mountain and the complete scene that just can't be appreciated by being close-up to the waterfalls.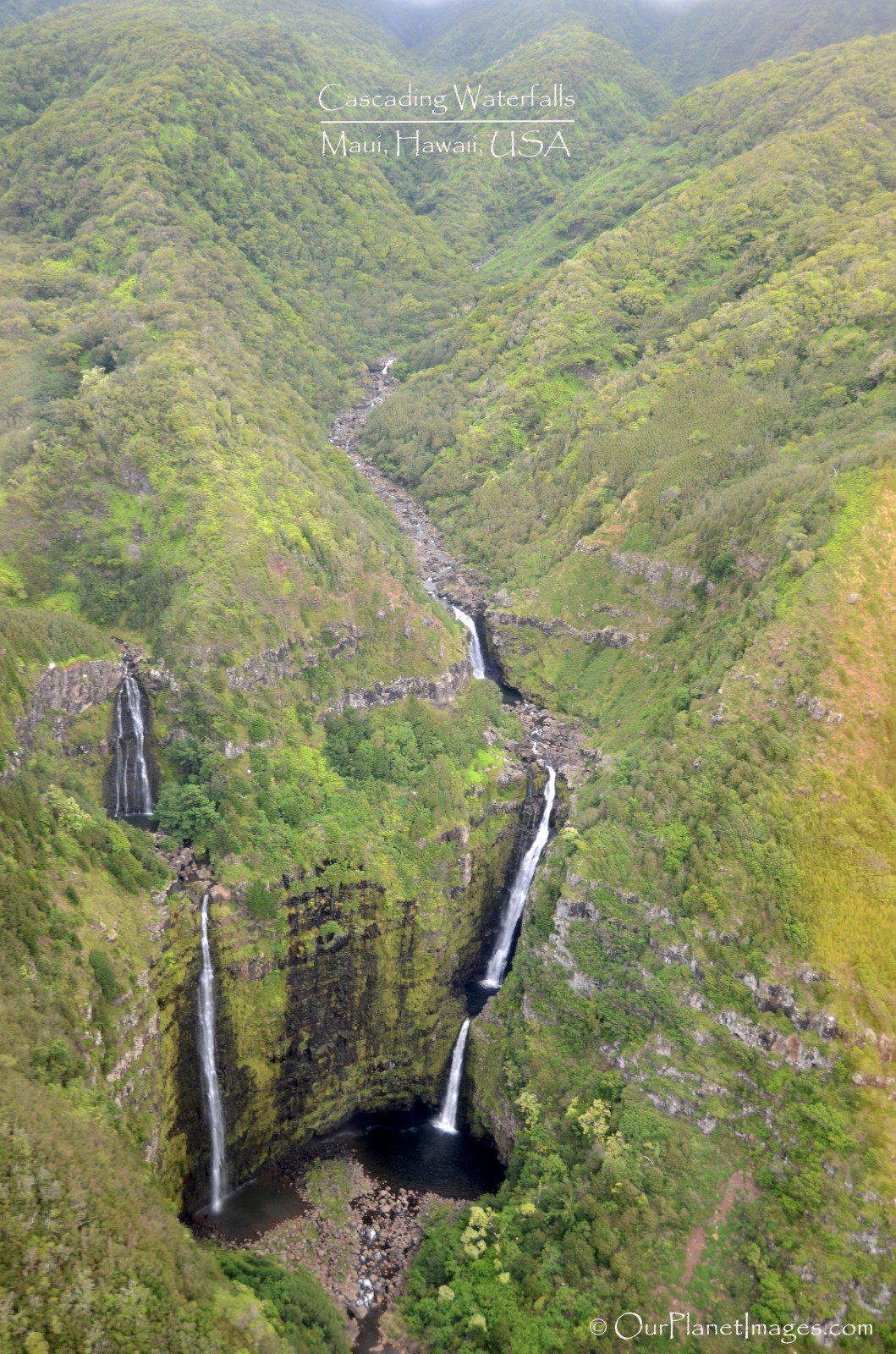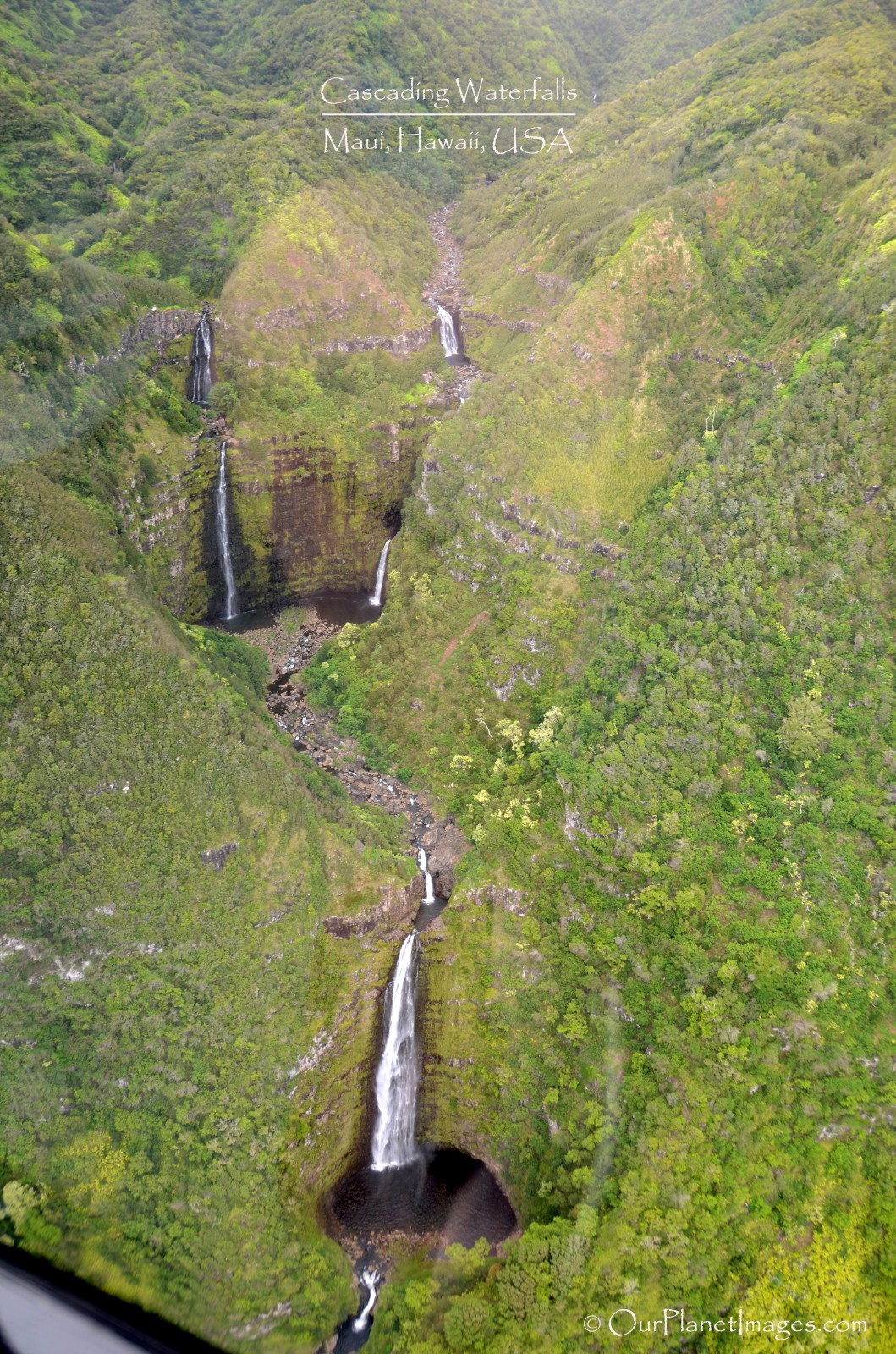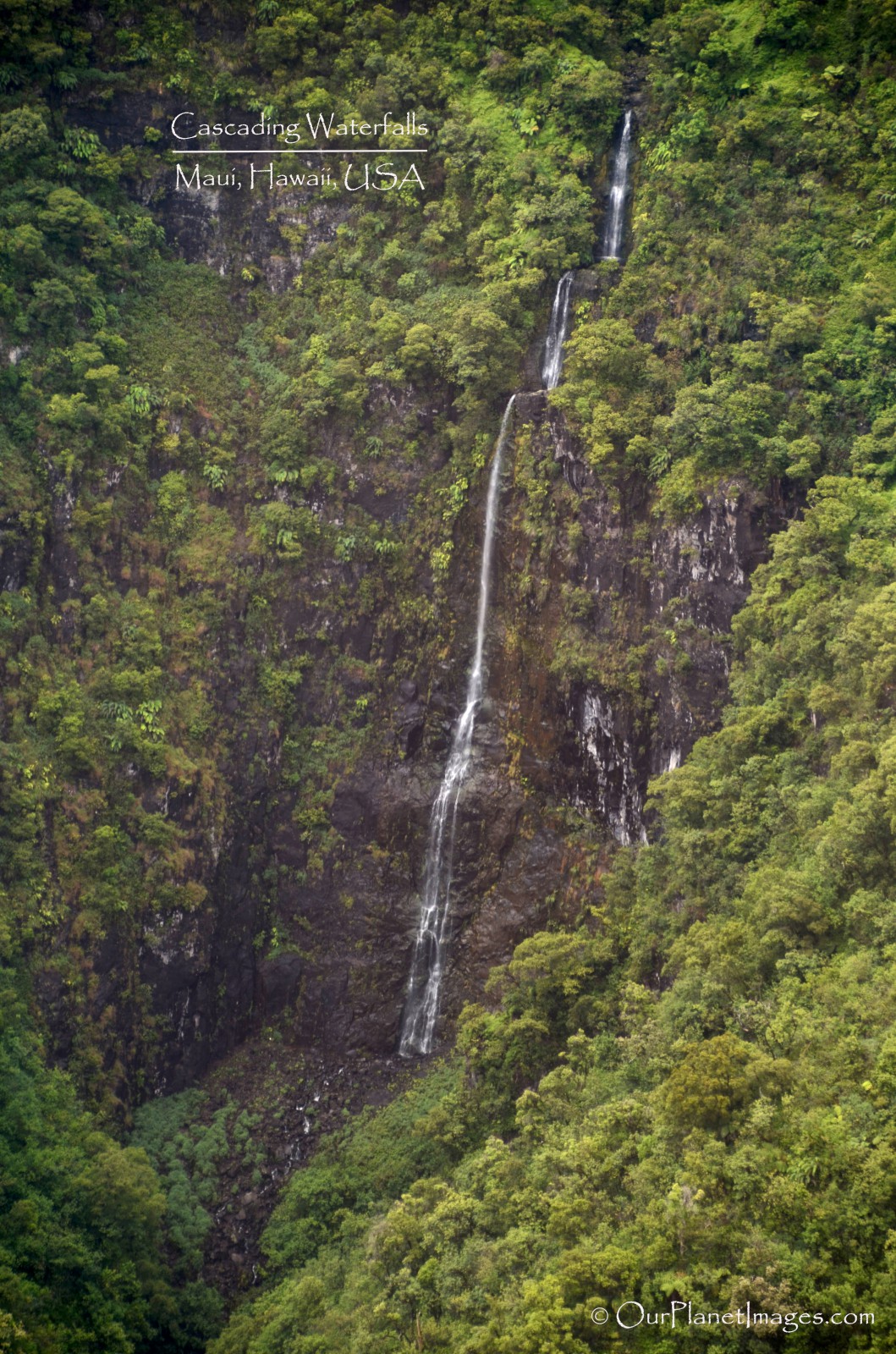 Almost Perfect Weather
Hawaii is known for having almost perfect weather and that is really true. The temperature is almost constant year round and many places are sunny and get very little rain. Some places in Hawaii actually does get lots of rain and the sunny places will also get rain but when it does rain it doesn't last for long. Then when the rain stops make sure to look into the sky because there will almost always be a rainbow somewhere in the sky. Hawaii really does have an amazing number of rainbows. I think it would be unusual to visit Hawaii without seeing a rainbow.
Beautiful Wildlife
I really can't have a complete overview of a destination without at least mentioning the wildlife that inhabits the area. While Hawaii may not be known for its wildlife, it does have some beautiful wildlife to enjoy. I am sure that it is not surprising that pacific islands have beautiful fish to see and Hawaii is loaded with lots of beautiful fish that are easily seen by snorkeling right off the beach. What may be surprising is that many of these fish can only be seen in the Hawaiian Island. I won't go into too much details on the fish of Hawaii because I will be making more detailed posts on these fish so I will just provide a single photo of one Hawaiian fish.
Hawaii's other wildlife are the birds that call Hawaii home. There are some really pretty birds that live on the Hawaiian Islands and many of them can easily be seen in the parks and areas near the cities. Just like the fish, I won't go into too much details on the birds of Hawaii because I will be making more detailed posts on these birds so I will just provide a single photo of one bird from Hawaii to provide a glimpse of what kind of birds that can be seen in Hawaii.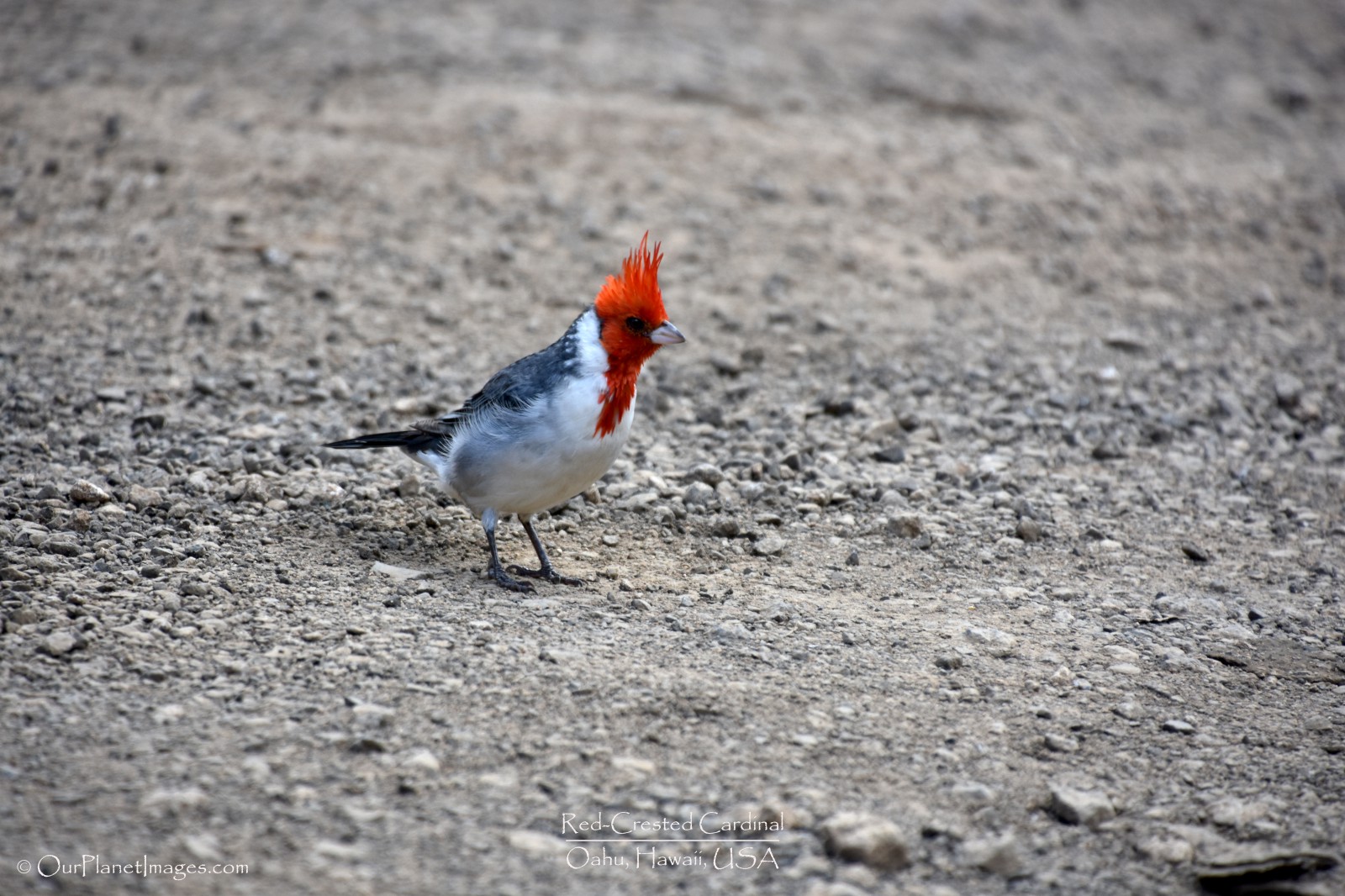 I hope that this post of "Images of Hawaii" has provided you with an idea of some of the things that can be seen and done when visiting Hawaii. I will have many more post on Hawaii that will be more detailed on specific topics as I do in my normal posts. I want to provide one last photo that I hope will close out the post with a splash!