The Yarra River begins in Mt. Baw Baw northeast of Melbourne and flows for a distance of 242 Km (150 miles) where it empties into Port Phillip Bay just after passing through the central business district (CBD) of Melbourne. The focus of this post is on the portion of the river that pass through the CBD of Melbourne.
The main portion of Melbourne's CBD is on the north side of the Yarra River but the Southbank is lively with shopping malls, restaurants, hotels and a casino that are all easily accessed by strolling along the river walk.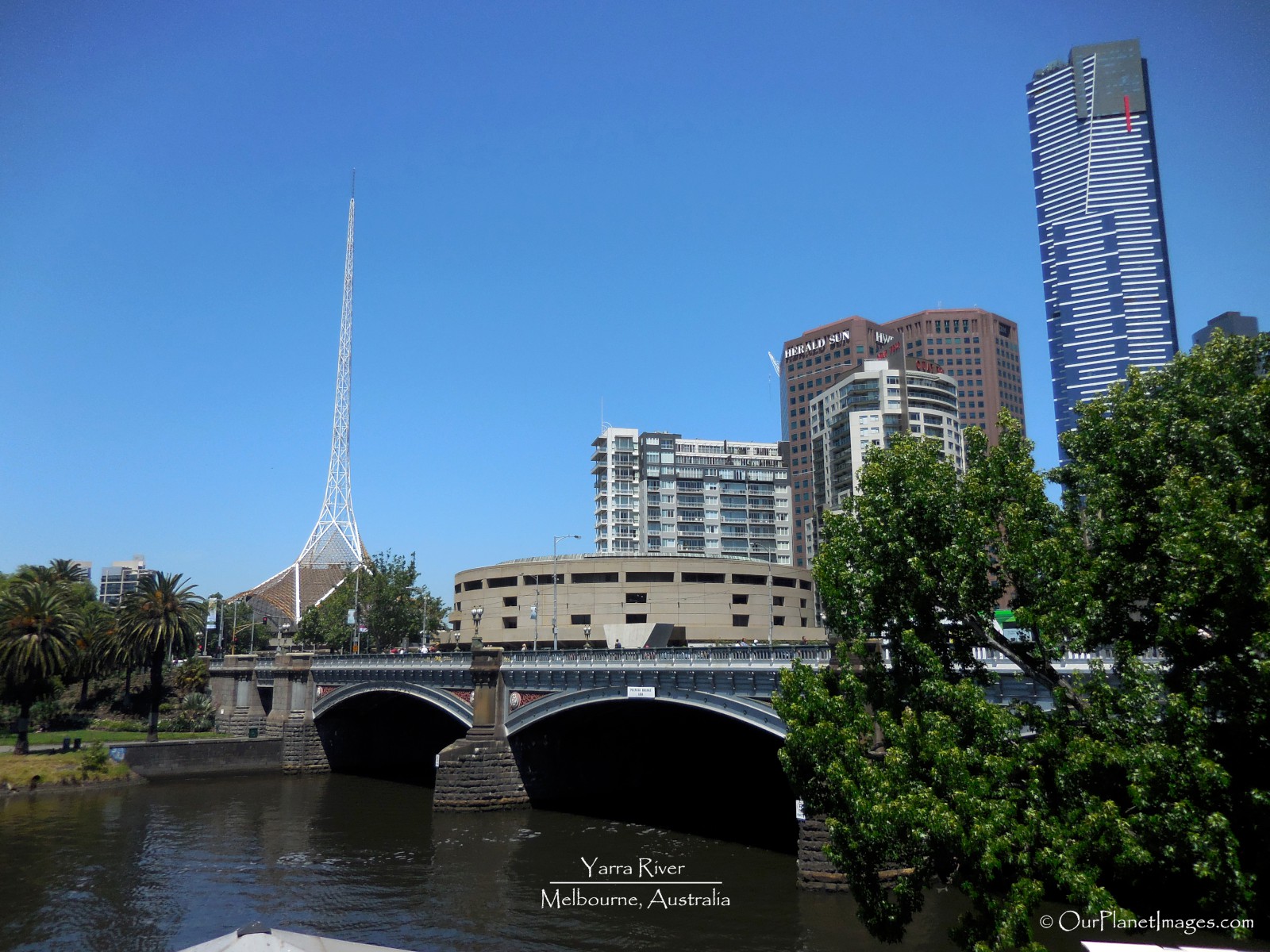 Pedestrian Bridges
While the river divides the Southbank from the main CBD, getting across is easy from the many pedestrian bridges. Some of the pedestrian bridges are architecturally attractive like the Webb Bridge and the Seafarers Bridge (shown below).
One of the more unusual pedestrian bridges that I have seen is the Evan Walker Bridge which provides access from both sides of the river to the Ponyfish Island Bar located in the river.
River Cruise
Sightseeing river cruises are available that provide a relaxing way to see all of the sites along the river including the CBD, Southbank, Docklands, Port of Melbourne, scenic parks and gardens and Melbourne's famous Cricket Stadium.
Leisure time (greenspace)
Near the Crown Casino there is a small greenspace that is used both during the day and at night by people just wanting to take a break and relax and enjoy the view of the river and the picturesque city skyline.
Wall Art
Melbourne has several streets that are famous for the street art but the pedestrian walkway along the Yarra River passes under traffic bridges where the wall along the bridge has been enhanced with wall art that provides a much better environment than bare steel and concrete.
Sculptures
Sculptures and modern art can be found many places throughout Melbourne and they are also found along the banks of the Yarra River. I think these types of art exhibits makes the area more attractive and interesting. It would be a little boring without them.
After Dark
Many of the sights along the Yarra River are attractive during the day but after dark they take on a more vibrant attractiveness. Many of the lights of the buildings light up the night and reflect off the river's water. Colored lights turn concrete structures into colorful attractions and the city's skyline is truly beautiful with the Yarra River providing a gorgeous calming foreground for a wonderful night time atmosphere.
Seafarers Bridge
Southbank
Sealife
Melbourne Metro Line
Melbourne Skyline